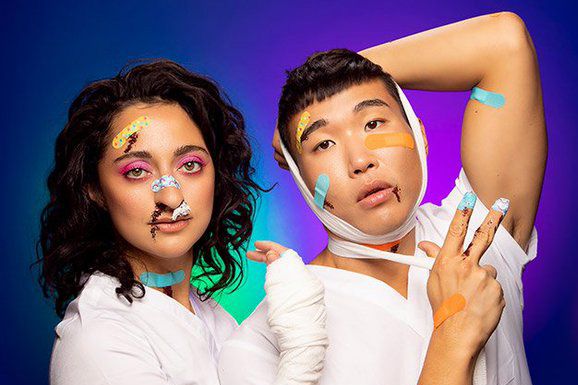 Urgent Care'
s Mitra Jouhari and Joel Kim Booster.
Photo: Earwolf
The comedy-podcast universe is ever-expanding, not unlike the universe universe. We're here to make it a bit smaller, a bit more manageable. There are a lot of great shows, and each one has a lot of great episodes, so we want to highlight the exceptional, the noteworthy. Each week, our crack team of podcast enthusiasts and specialists and especially enthusiastic people will pick their favorites. We hope to have your ears permanently plugged with the best in aural comedy.
Urgent Care With Joel Kim Booster + Mitra Jouhari — Findnancial Badvisor 
Urgent Care with Joel Kim Booster + Mitra Jouhari is an advice podcast that consistently delivers wise and witty help to its listeners. This week the hosts field COVID-19-related conundrums such as "how to talk to your therapist about your roommates without them listening, if it's unethical to hook up with a musical theater actor during a pandemic, leaving a cursed co-worker group chat, and more." While the description paired with the podcast jokes that the hosts "will change your life for better or honestly maybe worse," they dispense numerous actionable solutions to each question with a gentle and encouraging humor that seems destined to grant happiness to those seeking their guidance. And even if these questions don't sound like the type you're mulling over personally, it's spirit-lifting to hear two friends connect and laugh with one another during a time of social distancing. Tune in to catch these good vibes. — Becca James
Listen: Spotify | Apple | Website
Hollywood Handbook — Kenny "The Jet" Smith, Our Basketball Friend
If you're not a basketball fan, you might be surprised to hear that Inside the NBA on TNT has been one of the most consistently funny TV shows for the last couple of decades. The cast has changed over the years, but the mainstays have been straight man Ernie Johnson and the Basketball Hall of Fame barb-trading duo of Charles Barkley and Kenny "The Jet" Smith. Some of the best Hollywood Handbook episodes have thrown non-comedy guests (Tony Hawk) or unexpected comedians (Sinbad, Pauly Shore) into its irony-soaked waters to see if they can sink or swim. In this case, the quick-witted Smith is a perfect fit, even if he isn't 100% in on the episode's bit of forcing him to improv famous scenes from American Psycho, Any Given Sunday, and Shrek 2. Although Hayes Davenport cuts the interview short due to being unable to name a single movie he enjoys, the interview at times feels like a classic episode of Inside the NBA. Only instead of Smith making fun of Barkley for never having won a title, he's ridiculing Sean Clements for his Zoom setup. — Pablo Goldstein
Listen: Spotify | Apple | Website
Mother, May I Sleep With Podcast? - Murdered at 17 (Featuring James Alexander)
Despite being a "mini-episode," this episode of Mother May I Sleep with Podcast? is 2.5x longer than the movie it recaps — and luckily, it is 2.5 times more entertaining. That's the magic of Molly McAleer's Lifetime movie podcast: Every week, she milks the source material for all it's worth while equally giving space to the serious issues that are front and center and acknowledging the outrageous ways in which they are displayed. This time around, the film at hand is the 2018 movie Murdered at 17, the not-based-on-a-true-story drama about a high-schooler whose boyfriend ends up framing her for murder. There are many twists and turns in the story, which in this episode are teased out by screenwriter and Degrassi superfan James Alexander. McAleer and Alexander have infectious chemistry as they recap the unbelievable details of the film, hilariously dissect the acting choices of each character, and compare every aspect to the show they're really there to discuss, Degrassi. While the "mini" descriptor may be misleading, this is a must-listen for fans of Lifetime movies, melodrama, and comedy alike. — Brianna Wellen
Listen: Spotify | Apple | Website
Other Podcasts We're Listening To:
Air Buds — Poppin' Beers in the Bubble w/ Errol Chatham
Listen: Spotify | Apple | Website
Ethnically Ambiguous — We Are Carl Tart
Listen: Spotify | Apple | Website
Got a comedy podcast recommendation? Drop us a line at comedypodcasts@vulture.com.
If you like comedy and you like podcasts, we recommend you subscribe to Vulture's own Good One podcast, which releases new episodes every Tuesday on Apple Podcasts, Spotify, Stitcher, Overcast, or wherever you get your podcasts.