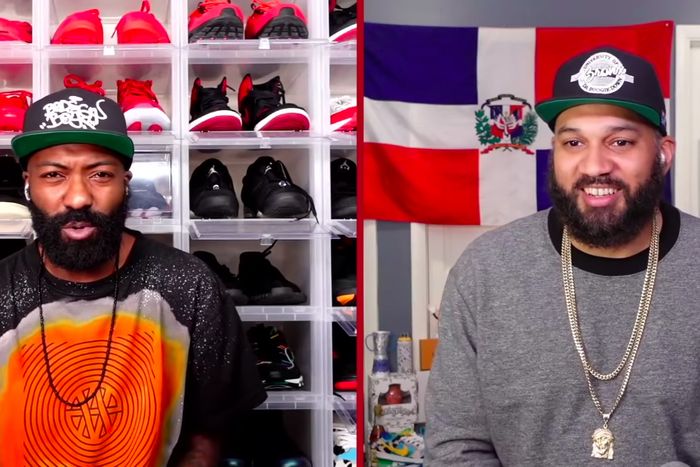 Desus and Mero when you tell them a Whole Foods is one of the worst places in New York.
Photo: YouTube
Allow me to reintroduce myself. My name is Chris Murphy (like the senator, but different), and I write a column rounding up the best moments in late-night television each week. Due to [gestures vaguely] the state of the world, I've taken a few weeks off from the column for mental-health reasons a much-needed vacation, but now I'm back and better than ever more or less the same as I was before. In my absence, two Jimmys apologized for their involvement in past sketches involving blackface, and one Jimmy decided to copy me and take the summer off. But I don't get paid to write about the somewhat-distant past; I get paid to write about the past week, so that's what I'm gonna do. This week in late night saw Anthony Anderson and Billy Eichner take over for Jimmy Kimmel, many shows on hiatus, and the first late-night host (sort of) started filming again in a theater since before the dawn of the COVID era. Like chart-topper Bob Dylan once wrote, the times they are a-changin'. Without further ado, here are the best moments in late-night television from the past week. Man, it feels good to be back.
5. Will Ferrell Sends Conan O'Brien Omaha Steaks
Between Eurovision and his recent Conan interview, Will Ferrell is the gift that keeps on giving. Serving mad-scientist hair and Zooming from a trailer that presumably doubled as the office in Brokeback Mountain, Ferrell welcomed Conan O'Brien to the Largo, where he began filming his TBS show earlier this week for an audience of one, with an imaginary truckload of Omaha Steaks. "Can you hear a truck backing up in the background?," asked O'Brien, referencing a loud beeping noise. "Nope," said Ferrell. "Oh. Then I probably shouldn't have called attention to it," O'Brien sensibly responded. Live theater — there's nothing like it! When O'Brien asked why on earth he would have Omaha Steaks delivered during their interview, Ferrell said, "You know, they have those windows — they said anytime from one to four. So, is that up to me?" Delivery windows are notoriously unpredictable, so this checks out for me.
4. Billy Porter Talks Transphobia and Homophobia With Billy Eichner
Intersectionality is hard. Containing multiple — sometimes conflicting — identities is hard. Admitting when you may have misspoke is hard. Billy Porter made all of this look easy when he appeared on Jimmy Kimmel Live!, which was guest-hosted by Billy Eichner. Porter clarified comments he made in an Instagram video calling out members of the Black community for homophobia and transphobia, as well as his addendum after receiving backlash for his criticism of the Black community. After drawing upon his own experience growing up queer as a Black man, Porter acknowledged that, "as the world has changed, as the world has shifted, the Black community is changing and shifting." Growth! We love to see it. If you were wondering whether Porter spends his life responding to haters on social media, he doesn't. "I'm 50 years old. I don't do it like that," said Porter, hilariously. "You're not on TikTok," joked Eichner. Now I'm getting sad thinking about how amazing Billy Porter's TikTok page would be.
3. Lisa Kudrow Has Been Prepared for a Pandemic
Before O'Brien packed up and moved to the Largo, he interviewed another comedic genius, one who has apparently been prepared for a pandemic. Lisa Kudrow stopped by O'Brien's show, on which he revealed that she's been warning him of a possible pandemic for years. When asked how she was adjusting to quarantine, Kudrow said, "Adjusting? There was no adjusting. It was just how I lived my life. There were days and days where I just never even left my house or went in my car." I guess when you major in biology and chemistry at Vassar, you learn a few things about the potential for a global pandemic. If I try hard enough, I can almost see Kudrow in a biology lab while studying viral infections in the '80s, saying, "I don't want to SEE that."
2. D.L. Hughley Describes His Coronavirus Symptoms With Anthony Anderson
Speaking of the coronavirus, maybe we should check in with someone who recently had it: the King of Comedy himself, D.L. Hughley. Hughley stopped by Jimmy Kimmel Live! with guest host Anthony Anderson to chat about his experience with COVID-19. "I had the COVIDs, baby. I had it," said Hughley, who recently passed out onstage during a comedy show because of the virus. Sporting a white fedora adjusted to the perfect angle, Hughley said that he didn't have any of the classic COVID symptoms. His main symptom was "passing the hell out," so you definitely want to get that checked out if you or a loved one are experiencing a similar symptom. Anderson said that Hughley's nickname among their friend group is Outbreak, which is extremely fitting and slightly better than the other option, Contagion.
1. Desus and Mero Take on the Worst Places in NYC
This one might be a little inside baseball for our non–NYC friends, but it's simply too good not to earn the top spot. On Thursday, Desus & Mero joined the viral conversation regarding the top-three worst places in New York, shedding serious light on how skewed the conversation is. "If you can have a Whole Foods as the worst place in New York, you live in a very privileged New York, my friend," said Desus, making approximately 1 million amazing points about privilege and gentrification in a single sentence. "Have you ever been to the Delancey McDonald's?" Mero countered. I have been to that Delancey McDonald's, and Mero is right that it should, at the very least, be in the conversation for worst places in New York. While coming up with their own top-three worst places in New York, Mero hit another home run by shouting out the Arby's on Seventh Avenue. Desus correctly listed Broadway Junction station, the tunnel between the 1/2/3 and the B/D/F/M trains at 14th Street, and Port Authority. After careful consideration, my top-three worst places in New York are as follows: Pearl Studios during a Newsies EPA (if you know, you know), any bathroom in Penn Station (obviously), and 60th and First to the Roosevelt Island tram under the overpass between the Primal Cut steakhouse and that strip club. I stepped on a dead pigeon there once. It was gnarly.