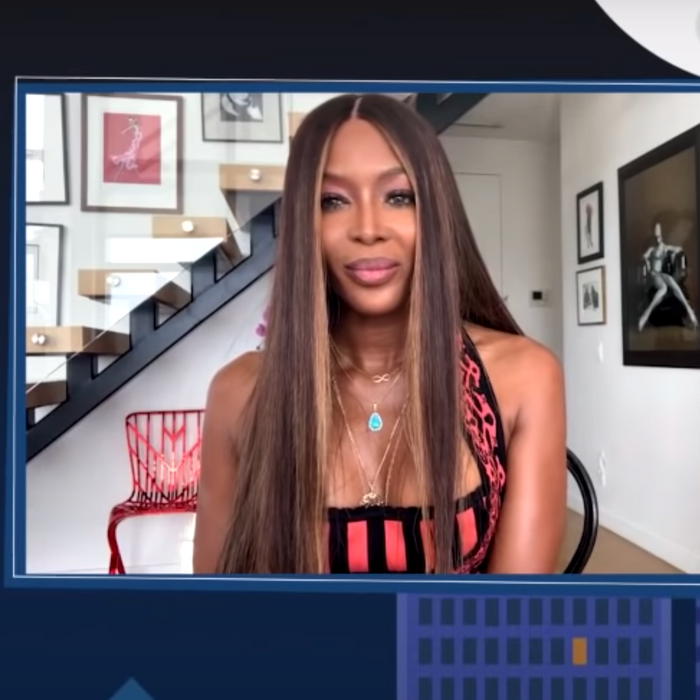 A woman who thinks things are about to change.
Photo: Bravo TV
I have to begin with a mea culpa. In my column last week, I misspelled Andy Sandberg's name, as some astute readers pointed out on Twitter. I am deeply sorry for misspelling Andi Sanburg's name, which is famously one of the worst things you can do to another human being. I solemnly swear to do better in the future and that I will never misspell Andee Snailbug's name ever again.
Now that I've issued a perfect apology, this was a huge week in late night, because the Emmy nominations were announced on Tuesday. Remember award shows? That thing where celebrities give other celebrities tiny little trophies for being exceptionally celebrity-esque in any given year? There's truly nothing I love more. The Daily Show With Trevor Noah, Full Frontal With Samantha Bee, Jimmy Kimmel Live, Last Week Tonight With John Oliver, and The Late Show With Stephen Colbert were the lucky five to get nominated for Outstanding Variety Talk Series, while Late Night With Seth Meyers took Emmy host Jimmy Kimmel's slot for Outstanding Writing for a Variety Series. Somewhat surprisingly, The Tonight Show Starring Jimmy Fallon didn't score any nominations, despite being wildly popular with wine moms across the country. The only duo more deserving of an Emmy nomination than Winnie and Franny is Desus & Mero.
Now, it's time for me to announce the Emmy nominees for Best Moment in Late-Night Television the Last Week of July. And the nominees are …
5. Seth Rogen Drinks Pickle Juice on The Tonight Show
Although Jimmy Fallon didn't receive any Emmy nominations this year, he does get a slot on this list for his subtle work in the "Pickle Juice Challenge" co-starring Seth Rogen. Inspired by Rogen's upcoming film An American Pickle, Fallon challenged Rogen to a pickle-themed trivia contest, which saw the pair take a shot of pickle juice whenever the other answered a question correctly about pickles, which was surprisingly often. While I don't particularly like or care for pickles (sorry), Rogen drinking pickle juice in a fun, patterned shirt with his pinky up is an undeniable mood. Come to think of it, my favorite thing about pickle juice is Nicki Minaj's infamous monologue about pickle juice, which is 90 percent of the reason this clip made the list. Also, Rogen's cool-ass glasses. He's bossed up.
4. Desus and Mero's Baroque Boys Verzuz Battle
I'm sorry, but who else is doing it like the Bodega Baroque Boys? Desus and Mero gloriously spoofed the Verzuz battle trend with their very own historically accurate Verzuz battle between Beethoven and his alter ego Jayhoven. The segment was set during the Black Plague, so Desus told everyone to wear their masks and "keep a sack of onions in your left pocket," while Mero softly suggested that maybe if people stopped defecating in the street then drinking the water, the plague would maybe go away. Why there is no GIF of Desus licking the strings of his violin yet is a mystery to me, but so is the fact that Desus & Mero didn't get nominated for an Emmy. Special shout-out to whoever made the comment section and made the Instagram handles "!SuckMyDickBach!", "DJharpsikhaled", and my personal favorite, "REAL_Claude_DeBU$$Y." Pop that, Debussy.
3. John Oliver on Uighurs in China
The first late-night show to be nominated for an Emmy to appear on this list, Last Week Tonight With John Oliver tackled the alarming human-rights abuses currently happening to the Uighur people, an ethnic minority group mostly located in northwestern China, at the hands of the Chinese government. As per usual, Oliver was able to pack in an incredible amount of information detailing the atrocities that are currently being waged against the Uighur people, who are being sent to forced labor camps and "reeducation centers" where they are unable to leave of their own volition, while also, somehow, managing to throw in a plethora of jokes. While censorship is obviously very bad, I wouldn't mind seeing an animated series starring the cactus in a Santa hat. Oliver ended the segment by calling out companies such as Nike and Volkswagen for using Uighur labor to make their products, both of which claimed they were "unaware" of the human-rights atrocities happening in their very own factories. Look, I know things are pretty bleak in the USA right now, but what's happening to the Uighurs is incredibly alarming and deserves our attention.
2. Trevor Noah Shines a Light on Black Women
Speaking of things that deserve our collective attention, this week on The Daily Show, Trevor Noah devoted a segment to highlighting and celebrating Black women. In the latest installment of "If You Don't Know, Now You Know," Noah detailed the history of the erasure of Black women as leaders of social-justice movements, from Sojourner Truth, Ida B. Wells, and Mary Church Terrell in the women's suffrage movement all the way to the Black Lives Matter movement founded by Alicia Garza, Opal Tometi, and Patrisse Cullors. The segment was such a great example of how whitewashed history is. I clearly remember learning about Susan B. Anthony (she's on a coin) and Elizabeth Cady Stanton (Seneca Falls Convention, let's go) in grade school, but I absolutely didn't hear the names Ida B. Wells or Mary Church Terrell uttered in an academic context until my junior year of college, and that is an example of academic misogynoir. Merci beaucoup to Trevor Noah et. al for educating the masses and centering Black women in the narrative, while also serving an incredible example of Black French New Wave Cinema.
1. Naomi Campbell Being Naomi Campbell
In the spirit of centering Black women and giving credit where credit is due, the Emmy Award for Best Late-Night Television Performance in the Last Week of July goes to [opens envelope] none other than Naomi Campbell. The supermodel stopped by Watch What Happens Live this week and did what she does best: look breathtakingly gorgeous and deliver absolutely massive amounts of shade. While everything Campbell said was a delight, the best moment happened when Andy Cohen asked her thoughts about Anna Wintour's statement about Vogue not finding enough ways to elevate Black creators. "I think things are about to change, don't you?" said Campbell, encapsulating everything there is to say about Wintour, Condé Nast, and the world at large in one perfect sentence. Her delivery, her laugh at the end, her lean into the camera — it's all exquisite. It's work on par with Dakota Johnson's "That's not true, Ellen" and should be recognized as such. Campbell went on to express how much she hated being tokenized in the fashion industry and the need for equality in all levels of of every industry, but in that one sentence she said everything that needed to be said. A well-deserved (fake) Emmy win by Ms. Campbell.