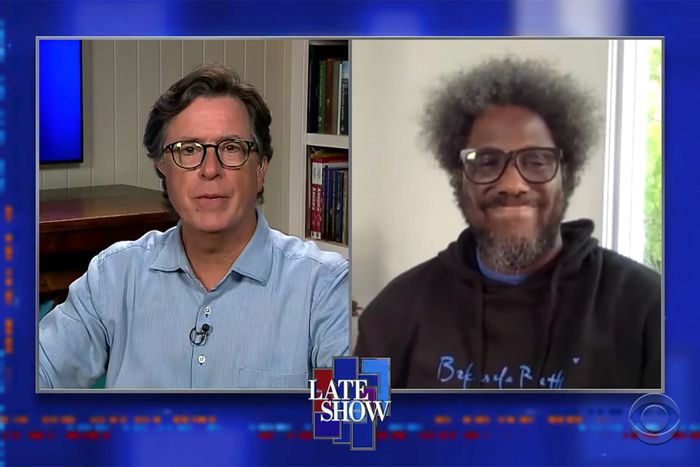 Stephen Colbert and W. Kamau Bell on
The Late Show.
Photo: CBS
Can you believe it? It's Friday already. Cheers to the freaking weekend, am I right? We all know I am clearly wrong, because this summer there is no way to discern between the weekend and weekdays since people with common sense and a shred of compassion for others many of us continue to spend the majority of time indoors. I've spent time exploring corners of my apartment I never knew existed, and, yes, that is as sad and lonely as it sounds. While I spent this week getting to know my apartment inside and out, Jimmy Fallon began his week by making the long trek from his gorgeous home with an indoor slide back to 30 Rock, filming The Tonight Show in the studio without an audience. As they say, there's nothing like summer in the city. Now that Fallon and Conan O'Brien are back in studios, let's see if that shakes up our top late-night clips of the week. (Spoiler alert: It doesn't.)
5. Martin Short Turns Seth Meyers Into a Bad Guy
Legendary comedian Martin Short was all smiles when he appeared on Late Night With Seth Meyers on Thursday, despite being in the company of someone with pretty questionable character. That person, Short would jokingly have you believe, was Meyers himself. "I see that you've gotten rid of all your Confederate flags. Good for you," Short said seconds into their Zoom interview. Meyers, who was seemingly not prepared for Short to basically accuse him of being a Proud Boy on national television, laughed it off and continued with the interview. "You and I, I think we click," Short went on to say to Meyers, "whether it's SNL, or Late Night, or the back of Jeffery Epstein's plane." Before Meyers could even begin to formulate a response, Short asked him, "Who was that lady friend of yours — how did you pronounce her name, Ghislaine?" Just when you thought it couldn't possibly get any worse for Meyers, Short said, "So you think they should keep the name Redskins. Why is that?" All of these jokes happened within the first two minutes of Short's interview, an absolute master class in hilariously making your interviewer incredibly uncomfortable in an absurd, borderline evil way.
4. Charlize Theron and Seth Meyers Reminisce About Drinking With Rihanna
I try not to put the same Late Night host on my list twice in a row (it's more of an aesthetic thing than anything else), but rules are made to be broken, especially when they involve Charlize Theron fondly reminiscing about nights out with Rihanna. On Wednesday, The Old Guard star dropped by Late Night to promote her new badass Netflix film and somehow ended up recalling a night where she and @Badgalriri got wasted. "I went drinking with her on a night out in London, and it was some of the best night drinking I've ever done in my life," Theron said to Meyers, who had just recounted his well-documented day-drinking experience with Rihanna. Nights out — wow, remember those? Theron went on to demand that Rihanna be in the next Old Guard, which is awesome because 1) we love every time Rihanna acts, and 2) it implies that there will be another Old Guard movie.
3. Samantha Bee Recaps the History of Homophobic Blood Donation
In a wonderful example of productive allyship, Samantha Bee used her platform to shed some light on the bogus restrictions that keep many members of the LGBTQ community from donating blood. Given the fact that we need to be testing plasma of those with coronavirus antibodies in order to develop a vaccine so that we can maybe one-day feel the touch of another human being again safely convene in large groups and go about our daily lives, updating these laws should be high on everyone's priority list, not just gay men's. Full Frontal broke down exactly why the laws restricting gay men from donating blood are outdated and homophobic, while also criticizing Batman for his brand of masked vigilante justice and also pitching herself for Andy Cohen's latest Bravo franchise, Real Housewives of the Woods, which honestly is probably two years away from becoming a real television show that I watch religiously. I'd also honestly love to watch the fake Hallmark Christmas Movie A P in the V for Xmas. It sounds like good, wholesome fun.
2. Dakota Fanning Had Her Sweet 16 at Villa Blanca
Speaking of the Real Housewives, I'd be lying if I said my jaw didn't drop when preeminent child actress Dakota Fanning revealed on Watch What Happens Live that she had her sweet 16 at the now-shuttered restaurant Villa Blanca, owned by former Real Housewives of Beverly Hills villain and Vanderpump Rules grand dame Lisa Vanderpump. Many people probably read that sentence and said, "… What? How does the location of Dakota Fanning's 16th birthday party earn a No. 2 spot on this list?" And to them I say: I don't have a good explanation; I just have to follow my heart on this one. For whatever reason, learning that the world's most famous child star (and let's be real, for a long time Dakota Fanning was the world's most famous child star) had her sweet 16 at a restaurant even tangentially related to the Real Housewives franchise makes me question everything I know about celebrity, culture, and, well, life. Fanning also celebrated her 21st birthday on Watch What Happens Live, so maybe I'm overthinking everything and she just really loves Bravo.
1. W. Kamau Bell Gives Stephen Colbert a History Lesson
Yes, Tom Hanks dropped by The Late Show With Stephen Colbert to chastise everyone for not wearing masks and taking coronavirus seriously, but this week's top spot has got to go to Colbert's interview with comedian and host of the the CNN show United Shades of America W. Kamau Bell. While Hanks did the world a service by impressing upon us the ever-present danger of the coronavirus, Bell did a similar service by impressing upon us the ever-present danger of racism. He spent his interview with Colbert spitting out cold, hard truths about racism and breaking down how it's embedded in the very core of our nation. "According to these history books I've read," Bell said to Colbert, "America was founded on white supremacy and racism, and the fuel of America is racism, and that's what keeps white supremacy going. And until we actually redesign the whole system, this is where we're at." Bell went on to discuss growing up with a mother who made him keenly aware of racism — so much so that he didn't know a cracker was a delicious snack until he was 11. Coronavirus and racism: Two very real things that many people in our nation don't believe exist. This reminds me: If anyone in COVID-19-free New Zealand would like to get married, my DMs are open.