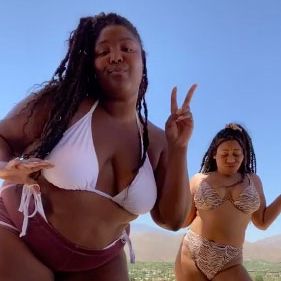 Even Lizzo's done the dance to her fellow Houston turn up king's new TikTok hit.
Photo: Lizzo/TikTok
TikTok found BeatKing, y'all. It was only a matter of time before TikTok's discerning ear turned to local favorites. Houston rapper BeatKing's "Then Leave," featuring fellow H-town artist Queendom Come, has started a new dance craze and it's really no one's fault except BeatKing's. He glides on top of the beat in his first verse, with a booming voice and surprising wordplay. It's the kind of verse that warrants a replay, leaving you so hype by the end, you gotta go back. Well, Queendom Come also has her fair share of the blame. Her pre-chorus breaking down the basics of being a bad bitch inspired a second TikTok trend.
"Then Leave" first popped off thanks to @boujee.tay and a friend, who choreographed a dance to BeatKing's opener, complete with TikTok's recent favorite dance move, the Mop. Then, @k.jdr modified it with a twerking interlude. That version of the dance was popularized by @myaa_monaa, whom Charli D'Amelio and others mistakenly give dance creds, but the OG version earned over 1.4 million views and a re-creation at a Home Depot went viral on Twitter. As for the difficulty, if you can twerk, you can make it work. But that didn't stop D'Amelio and Addison Rae, who once again modified the dance (and in the latter's case, stopped the track before he got to the word "pussy"). Their TikToks alone have a combined 131.2 million views. Even Claudia Conway, presidential counselor Kellyanne Conway's apparently leftist, TikToking daughter, used the sound in a post encouraging people to leave bad reviews on Donald Trump's establishments. Some versions of "Then Leave" on TikTok have since been copyright claimed, but not before thousands (including Lizzo!) danced to it and started a whole new trend.
In late June, a basketball player re-uploaded just Queendom Come's lead-up, "Get that bread, get that head, then leave, then leave, bitch, then leave," in a joke about prepping before heading to his "suga mama house." From there, people realized that getting that bread, getting that head, and leaving is exactly where their priorities lie at this point in the pandemic. So, they replace the lyrics with their life plans. "Graduate with neuroscience degree," "Become an OBGYN," and "Ensure Black mothers and their babies can enter this world safely without being unheard or mistreated," are just one TikToker's plans for getting that bread, head, and leaving.
BeatKing is a party mainstay, the "Club Godzilla," in his hometown of Houston, where he's been rapping for about a decade. Turn ups turn up because of him. With this summer being spent indoors, his most recent single found love online. Thanks to TikTok, "Then Leave" was No. 1 on the Spotify's U.S. Viral 50 chart after Fourth of July weekend and trended on Apple Music in late June. The beauty of a summer banger lives on. It really does speak to the artists' talent that even the most sauceless TikTokers can get it to "Then Leave."