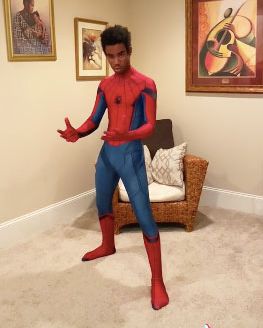 Looking like a real-life Miles Morales, it's no wonder that Bass drew the attention of the likes of Disney's Bob Iger and "Spider-Man: Into the Spider-Verse" director Peter Ramsey.
Photo: Julian Bass/TikTok
Talent (agencies) recognizes talent, and now 20-year-old TikTok star Julian Bass can officially call himself the CEO of Edits. Deadline reports that ICM Partners has "signed Bass for representation in a competitive situation." This news comes after one of Bass's superhero-effects-heavy TikToks set to Harry Styles's "Watermelon Sugar" (because, again, talent recognizes talent) went viral and was shared by Spider-Man: Into the Spider-Verse director Peter Ramsey, and Disney chairman Bob Iger. Bass, a 20-year-old student at Georgia State University, has amassed over 900,000 followers and 8.3 million likes for his videos on TikTok, which feature him showing off movie-quality special effects starring himself using Jedi powers and Spidey senses. He has also begun making After Effects VFX tutorials on YouTube, and promoting them on his TikTok. Deadline also calls Bass an "accomplished musical theater actor," so maybe one day Bass can combine his talents and there will be hope for a Spider-Man: Turn Off the Dark revival yet. Then he'll be the hero we want and the hero we deserve.