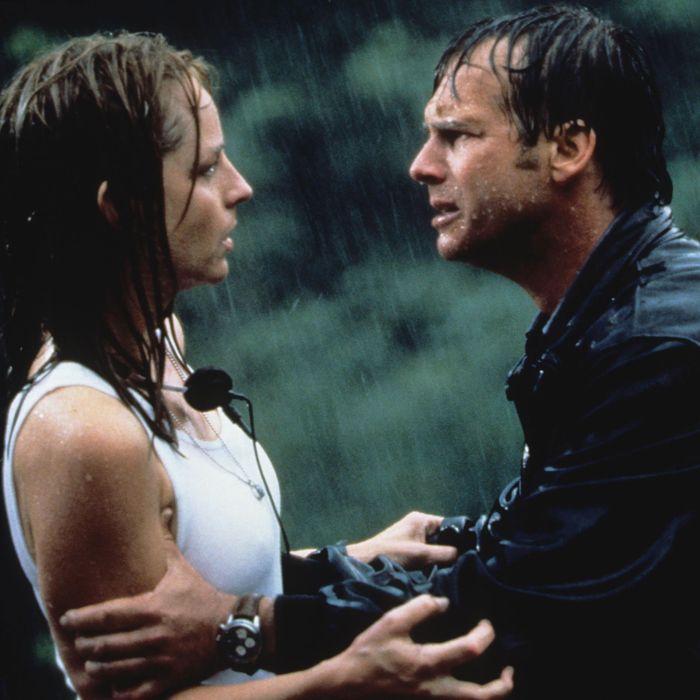 And what a coincidence, it's also perfect for your Friday night quar watch with us. Because you should definitely still be in quar!
Photo: Amblin/Universal/Warners/Kobal/Shutterstock
Every week for the foreseeable future, Vulture will be selecting one film to watch as part of our Friday Night Movie Club. This week's selection comes from music editor Dee Lockett, who will begin her screening of  Twister on July 17 at 7 p.m. ET. Head to Vulture's Twitter to catch her live commentary, and look ahead at next week's movie here.
I am a woman of taste. Give me Helen Hunt and Bill Paxton in a cornfield bickering over who gets to throw themself first in front of a F5 tornado in the name of science!, all while making eyes at each other that say "we are definitely gonna fuck if we make it out of this alive," all while providing a crash course in catastrophic natural disasters and climate change, and you have my undivided attention. Twister remains, almost 25 years after its original 1996 release, a highlight of the golden era that was '90s disaster flicks. You know them well: Titanic. Dante's Peak. Volcano. (Those two in the same year! 1997 was crucial training for The Floor Is Lava.) The cinematic achievement of doom-and-gloom-but-make-it-goofy-and-over-CGI'd that is Michael Bay's Armageddon!
But Jan de Bont's Twister has it all. It stars Hunt as Jo, a meteorologist who could really use extensive longterm therapy to recover from the adolescent trauma of witnessing her father get swept to his death by a twister, but instead copes by chasing down and studying storms in the hopes that she can make significant scientific breakthroughs that would give small, rural towns in tornado danger zones like her own better warning and more time to get to safety — time her father wasn't afforded. It's a little bit bananas as a life plan but mostly well-intentioned, a lot like marriage. Enter her ex-husband, Bill (Paxton), a fellow meteorologist and retired (so he thought) storm chaser who whooshes back into her life, and into town, to get her to deal with the other trauma she's been avoiding: their former relationship. You see, Bill now has a new woman in his life (Jami Gertz, love ya) who is sensible and has exactly zero interest in putting herself in the direct kill path of a tornado, and who has inspired Bill to turn a new leaf and stick to Al Roker-ing on the local news. He would like nothing more (so he thinks) than to marry this nice, similarly work-driven woman and go on living his simple, safe life. But Jo, too preoccupied with saving the planet, conveniently "forgot" to sign the divorce papers. Hence, the blast from her past. If you've seen the 2002 Reese Witherspoon underrated gem Sweet Home Alabama I don't need to tell you where this story goes.
Like I said, Twister has everything: It is both rom-com and divorce drama, equal parts dystopian-ish thriller (there is an especially stressful sequence involving an elderly woman, played by the legend Louis Smith) and educational material (again, science! you will learn how tornadoes work!). It is an action adventure, the best of its kind because a good chunk of said action takes place in large trucks and involves high-speed chases where what they're in hot pursuit of is weather! And for a movie that would have you believe that the titular character, miz Twister, is the villain — oh no no no, we've got a human one too (thank you, Cary Elwes). But I've saved the best for last: bitch, there are flying cows.
Twister works as well as it does because it is, above all, the product of an enviable ensemble cast rounded out by Philip Seymour Hoffman (in true kooky side-bit form), Alan Ruck, Zach Grenier, and just a murderer's row of character actors. Maybe you think it'd be tough to get through the film today, because Paxton and Hoffman get so much screen time and both exceptional actors have since passed well before their time. But Twister and its performers exist on a different kind of time continuum than the one we're currently coasting on. There's no mistaking what era it was made in — much of its score is performed by Van Halen and the soundtrack sticks to similar stadium and classic rock (Red Hot Chili Peppers, Goo Goo Dolls). But its story is peppered with eternally relevant plot points: relationship entanglements, devastating natural disasters, a fear of the havoc climate change will keep wreaking, the perpetual existence of Helen Hunt. To watch it now is to feel less left behind and more validated by a universe in which your greatest anxieties manifest as enormous wind funnels that no one else can refute. Twister is somehow egregiously dated and effortlessly timeless.
I am no film expert, but I have been called the "Brenda" of my friend group on, um, more than one occasion of group movie watches, which does make me the expert of talking through films. Join me this Friday night as I talk, er, tweet through Twister @Vulture before the film leaves Netflix on July 31. I rest my case!
Twister is available to stream with a subscription to Netflix and is available to rent on Amazon Prime, YouTube, iTunes, Vudu, and Google Play.