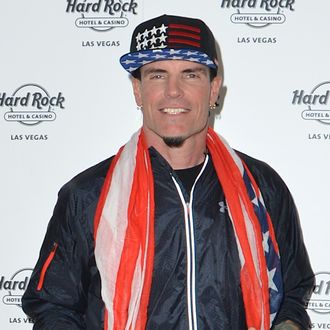 If I were Vanilla Ice, I'm sure I would also miss the '90s.
Photo: Getty Images
All right stop, collaborate, and listen. Ice is back … and throwing a concert in a coronavirus hot spot amid a global pandemic. Yes, your 12th-favorite one-hit-wonder rapper and onetime HGTV house-flipper Vanilla Ice is hosting a Fourth of July concert deep in the heart of Texas, which recently hit 8,076 new coronavirus cases, a record daily high. Vanilla Ice's "Independence Day Throwback Beach Party" is, shockingly, inspired by days of yore that actually no longer exist. "I can't wait to get back to this. The '90s were the best," posted the "Ice Ice Baby" singer on Instagram, who clearly insists on living in the past. "We didn't have coronavirus, or cell phones, or computers. We had 5.0's, blockbuster, Beavis and Butthead, Wayne's World, Chris Tucker and Jackie Chan … Mortal Kombat is still better than Fortnight … the last of the great decades." Actually, 2020 has Beavis and Butthead as well as coronavirus, and I'm also pretty sure the '90s had computers, but I digress.
If you're wondering how this rapper that you have literally not thought about in 25 years is managing to throw a concert when the governor of Texas reclosed all bars on Friday due to the recent surge of COVID-19 cases and hospitalizations in the state, make no mistake that he found a small loophole in the law in order to make this happen. Per the Austin Chronicle, Vanilla Ice is hosting the concert at a restaurant — specifically Emerald Point Bar & Grill, located on the shores of Lake Travis in Austin, Texas — and not a bar or concert venue, and therefore is not subject to the same laws. Despite being technically a restaurant, the Emerald Point Bar & Grill has a large outdoor, general-admission concert space, and Vanilla Ice is taking advantage of this by selling 2,500 tickets, which is somehow only half of the venue's potential capacity.
There are so, so many ways to contract the coronavirus, but I will go on record and say the worst possible way to contract the coronavirus would be at Vanilla Ice's "Independence Day Throwback Beach Party." I know we all love the '90s, but we have to draw the line somewhere.
Update, July 2: More like Ice Ice Maybe This Isn't Such a Good Idea After All. Vanilla Ice has now announced that he is officially postponing his Austin Fourth of July concert to a later date, one where there is hopefully less of a fatal respiratory pandemic spiking in Texas. In a video posted to Twitter, Ice said:
I'm not going. I listened to my fans; I hear all you people out there. I didn't know the numbers were so crazy in Austin, but we were hoping that it would be a lot better by Fourth of July, because we booked this concert a long time ago. So, basically, just want to stay safe. We do take it serious, and we want to make sure that everybody's safe. We were just hoping for a good time [on] Fourth of July weekend. But it turned into be a big focal point on me, and it's not about that. So anyway, happy Fourth of July, and hopefully by New Year's, this corona crap will have a cure! Come on! Go, ninja, go! Ready to go! Haha! Anyway, all the best, everybody.