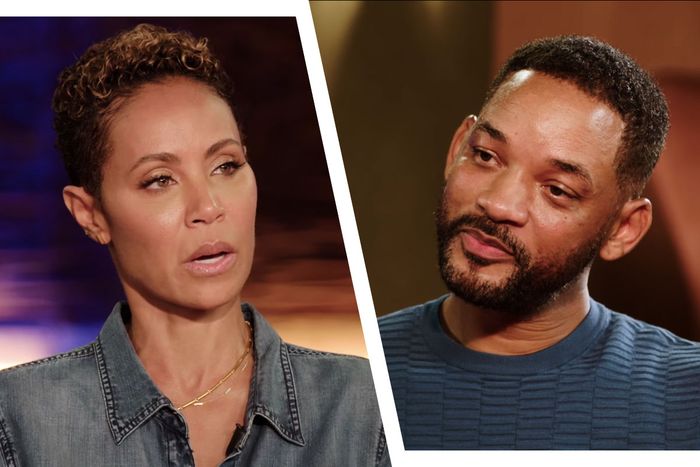 Photo-Illustration: Vulture and Red Table Talk/Facebook
Red Table Talk, the talk show hosted on Facebook Live and executive-produced by Jada Pinkett-Smith, is built around a feeling of intimacy. On it, Pinkett-Smith, often alongside her family, discusses heady topics like addiction and navigates questions of parenting. The show is primed to entertain and occasionally rankle, particularly when Black male celebrities appear to make amends after public foibles. But the series did something new last week when Pinkett-Smith came to the table with her husband, megastar Will Smith, to frankly discuss the complicated details of their marriage after being thrust into a harsh public spotlight.
Celebrity relationships can be a way to shore up power and visibility in Hollywood, but they also speak to notions of intimacy, marriage, and desire in the American imagination. The Smiths, who have been together since 1995 and married since 1997, are a Black family who played Hollywood's game and won big. The image they project is a wholly aspirational one of a blended family, bolstered by their artistry and care for one another. The couple has also been plagued by rumors of having an open relationship since at least 2013, when Pinkett-Smith's comments during a HuffPost Live interview drew curiosity. "I've always told Smith, 'You can do whatever you want as long as you can look at yourself in the mirror and be okay," she said at the time. "Because at the end of the day, Smith is his own man. I'm here as his partner, but he is his own man. He has to decide who he wants to be, and that's not for me to do for him. Or vice versa." Pinkett-Smith responded to the curiosity about the inner workings of their marriage with a Facebook post meant to clarify her statements and put the rumors to rest. Questions swirled around the couple again last month when R&B singer August Alsina, who has appeared on Red Table Talk in the past, told Complex, "I actually sat down with Smith and had a conversation, due to the transformation from their marriage to life partnership that they've spoken on several times, and it, you know, not involving romanticism. He gave me his blessing," implying that their marriage is in fact open. Reps for Jada Pinkett-Smith issued a statement saying that Alsina's claims are "absolutely not true." But last Friday, Pinkett-Smith chose to address Alsina's comments further by bringing herself to the table.
In the conversation that followed, Pinkett-Smith said that Smith never gave his "blessing" because they were actually on a break in their marriage when she became involved with Alsina. The 12-minute episode is too choreographed to be considered unvarnished, although much can be gleaned by way of performance — Pinkett-Smith's sleek image, Smith's clear sadness. Still, it pushed our understanding of celebrity relationships into new territory by acknowledging the fault lines in their relationship and how they've grown as a couple after a rough patch that left them feeling like their marriage was over. Their approach to addressing the rumors stands out in the history of celebrity for how they wrested control from the typical apparatus — talking on a daytime talk show or to a celebrity-friendly magazine like People — to more fully have a hand in their narrative, as stars individually and as a Hollywood family. In turn, the Smiths brought into the light a host of issues running through modern celebrity — the need for relatability, the dynamics of how family can reinforce persona, and how image-making for stars is shifting in an era in which the gleam of stardom has dulled dramatically. To understand why the Smiths' approach to private issues is so notable, it's helpful to look at how past celebrity couples navigated similarly rocky intersections in their relationships in the public eye.
In a August 1932–January 1933 issue of Motion Picture magazine is an article outlining the potential rift between married couple Joan Crawford and Douglas Fairbanks Jr. "Will Joan Crawford's career wreck her marriage?" the article asks, displaying pictures of the sunny, glamorous couple. Their marriage was fraying at the edges. Despite Fairbanks Jr. being Hollywood royalty, he grew jealous as her fame began to outshine his. Her on-and-off-again affair with Clark Gable didn't help things. No matter. MGM wouldn't let one of its greatest burgeoning stars, who had made the successful jump from silent films, be undone by rumors. So the studio paid for a photo-op tour of Europe for the couple. Unfortunately, it just hastened Crawford's decision to get a divorce. This tactic was common to the studio system, when the images of stars were maintained in-house. But perhaps more instructive is the relationship between Elizabeth Taylor and Richard Burton, who ushered in a new dynamic between celebrity couples and the public. It was born on the set of Cleopatra, an affair that would wreck two marriages and spawn one of the most intriguing couples in Hollywood history.
Taylor and Burton are the textbook example of modern celebrity. Every couple since has barely touched the hem of their extravagance, their famous sorrows and fights, the full weight of the paparazzi's flashing cameras, and their epic romance. Theirs was a relationship so scandalous, it earned the condemnation of the Vatican. After all, the couple would marry and divorce twice. While rumors of Burton's affair with actress Nathalie Delon on the set of the film Bluebeard swirled, along with issues surrounding the couple's excessive drinking, Taylor and Burton used a number of tracks to ward off chatter. In a mid-1970s issue of Ladies' Home Journal, Taylor takes strides to explain the famously heated marriage: "We both let off steam by bawling at each other. But it means nothing. And we both feel so much better for it. That's how it should be … There's a difference between fighting and being mean." Sometimes, Burton answered for his indiscretion with Delon by buying Taylor extravagant jewelry, which she paraded around publicly as a communication of both their wealth and complications. (In the case of his brief affair with Delon, Taylor garnered a sapphire ring.) During these fraught times, they shaped their public image with television appearances like on The David Frost Show in March 1972, where Burton discussed making Bluebeard with Delon while Taylor wore a diamond she won in a tennis match with her husband. Taylor and Burton also cunningly worked out their relationship issues in their films, like Who's Afraid of Virginia Woolf? and Divorce His Divorce Hers, communicating to audiences both their larger-than-life nature and giving them what felt like a peek behind the curtain. Subsequent celebrity pairings have used the same methods that Taylor and Burton demonstrate — either speaking through magazine coverage or using their actual work as a way to communicate the chaos of their relationship but never speaking directly to their audience about their issues.
Modern powerhouse couples, like Kim Kardashian and Kanye West, have outlets like TMZ to speak for them, thanks to Kris Jenner's savvy. Others, like Angelina Jolie and Brad Pitt, who divorced in 2017, addressed the rumors that swirled around their outsize relationship, first through the release of their wedding photos in 2014 and then in her 2015 film By the Sea, which deals with a strained marriage beset by alcoholism and loss. (It may not have been created to be autobiographical, but Jolie, a fiercely smart star, had to be aware of the implications.) Most famously, Beyoncé and Jay-Z have constructed their lives and images to seem untouchable. For the last several years, Beyoncé has chosen to primarily not do interviews. Instead, she speaks for herself through her cultivated Instagram, written statements, and, most importantly, her actual music. In many ways, Lemonade was a response to both people's understanding of her lacquered image and the public's idea of her marriage.
All of these more modern couples have used the dynamics of their families to strengthen and leverage their brands. While notions of relatability have existed in the star-making machine since Hollywood's inception, modern stars take things further in how they position their families within their branding and the ever-present force of Instagram — consider the popularity of Kim Kardashian posting pictures and videos of her children, like North, or how Jolie and Pitt sold baby photos for $14 million and publicly donated it to charity. The familial is a way for stars to shift their branding as they get older and search for new audiences. Being parents and partners isn't only a private enterprise but a public performance through which ideas of their prowess, beauty, and aspiration is grafted upon.
The image the Smiths have projected has always been one of familial unity and understanding, whether it be in Smith's 1997 music video for "Just the Two of Us," which shows a pregnant Pinkett-Smith, or the Red Table Talk itself. But the way they've used their family to leverage their brand has been more pronounced in the last decade or so. Consider, for example, Smith's attempts to make his son a star with pictures like 2013's After Earth. Their family's appeal is along the basis of intimacy — that they are, at the heart of the matter, just a family like yours, with foibles and sorrows and love. The Facebook Live series has always hinged on the same appeal. Will Smith's first wife, Sheree Elizabeth Zampino, appeared on the show to discuss how they have merged their families in a healthy way, especially for the sake of the children. That first episode of the series in which Zampino appears is useful in analyzing the language, physical and verbal, that the Smiths use to communicate the honesty they have made a part of their brand. It's intimate, full of tears and surprising (yet still calculated) revelations.
Watching Smith and Pinkett-Smith's Red Table Talk episode is a master class of relatability as brand management. The language is rooted in the rhythms of self-help and accountability. Their physicality is open. They're jocular even when discussing the fraught circumstances of this "very personal journey that became public," to quote Pinkett-Smith. There are moments that hint at something more complicated. Pinkett-Smith discusses how she started a friendship with Alsina about four and a half years ago as a way to help him. "When Aug first came around, he was really sick," Smith notes. The two go on to talk about how they broke up. As Smith says bluntly in a jokey manner, "I was done with your ass," suggesting Pinkett-Smith did something to engender Smith's discomfort. Pinkett-Smith goes on to discuss she got into a "different entanglement with August." Smith, whose increasingly sad and flustered face launched a meme almost instantly, lets her first mention of "entanglement" stand. But the second time she uses it, he pauses pointedly and then with a light laugh asks, "An entanglement? A relationship." Pinkett-Smith's language — about healing someone and her own codependency — is primed to seem emotionally raw and open. But there's something a bit galling, considering the power imbalance in her relationship with August — he would have been 22 or 23 at the time and mired in a drug addiction. This moment — after which Pinkett-Smith shifted her language from "entanglement" to "relationship" — felt like a view, in real time, of the choices they've had to make and how they work around each other's narrative to keep their marriage alive. It felt unusually real.
Celebrities have always made legible the complications surrounding modern conversations of parenting, desire, and partnership. We project onto them our own goals and foibles. But due to their wealth, celebrities occupy a rarefied space where the problems of childcare, schooling, and providing food for their families simply don't exist. Modern celebrity is currently on uneasy ground, not least because audiences, rightfully, are growing more critical of stars. Is it any surprise, considering the social uprising we find ourselves in and the rank wealth inequality in this country?
In this context, the Smiths are smart enough not to obscure their wealth but to foreground the complications of their marriage. By now, audiences have come to understand the rhythms of celebrity brand management. What makes the Smiths intriguing outliers is that they are the first to lean into relatability in a way that feels more in line with the social-media age. They could have easily denied this, but instead they're being more honest than what we expect from celebrities, revealing the thorny aspects of partnership they have had to navigate. It's a highly strategized play at being open and relatable by cutting out the middleman, controlling the narrative of their stardom and smoothing out its edges.
It's no surprise, considering how adeptly the Smiths have always used the social-media game to strengthen their image and fandom. Just look at Will Smith's popular YouTube channel, which capitalizes on his lightning-bright charisma in ways his recent films have been unable to. No celebrity is ever completely unvarnished about their lives, but the Smiths are doing something others aren't: giving the appearance of radical intimacy. It offers a sly new model for celebrities to operate within as we navigate a world where they thankfully aren't being wholly embraced as aspirational. The success of their approach suggests that celebrities need not project an image of gleaming unions but can display their faults openly and, in doing so, strengthen their brand by positioning themselves as a celebrity couple intent on survival. Perhaps it will even nudge other celebrities to be more open about the hidden arrangements that power their romantic lives.