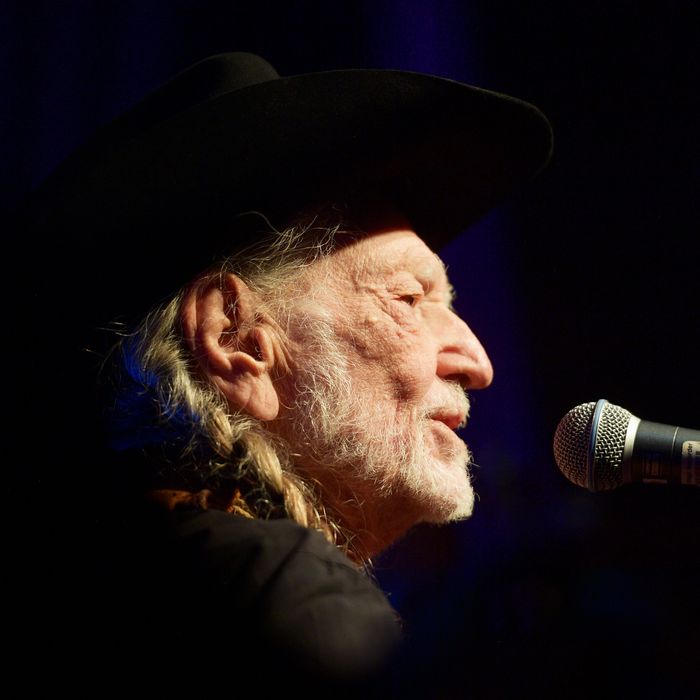 Photo: Matt Winkelmeyer/Getty Images for NARAS
It can be disarming talking to Willie Nelson. The Grammy-winning country legend — one of like five or six human beings on earth allowed to be considered a legitimate legend — speaks slowly, yet to the point. He takes long pauses. It doesn't matter that he already knows what he's going to say. He's had 87 years to answer the same four questions about Red Headed Stranger and Stardust, so he's happy just to retell the same stories of his legendary friends. (His stories are better than yours.) No new interview with Willie Nelson is going to unearth any new secrets about Willie Nelson, and he's not going to give you any more than he has time or energy for. His kindness is bewitching, too; you can feel his focused eyes but also his strong smile over the phone. (No Zoom for Willie.) It's like talking to a bald eagle. Willie Nelson believes in you.
Here's an example: While attempting to connect the dots between his choice of covering Toby Keith's "Don't Let the Old Man In," originally written for Clint Eastwood's film The Mule, and untangling the potentially thorny connection between two prolific yet politically opposing men famous for portraying outlaws, Nelson pauses. It's a long pause. Then, simply, he goes, "Well, maybe one day." And that's it. It's less "that's a dumb question" and more in the spirit of his music: Don't overthink it.
We talked over the phone the day before the July 3 release of his latest album First Rose of Spring, originally set for release in the actual spring but delayed by the pandemic, and before his fabled, now virtual-by-necessity Fourth of July picnic — a prerecorded event featuring remote performances by Sheryl Crow, Kurt Vile, Ziggy Marley, and more — that he admitted "was a strange time." During quarantine, he's been keeping himself busy. He's helping his sons, Micah and Lukas, with a Roger Miller tribute album, finalizing another Sinatra covers album, and finishing the audiobook with his sister and longtime piano player, Bobbie Nelson, for their upcoming memoir. ("Honestly, I haven't read the final cut," he reveals.)
First Rose of Spring, technically his 70th solo studio album, is no minor Nelson release. It continues the tradition of his strong recent records that some have dubbed the mortality series, which is true yet feels misleading; unlike other legacy artists reflecting on aging and what comes next, Nelson sounds joyful and (mostly) at peace with his life. It's a mix of Nelson interpreting other people's music — both cover songs and songs, like Chris Stapleton's "Our Song," that were written for him — and a few originals, this time "Blue Star" and "Love Just Laughed." The songs, straight to the point and assembly-line good, are compelling, and wise enough that they don't need the qualifier that this is the music we need right now. Nelson would rather talk about "Moonlight In Vermont."
Whenever you're putting together a record and deciding what songs to cover, what are you looking for?
I look for a song that I like, and one that I feel that people will like, and one that I think I would enjoy singing during my shows if we ever have any more shows. But that's what I'm looking for.
Have you listened to the new Bob Dylan record?
No, I haven't.
"Yesterday When I Was Young (Hier Encore)" sounds similar to the last track on Rough and Rowdy Ways. It's very theatrical. Were you channeling more of Roy Clark's version or the French original [Charles Aznavour's "Hier Encore"]?
I think Roy. I love his version. I didn't do the intro dialogue; I just went right into the song. But I like Roy Clark's version.
What did you like about it?
The same thing I like about every song that I like [laughs], I like the song.
I didn't know if it was the melody, the lyrics, or if it's the way it's all packaged.
It's all those things. That particular song has everything in it. It's got a whole lot of chords, and it takes a pretty good musician just to play it. It took me a while to learn and to sing it like I wanted to. It's a challenge. It's the last song off the record, and I think that's pretty appropriate because it closes it out pretty well.
Still on Dylan, did you listen to his Sinatra albums? I heard that you're doing another Sinatra record yourself.
No, I haven't heard. We'll be different [laughs] I'm sure of it.
I've already got it cut. I'm going to go in and listen to the vocals again and see if I need to redo any of the vocals, but we have it cut [and] ready to go.
Do you have a favorite song that your sister Bobbie's done on one of your records?
Well, she's just a great piano player, and she can play anything from "Stardust" to "Down Yonder" and play it well. She's my favorite piano player.
The last time you talked to New York, in 2015, Willie's Reserve was just starting, and you were talking about the worries of Big Pot. How do you think things have changed in the past five years?
I think things have changed for the good. There's a lot of positive energy out there and people out there promoting and selling, not only Willie's Reserve but other brands. It seems to be that the timing was perfect. I don't know how many states it's legal in, but there are several where it's completely legal or it's going to open up. I think eventually all 50 states will make it legal because it's good medicine.
For me, particularly, it was good because I was smoking a lot of cigarettes. I was drinking a lot of whiskey. They were killing me. I already had a lung problem, which is a hell of a health condition. I decided to quit smoking cigarettes. I rolled up 20 big joints and threw my Chesterfields [cigarettes] away and put 20 big fat joints in there where the Chesterfields were. I haven't smoked a cigarette since.
There are some really smart gals up there in Colorado running the company, Annie [Nelson's wife] helps them a lot. I call them my highwomen. [Laughs.] They're doing a great job. So far, they haven't disappointed me at all.
Your voice sounds great on the record. Are you able to maintain it in other ways?
I do a vaporizer whenever I can. Somebody asked me the other day, why do you smoke pot? I said, "To keep from killing people." [Laughs.] There may be some truth to that.
Did you watch all of Ken Burns's Country Music documentary?
Oh no, I saw some of it, but I haven't seen the last parts. I was in there a little bit [talking about Waylon Jennings]. There are a hundred people I could have talked about, but if you only have so much time, you know?
I think my favorite part, and this was in the episode you were in, was when Dolly Parton was talking about Jimmie Rodgers's "Mule Skinner Blues." She talked about how that song was a special kind of keepsake or family heirloom, a song that was passed down to her that she could pass on to other people. Do you have any songs like that?
You know, it's funny. Kenny Rogers and I were talking one day. He said, "I've got this song for you that I think you should record." And I said, "What is it?" He says, "It's called 'The Gambler.'" And I said, "It's a great song, but I'm already doing 'Red Headed Stranger' every night in my show, and I don't know that I can really do two long songs like that and remember all the words, so why don't you do it?" And he did it. And you know how that went.
Have you often passed on songs that became famous?
Oh, I may have passed up hits before, but I've been pretty lucky to hear songs that I think I could do. But, you know, you only have so much time, so you do what you have time to do.
Were there times when you wrote a song for someone that you thought was going to be big but for whatever reason didn't work out?
No, I've been pretty lucky.
A buddy of mine, Hank Cochran, was one of the best song pluggers that I ever knew, and a great songwriter. He's passed away now, but he wrote a whole lot of great songs and got a lot of them recorded. But his biggest asset was that he was a great song plugger. For instance, whenever Burl Ives was coming into Nashville and Hank had a song that he wanted him to hear — and you know in Nashville, there are a hundred songwriters waiting to nail you when you get there — he jumped ahead of them and went and picked up Burl Ives at the airport. He took him home, into his house, and played him his songs, so he got to play all his songs to Burl before everyone else did. A great writer, but a good plugger, too.
It's been a little over a year since "Old Town Road" was rereleased on Columbia—
Which one?
"Old Town Road."
What's that? I don't know that one.
The Lil Nas X song? I didn't know if you enjoyed the song or how you felt about it now.
I don't know what song you're talking about. What was it called again?
"Old Town Road." Billy Ray Cyrus remixed the song with him.
Who sang it?
Lil Nas X, he actually sang it. He's a young guy.
All right, good for him.
Is there anyone you haven't covered yet who you'd love to cover?
I don't know. I've covered so many that I think I've been lucky enough to cover all my heroes.
I've been doing some disc jockey work [for his SiriusXM show "Willie's Roadhouse"] and I used to be a disc jockey years ago. They asked me if I [could] do some things and I did. The first show that I did was the ten favorite songs that I liked. I started out with Frank Sinatra and "Moonlight in Vermont." Frank Sinatra is my all-time favorite singer; "Moonlight in Vermont" is my all-time favorite song. So I got to do a Frank Sinatra special. And then I did a Ray Price special, got to tell all my Ray Price stories and jokes, and play Ray Price songs for an hour. And I did the Kris Kristofferson special.
Why is "Moonlight in Vermont" your favorite Sinatra song?
Well, I don't know why. It's because I love it. [Laughs.] I don't know!
I'm sorry, I know I keep asking!
I could have picked "Mountain Dew," I guess. I love "Moonlight in Vermont." I think it's a great song. I don't know why. I don't know why Sinatra is my favorite singer, but he is. I think Frank Sinatra is the greatest all-time singer. For country, I think Ray Price is the best country singer there ever was. I just have my favorites, you know? Songwriters, it'd be hard to beat Kris Kristofferson. But Hank Williams only lived to be 29, he wrote a whole lot of great songs; who knows what he would've done if he lived as long as me and Kris have. But there are just so many great songs out there, thousands of good songs.
I'm a Pearl Jam fan, so it was fun to see you cover them. What are some other recent songs you fell in love with?
Well "First Rose of Spring," the title track of my new album. It was the one song that just knocked me out the first time I heard it. I said, "I got to record this song" because I just love it. It's a good story, a positive love story. Has a great beginning and end. Buddy Cannon, my producer, said, "Okay," and we cut it.
Has there ever been a time when Buddy said no?
I don't think anybody alive can tell me what to do.
I've been doing what I wanted to do all my life, so I don't think anybody ever told me no. [Laughs.] I'm supposed to know as much as anybody about songs and music. So, if I'm wrong, I'm wrong, but I'm right more times than I'm wrong.
I'm also a Green Day fan, and I freaked out when you played with their drummer Tré Cool back in January.
Oh, yeah. He'd come on the stage and play a few songs. He was great. He's welcome anytime.
What makes for a good country drummer?
Well, you know, when I played live or when I was doing shows, Paul English [of "Me and Paul"] was my drummer, and he passed away. For me, he was a great drummer. His brother, Billy English, plays now. Also, my son, Micah, is a drummer. Drummers are important because they can really help, or they can get in the way. I got a couple of jokes for you, one of them about drummers. You want to hear them?
I do.
What do you call a guitar player without a girlfriend? Homeless. What's the difference between a guitar player and a pizza? A pizza can feed a family of four. What has three legs and an asshole? A drum stool.
I play guitar, so that's very fair on the pizza joke.
[Laughs.]
What's the first song you want to play live again?
Well, I've always opened up with "Whiskey River," and then we'll go from there and see what comes up next. But I think [that song] gets people in a good mood. And then who knows where it's going from there? It's been so long. It's been four months since we've played a show. That's not good.
I hear some of the guys are going out and playing these drive-in theaters. I think that's great, and one way to do it. I'm not sure I want to do that yet.
I read that you and Snoop Dogg were doing a new song. Is he also a fan of Willie's Reserve?
Oh yeah. I was over in Amsterdam one time and I called him. I said, "Come on, Snoop. This is where you and me need to be." We had a heck of a good time.
Who's the most unexpected fan of Willie's Reserve?
Gosh, I don't know. Most of the people that I know are fans. I'm really not that surprised, especially these days and times when you're locked in your house for so long. No, I'm not surprised to see anybody take a hit off a good joint every now and then, just to keep from hurting themselves.
This interview has been edited and condensed for clarity.