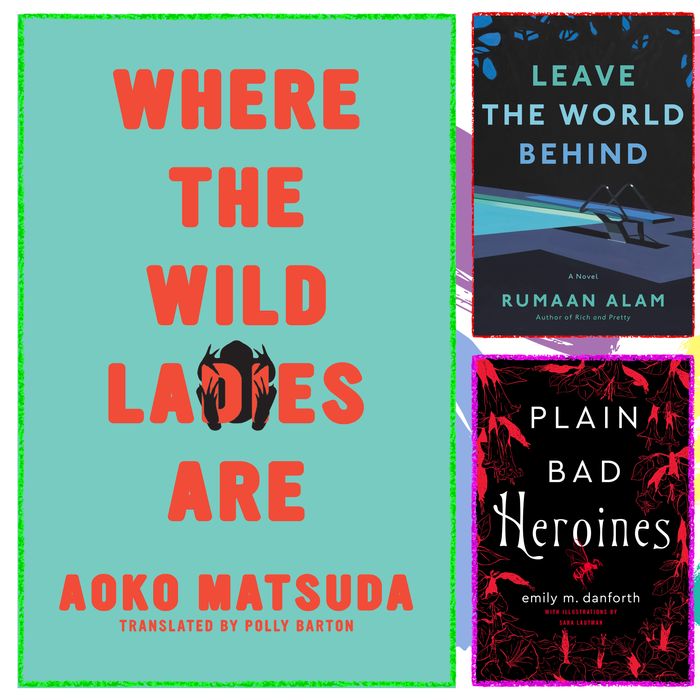 Photo-Illustration: Vulture and Publishers
Apocalyptic thrillers, ghost stories, a journey through a mysterious labyrinth — this fall is filled with the kinds of books that help you see the world more clearly.
September
Named one of Granta's 2017 Best of Young American Novelists after the publication of her best-selling debut novel The Girls, Cline debuts again with a collection of short stories. Seven previously published pieces joined by three new stories makes it a clean ten.
Critics are delighting in the author's first novel after the conclusion of the girlhood-affirming Neapolitan quartet. This is another Naples-set bildungsroman of a disenchanted young girl on the cusp of womanhood, though this time it's set in the 1990s among the intelligentsia.
Hidden away on the title page, this novel from German-born, London-living Volckmer has a subtitle, "The Story of a Jewish Cock." That should tell you something about its author's peekaboo relationship with cheeky, and at times downright sacrosanct, wordplay. Set over the course of one long doctor's visit, The Appointment is a rant-as-novel, a long-winded list of grievances, questions, and observations, starting with its protagonists admission that she sometimes has a lot of pity for Hitler, and occasionally thinks about screwing him. It only gets wilder — and more thought-provoking — from there.
Nobody does remote isolation like Wyld, whose 2013 novel All the Birds Singing followed a lonely female shepherd on an English island as she watched her flock slowly get picked off by a malevolent force. The Bass Rock is set inside one house in a coastal Scotland town, but spans over 300 years as three different women — a supposed witch in the 1720s, a second wife just after World War II, and a single, hard-drinking orphan — all shunned or otherwise less than wanted, move around inside it and encounter one another's ghosts. This is the kind of novel to read while wrapped in a fringe-y shawl and watching a gale blow out your window.
Photo-Illustration: retailer
The poet who rendered atmospheres of American mourning, in Don't Let Me Be Lonely and the bestselling Citizen, returns with another genre-melding work with Graywolf Press. As the subtitle, "An American Conversation," suggests, this assemblage of poetry, essay, criticism, and more gathers many voices in one place in order to breach the placid surface of what's left unsaid.
More than 15 years since the publication of her last novel, Jonathan Strange and Mr. Norrell, a blockbuster about a pair of dueling magicians in Regency England, Susanna Clarke returns with another masterpiece. The new book isn't exactly a fantasy, though it mostly takes place in an infinite stone labyrinth in which an ocean is imprisoned. A sublime exploration of loss, isolation, and the power of the imagination, Neil Gaiman said that reading it was "the greatest pleasure that I could possibly be given."
Remember when we had a president who sat down with one of our preeminent novelists and had a discussion about race, God, and the American soul? Ha! Well, we can't get half of that equation back (*sobs quietly into sleeve*), but we can languidly page through a new Marilynne Robinson novel and forget that any world exists outside her rippling cornfields and creaky country kitchens, where slow-building crises of faith and reason are talked through by well- meaning, if troubled, people. Jack is a direct relation of Gilead, Home, and Lila — it tells the backstory of the ne'er-do-well Jack Boughton and his wife, Della, whom Robinson devotees will already know end up torn apart by the complications of their illegal biracial marriage. Prepare to be sucked in by our country's most thoughtful novelist.
Whereforth hath the lecture gone? The medium that brought us Virginia Woolf's A Room of One's Own and James Baldwin's "On Language, Race, and the Black Writer," slithered away into the undergrowth and reemerged as the thinkpiece, and we are definitely the worse for it. But with Transit Books' new Undelivered Lecture series (which kicks off with a "lecture" on lectures, by Mary Capello), the spirit, if not the exact form, of the gusto-infused speech is resurrected. Serpell's contribution, which traces the mental hiccups that occur when we spy the unfamiliar contours of a stranger's face, is a delightful deep dive.
October
For his third novel, Rumaan Alam delivers a propulsive thriller about a wealthy white family whose luxurious Hamptons vacation is interrupted when an older Black couple who owns their Airbnb shows up in the middle of the night bearing news of an apocalyptic event. Trapped together as the world falls apart, the book is both prescient and terrifying. Alam is an expert observer of the nuances of class and wealth, and the book is full of provocative, sensual detail, including one delicious page and a half where he lists every single thing his protagonist buys at the grocery store. Netflix won a heated bidding auction for film rights and Julia Roberts and Denzel Washington are set to star.
Every publishing season needs an absolute weirdo wildcard. Murata's new novel (she wrote the culty, ravishing Convenience Store Woman) follows Natsuki, an 11-year-old girl in Japan who immediately explains to us that she's best friends with a stuffed hedgehog from the planet Popinpobopia and learns from her cousin that he believes he's an alien who is waiting for his species to come rescue him from Earth. Murata is a phenom in Japan, especially for her far-out interpretations of the bizarre limitations imposed on women, and Earthlings is a step further in her quest to normalize loner-rama heroines.
If the pandemic worsens in the coming cold weather (as seems likely) and you're going to be locked in a small space with a tightening cloak of spiritual claustrophobia (as, uh, seems inevitable), you might as well invite two thrilling people to join you. The first is journalist and critic Marcus J. Moore, who has chosen the second, Kendrick Lamar, as the subject of a biography about the only rapper to win a Pulitzer (among other, more interesting, accomplishments).
Stuffed with footnotes, and stories inside stories inside stories, Emily M. Danforth's follow-up to The Miseducation of Cameron Post is a queer gothic coming-of-age story set at a cursed New England boarding school for girls. There are just a few sequences of words that fire up my pleasure centers the way that description does, and the queen of queer gothic horror, Sarah Waters, has already given her stamp of approval.
Want a book of ghost stories that will have you ooh-ing over your cocoa? Go check out the children's section. Want a book of ghost stories that will have you screaming around a Big Gulp–size serving of Adult Beverage? These tales are warped and reinvented from traditional Japanese ghost stories, and they go barrelling through hair salons and domestic kitchens and modern factories. Whether you'll identify more closely with the mortals or the ghosts is an open question.
The first thing you should know is that this book, by death-positive librarian and journalist Megan Rosenbloom, is NOT bound in human skin like the ancient titles it discusses. It is however, absolutely spilling over with macabre curiosities about the books that appear leathery at first glance, but turn out — often thanks to the sleuthing of Rosenbloom and her colleagues — to have the soft, buttery remnants of a person's epidermis wrapping them up like a dark, deathly hug. But this isn't just a "holy shit look at something nutty" kind of thing that publishers hope you'll buy for your weirdo sister this Christmas. Instead, Rosenbloom's attitudes about the fallibility of the human body turn it into a vehicle for reflection about our impermanence — and just how messed up our perceptions about death really are.
I'm guessing you haven't heard of Susan Taubes. I hadn't heard a peep about her either, until a fellow writer and voracious reader told me that this reissue of Taubes's (only) 1969 novel was in the running for her favorite book of the year. Taubes, a friend of Susan Sontag's, published Divorcing just before she died by suicide, and her name has never carried the weight it might have had she left behind a larger body of work. But damn, Divorcing alone should reanimate her legacy. A spinning, nonlinear, fluttering piece of fiction that follows one woman's own peripatetic marriage and divorce, along with her parents', it's an obvious precursor to the work of writers like Elizabeth Hardwick and Jenny Offill — even if they too never read it.
Photo-Illustration: retailer
Bryan Washington writes quiet. His characters methodically chop cabbage, or slide silently from room to room. Then, bam. A quick, elliptical conversation will smack you sideways with its heft and resonance. Memorial is ostensibly about a Houston couple, Mike and Benson, who are struggling to figure out why exactly they're still together — but the two hardly share any page space. Instead, we follow them individually, as Mike flies off to Japan to sit with his dying father, and Benson hosts Mike's mother at their house and she takes him on as a cooking protégé. Washington has called it "a gay slacker dramedy" but it's far more than a riff on Reality Bites.
November
The straight love story has developed a bad rap, as if the most persuasive and influential of all the human emotions just isn't worthy of literature. Shirley Hazzard's illustrious short-story career ought to undo that notion entirely. Collected Stories, which had me hunched over in a pile of limbs, desperately watching as Hazzard's lovers united and disassembled, is proof that the short story can thrive on character and charisma. It sent me straight back to the bookshelf for another read of The Great Fire and Transit of Venus, and reignited my quest to become a connoisseur of too-little-loved mid-century female writers.
If the week of November 3 leaves you gasping for something a little more palatable than say, a media circus over the next leader of the free world, luckily Danielle Evans's exceptionally wise new story collection will be on its way to your mailbox, ready to remind you that there are still some Good Things out there. Every story in The Office of Historical Collections is on point — especially 'Boys Go to Jupiter," in which a white college girl is unprepared for the fallout of a picture of her in a Confederate flag bikini — but the ancestral thriller novella that spawned its title is completely transformative.
December
Laura hardly sleeps. When she isn't on duty as a nurse in a pediatric hospital unit, or wading through the collapse of her relationship, she's lying in bed, staring, awake but not quite with it. (Can you relate?) Following a long line of restless tossers-and-turners (of course, there's Otessa's anti-heroine, but my favorite will always be the Japanese housewife of Murakami's "Sleep"), Glass's protagonist soon veers toward the Gothic, questioning her sanity and drowning in her rare dreams. Sure, this is a novel about burnout and the burdens of caretakers, but it's also a galloping thriller.
Full Calender
September 1
Out of Mesopotamia by Salar Abdoh
Likes by Sarah Shun Bynum
Daddy by Emma Cline
The Lying Life of Adults by Elena Ferrante
Red Pill by Hari Kunzru
The Last Story of Mina Lee by Nancy Jooyoun Kim
A Girl Is a Body of Water by Jennifer Nansubuga Makumbi
The Appointment by Katharina Volckmer
The Bass Rock by Evie Wyld
September 8
Homeland Elegies by Ayad Akhtar
Anxious People by Fredrik Backman
Monogamy by Sue Miller
That Time of Year by Marie Ndiaye
What Are You Going Through by Sigrid Nunez
Just Us: An American Conversation by Claudia Rankine
The Ancestry of Objects by Tatiana Ryckman
September 15
Piranesi by Susanna Clarke
The Evening and the Morning by Ken Follett
Troubled Blood by Robert Galbraith
The Killings at Kingfisher Hill: The New Hercule Poirot Mystery by Sophie Hannah
The Exiles by Christina Baker Kline
Igifu by Scholastique Mukasonga
Like a Bird by Fariha Róisín
Clerk by Guillermo Saccomanno
September 22
Adrianne Geffel: A Fiction by David Hajdu
And Now She's Gone by Rachel Howzell Hall
For Now by Eileen Myles
September 29
The End of the Day by Bill Clegg
Just Like You by Nick Hornby
Jack by Marilynne Robinson
An Inventory of Losses by Judith Schalansky
Stranger Faces by Namwali Serpell
October 6
Leave The World Behind by Rumaan Alam
Cuyahoga by Pete Beatty
The Searcher by Tana French
Dear Child by Romy Hausmann
Magic Lessons by Alice Hoffman
The Lost Writings by Franz Kafka
Missionaries by Phil Klay
Earthlings by Sayaka Murata
The Perfect Nine by Ngugi Wa Thiong'o
October 13
Kant's Little Prussian Head and Other Reasons Why I Write by Claire Messud
The Butterfly Effect by Marcus J. Moore
October 20
Inside Story by Martin Amis
Plain Bad Heroines by Emily M. Danforth
The Silence by Don DeLillo
Where the Wild Ladies Are by Aoko Matsuda
Dark Archives by Megan Rosenbloom
October 27
Divorcing by Susan Taubes
The Sentinel by Lee and Andrew Child
The Cold Millions by Jess Walter
Memorial by Bryan Washington
November 3
Collected Stories by Shirley Hazzard
To Be a Man: Stories by Nicole Krauss
November 10
One Night Two Souls Went Walking by Ellen Cooney
The Office of Historical Corrections by Danielle Evans
The Arrest by Jonathan Lethem
November 17
The Sun Collective by Charles Baxter
I Wanna Be Where the Normal People Are by Rachel Bloom
No One Asked for This: Essays by Cazzie David
The Bad Muslim Discount by Syed M. Masood
Eartheater by Dolores Reyes
November 24
Miss Benson's Beetle by Rachel Joyce
December 1
Peach Blossom Paradise by Ge Fei
Rest and Be Thankful by Emma Glass
Perestroika in Paris by Jane Smiley
*A version of this article appears in the August 31, 2020, issue of New York Magazine. Subscribe Now!