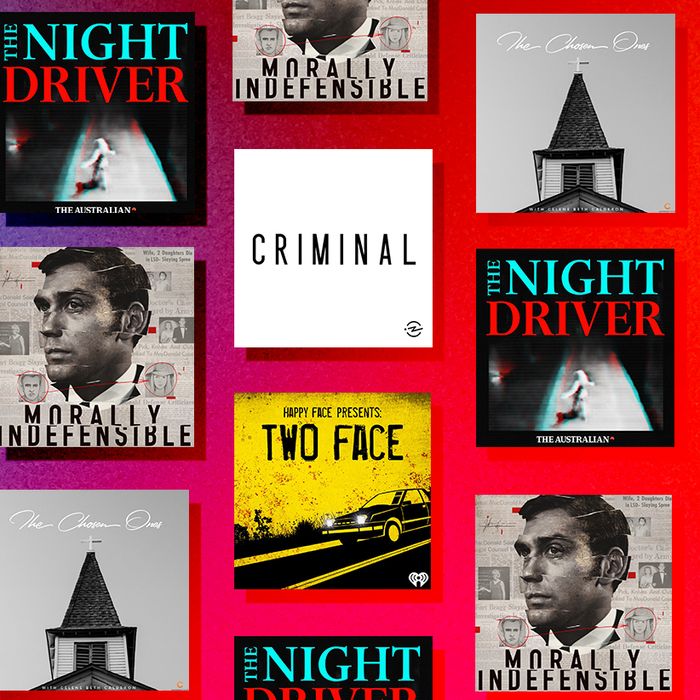 Photo-Illustration: Vulture
The true-crime podcast universe is ever expanding. We're here to make it a bit smaller and a bit more manageable. There are a lot of great shows, and each has a lot of great episodes, so we want to highlight the noteworthy and the exceptional. Each week, our crack team of podcast enthusiasts and specialists will pick their favorites.
The Night Driver, "Sisters"
Australian journalist Hedley Thomas made headlines in 2018 with the podcast The Teacher's Pet, which investigated the disappearance of Lynette Dawson back in 1982. This new series from Thomas, which debuted this week, looks into another high-profile missing-person case — that of 31-year-old Janine Vaughan, who stepped into the passenger seat of a red sedan on the evening of December 7, 2001, and was never seen again. Of course, rumors aplenty have swirled around her small Australian town of Bathurst over the ensuing 19 years, but Vaughan's body has never been found, and her family, especially sister Kylie, is desperate for answers. In fact, it was Kylie and brother Adam who asked Thomas to look into the case.
While the disappearance of a young woman is heartbreaking enough, the first episode lays bare Vaughan's own personal heartbreak — that of a missed connection with her birth mother. As an infant, Vaughan was adopted by her paternal grandparents and later came to learn that her birth mother (whom Thomas calls "Annie") lived just a stone's throw away. She became intent on meeting her, yet despite a brief unintended run-in at a local bar, they weren't able to have a proper meetup before Vaughan's death. Thomas interviews Annie to hear her side of the story, and it's a true gut punch. Whether this "family secret" has anything to do with Vaughan's disappearance is unclear, but Thomas does promise that he and his investigative partner have uncovered new clues in this nearly 20-year-old case. And given the fallout from The Teacher's Pet podcast, I believe him. —Amy Wilkinson
The Chosen Ones, "In Her Own Words: April Raymond" 
The story of Lori Vallow, her husband Chad Daybell, and the havoc they've wreaked is still unfolding. Here's what we know, in brief: Vallow's ex-husband, Charles, and Chad's ex-wife, Tammy, died mysteriously (Tammy two weeks before Lori and Chad got married in 2019). Vallow's two children, Tylee, 16, and JJ, 7, disappeared in September of 2019. Their bodies were found in June 2020 on Chad Daybell's property in Rexburg, Idaho. Also, Vallow and Daybell are in a doomsday cult.
In The Chosen Ones, host Celene Beth Calderon tackles the intricacies of this bizarre case through the people close to it, reminding the listener to keep in mind the most important aspects in all of this: JJ, Tylee, Charles, and Tammy. In the latest episode, Calderon interviews April Raymond, a former friend of Lori's, about their relationship, when things got sinister (i.e. when Lori told her she thought Charles had been taken over by a demon), what she's doing to make sure the victims get memorialized, and more. The 50-minute episode is riveting, sensitive, and revealing. —Chanel Dubofsky
Happy Face Presents: Two Face: "The Secret"
Melissa Moore, the daughter of serial killer Keith Jesperson, spent the first season of Happy Face investigating her father's crimes and her experiences as the child of a murderer. It's a fascinating look at what it feels like to find out someone you loved is capable of horrendous acts of violence — and what it might mean to share that person's genes.
The second season, which Melissa also hosts, focuses on Becky Babcock, whose mother, Diane Downs, shot her three children point-blank in the chest in 1983 and blamed it on a carjacker. Downs was pregnant with Becky during the murder trial but has steadfastly refused to name the father. Becky was given up for adoption, but by the time she was 6, she was understandably curious about her mysterious mother. She tricked her babysitter into revealing her mom's identity, but she wasn't aware of the extent of her mother's crimes until she was a teen.
"The Secret" focuses on how Becky found out the full story about her mother's crimes — which involves a particularly cruel date night and Small Sacrifices, the made-for-TV movie starring Farrah Fawcett and based on the book by Ann Rule — and its rippling effects on her life. It also introduces how her feature in Glamour this past spring came about (hint: not easily) and her attempt to find answers about her father. —Jenni Miller
Criminal, "How to Sell a Haunted House" 
So you bought a house and there are ghosts in it. (Whoops.) When it comes time to sell that house, which, depending on the nature of these ghosts, might happen sooner rather than later, what do you tell the people who want to buy it?
In 1989, Helen Ackley put her haunted house in Nyack, New York, up for sale, and in the latest episode of Criminal, Phoebe Judge looks at the ensuing court case, which resulted in what's now known as "the Ghostbusters ruling." The couple about to buy Ackley's home, Jeff and Patrice Stambovsky, decided not to go through with it after a neighbor told them it was haunted, demanded their money back, and were promptly sued by Ackley. As Judge points out, in 1989, there was no Google, so it's not like the couple could have known that Ackely had been advertising her house as haunted for years. Was it Ackley's legal responsibility to tell the couple? Does it matter if the Stambovskys believe in ghosts? There's a lot packed into this short episode — stigmatized property, real estate, and yes, another story about a haunted house. Have a listen, and then look up the disclosure laws in your state. —Chanel Dubofsky
Morally Indefensible, "Pen Pals"
The relationship between convicted murderer Dr. Jeffrey MacDonald and biographer Joe McGinniss has been written about at length, first in Janet Malcom's The Journalist and the Murderer, and later in A Wilderness of Error, by the esteemed documentarian Errol Morris. Morally Indefensible is an add-on to FX's upcoming series based on Morris's book, and so far the first two episodes introduce MacDonald's crimes and trials — first in the Army's Criminal Investigation Division and then before a grand jury, which ultimately found him guilty — before zeroing in on the relationship between, well, the journalist and the murderer.
As it currently stands, I'm not sure if it would be better to hold off on listening to Morally Indefensible until the FX show drops, unless you've already read the books by Malcom and/or Morris to give it a richer context. The podcast benefits from the deep research conducted by Morris and the team behind the upcoming series, which includes documentarian Marc Smerling and Morris himself, and it has high production values, so it's definitely worth listening to depending on your true-crime tastes. —Jenni Miller