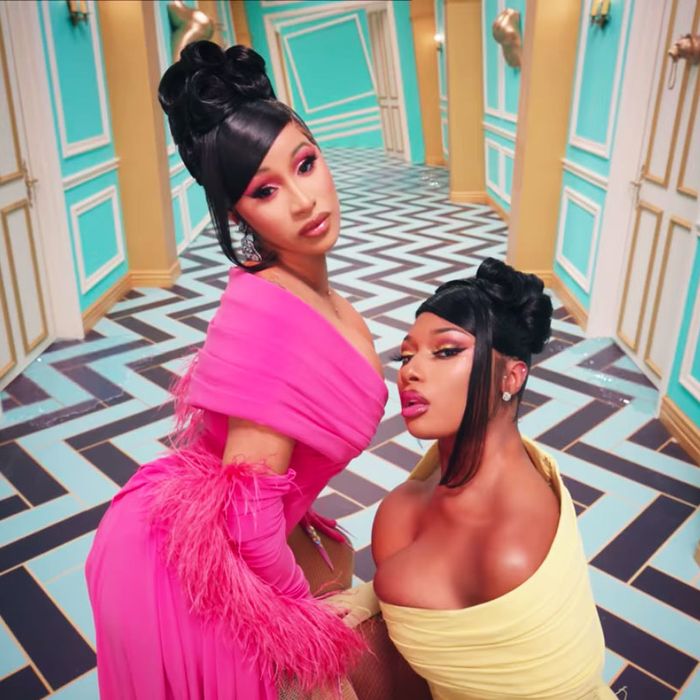 It's also a pivotal single for both artists.
Photo: YouTube
Back when Mark Wahlberg was "Marky Mark," and hip-hop and dance music rubbed elbows as siblings raised in the same household, when Queen Latifah and the Jungle Brothers dabbled in house, and your Eurodance hit wasn't shit without a deep-voiced man rapping somewhere in the middle, creative, reckless party music ruled the day. In Atlanta, Kilo Ali made Bankhead bounce to "Donkey Kong" and "Hear What I Hear," and Tag Team scored an unlikely nationwide smash in "Whoomp! (There It Is)." In Miami, Luther Campbell got hit with an obscenity trial for the Full Metal Jacket sample in "Me So Horny" but bounced back with "Banned in the U.S.A." and "Pop That Pussy." In Baltimore, Harlem-born, Miami-raised artist, journalist, and radio personality Frank Ski breached the Billboard Hot 100 with "Doo Doo Brown." These records are timeless; their legacy lives on in samples. Missy Elliott flipped "Donkey Kong" for "Lose Control." The loudest voice in French Montana's "Pop That" is the Uncle Luke sample. Today, Cardi B and Megan Thee Stallion flip Frank Ski's "Whores in This House" from 1993 on its head with "WAP," a role reversal almost as smart as when India.Arie took the beat from Akinyele's blow-job anthem "Put It in Your Mouth" and made "Video," a poignant rejection of the themes of the original.
Cardi B and Megan Thee Stallion are the perfect vessels for a filthy Bmore club remake. Cardi is one of the rare artists to make it out of the career graveyard that is Love and Hip-Hop, a show about rappers making music you almost never hear after the credits roll. Her big hits lean toward street shit, but her projects always make time for a nasty one like "Trick" or "Bickenhead." Megan made waves in the past two years for the raunchy Al B. Sure! flip "Big Ole Freak" and "Cash Shit," where she upstaged DaBaby in a verse about scamming guys out of money and nudes. "WAP" is a pivotal single for both artists; Cardi took most of the year off to raise Kulture, her and Offset's daughter, and Megan is looking to move on from the incident involving Tory Lanez, when she was shot in both feet to the crude bemusement of social media. The beat for "WAP," by "Bickenhead" producers Ayo and Keyz, takes subtle cues from "Cash Shit." It's a minimalist affair, just a splash of sinister bass over spacious drum programming and the Frank Ski chop. It's skeletal for good reason. The main thrust here is the lyrics. There is so much thrusting going on in the lyrics.
"WAP" is Class-A filth, a torrent of horny one-liners that restores the feeling of sneaking and listening to rap songs with X-rated lyrics as a kid, whether you came up blushing at the "Fuck Me" interlude in the middle of Biggie's Ready to Die or staying up late to catch "Tip Drill" during BET Uncut. The chorus — "Yeah, you fucking with some wet-ass pussy" — might be the song's tamest bar. Cardi's in heat: "My head game is fire, punani Dasani / It's going in dry, and it's coming out soggy." Stallion didn't come to play either: "Your Honor, I'm a freak bitch, handcuffs, leashes / Switch my wig, make him feel like he cheating." The video is a vibrant celebration of women of color — barring the white woman with a spray tan — notably devoid of any men and possessed of a pinch of Sapphic Wild Things energy. It's boss shit … dom shit, really. The clip shares the hyperreal, "green screen or nah" energy that the more lurid dance sequences in Beyoncé's Black Is King have. Some of these set pieces look like video games; it'll be interesting to see how surreal music videos get as tech levels up. The only knock is YouTube forcing the duo to use a watered down (!) clean version of the song, since the video-streaming site is increasingly willing to cut payments to creators for use of profanity. "WAP" makes YouTube look like stringent network TV. Republicans crowing about the lyrical content makes it feel like 1992 as much as the sample does. Everything old is new again!