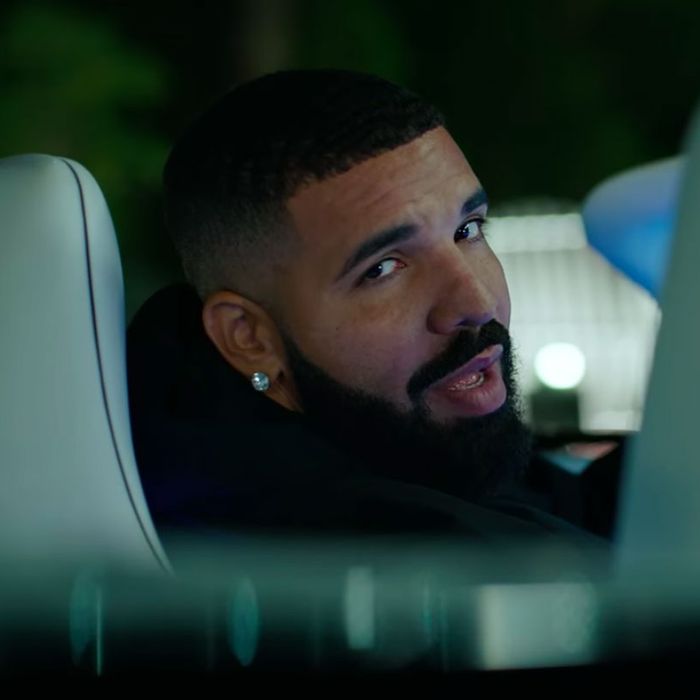 Drake complicates a video about all the cool stuff he can do by showing what all he wishes he could do that he can't.
Photo: YouTube
It's probably for the best that Drake got a little scuffed during the Scorpion rollout. He's an underdog in the top-dog chair. He's motivated by pressure, by other people's doubts. Tension and paranoia made If You're Reading This It's Too Late great. Triumph and comfort made Views bloated. The only thing that looks as good on Drake as smirking spite is a brash horn section. The songs that check both boxes — Thank Me Later's "Miss Me," So Far Gone's "Uptown," Take Care's "Headlines," the all-star posse cut "Forever," the Migos remix of "Trophies" (that should have been the original) — are first-ballot, hall-of-fame Drake songs. Add to the mix one "Laugh Now Cry Later," the lead single from his upcoming Certified Lover Boy that arrived last night on a bed of triumphant brass from producers Cardo, Yung Exclusive, and Rogét Chahayed, and G. Ry. Drake does what comes natural, i.e., launching wave after wave of subliminals: "Left me for dead and now they wan' dead it / Heart is still beating, my niggas still eating / Backyard, it look like the garden of Eden." "Distance between us is not like a store, this isn't a closable gap." Is Drake sending shots at Kanye West again? (Probably.)
In the end, it doesn't matter because the strength of a passive-aggressive Drake song lies in its application to the listener's life. Drake becomes our avatar; his struggles blow ours up to mythic proportions. His success is presented as a possible happy ending for people who stay true to themselves. Like POV porn, or virtual-reality video games, the audience gets its jollies through projection. The video for "Laugh Now Cry Later" understands this. Part Nike World Headquarters shopping spree and part ESPYs skit reel, the clip, directed by Dave Meyers (see: "Sicko Mode," OutKast's "B.O.B.," Kendrick Lamar's "Humble," and dozens more classics), shows Drake reveling in luxury that exceeds our grasp, cooling in locations the average Joe can't get into, prancing around in cars that don't appear to be on the market yet, and broing down with sports figures most of us would be lucky to even catch on television this year.
But "Laugh Now Cry Later" subverts the expectations for the typical opulent rap video by making fun of itself and its subject. Drake can buy and sell most of us, but he watches games from the sidelines like everyone else. Remaking classic pictures of LeBron James and Muhammad Ali and getting destroyed trying to keep pace on the court with Brooklyn Nets forward Kevin Durant and on the field with Cleveland Browns wide receiver Odell Beckham Jr. and Seattle Seahawks running back Marshawn Lynch, Drake complicates a video about all the cool stuff he can do by showing what all he wishes he could do that he can't. (Like Rick Ross said, "Rappers wanna be ballers, ballers wanna be rappers.") Beating up on the main character helps undercut the forbidding, affluent exclusivism of the clip, a smart move after "Toosie Slide" went full MTV Cribs, showcasing all the gaudy personal effects he keeps in his house.
Is it sustainable having all our big-deal music videos dripping in wealth while the vibe on the street is that everything kinda sucks right now and seems to be getting precipitously worse? Or does "Laugh Now Cry Later" comfort the viewer by conjuring a dream world where most of the real world's problems are out of sight and mind? The hook — "Sometimes we laugh and sometimes we cry, but I guess you know now" — suggests the latter, but this is still essentially a commercial. The pink Nike puffer jacket Drake wears in the video is destined to fly off shelves. If he's smart, he'll sell the Chrome Hearts "Loverboy" jersey in a merch bundle come album time. Really, the video is a glorified (albeit gorgeous) lookbook, but if it opens doors for guest rapper Lil Durk, hardworking Chicago drill veteran who absolutely deserves the break, so be it.