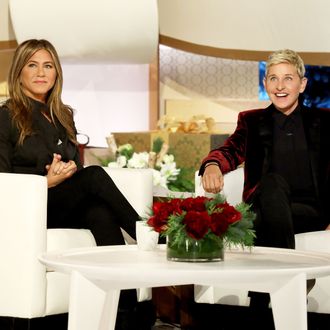 Photo: NBC/NBCU Photo Bank via Getty Images
It sure looked like someone was working Ellen DeGeneres's Rolodex on August 4, as a wave of celebrity support came for the talk-show host and comedian, currently under fire for allegations of creating a toxic workplace. In additional reports by BuzzFeed News, former employees allege that producers sexually harassed and assaulted other employees. (The show is currently under investigation by parent WarnerMedia.) "My name is on the show and everything we do and I take responsibility for that," DeGeneres wrote to employees after the allegations of toxicity came out. "As we've grown exponentially, I've not been able to stay on top of everything and relied on others to do their jobs as they knew I'd want them done. Clearly some didn't. That will now change and I'm committed to ensuring this does not happen again." Her wife, Portia de Rossi, posted a statement of support soon after, writing, "To all our fans … we see you. Thank you for your support," on Instagram.
Few celebrities have spoken out against Ellen amid the allegations — and those who have, like Everybody Loves Raymond's Brad Garrett and Back to the Future star Lea Thompson, had little ties to the host to begin with. Of those in DeGeneres's circle, the only one to come close to criticizing the host was former DJ Tony Okungbowa, who said on Instagram he felt "the toxicity of the environment" during his near decade on the show. Meanwhile, a slew of celebrities, mostly frequent guests and friends of DeGeneres, have spoken out in support of the star. Most of the statements have focused on personal relationships with DeGeneres, her charity work, and her visibility as an early out gay celebrity. But as Crazy Ex-Girlfriend co-creator Rachel Bloom noted on Twitter, "I have both worked behind the scenes of tv shows and been the celebrity guest on them and the two experiences are very different. Having a good time being a guest does not necessarily have anything to do with the experiences of the employees."
It's not the first time celebrities have been quick to come to DeGeneres's defense either; they were there after news of her friendship with former President George W. Bush came out. Yet even many of the friends who defended DeGeneres that time around have stayed silent amid these allegations. Here's a running list of who's standing by their friend and who's standing on the sidelines.
Justin Bieber's manager Scooter Braun was one of the first high-profile figures to defend DeGeneres, in a move seen as reflective of Bieber's longtime rapport with the host. Braun previously defended DeGeneres's friendship with Bush, and Bieber has already appeared on her show twice in 2020. "@TheEllenShow is a kind, thoughtful, courageous human being who stands for what is right and highlights on her show the best of us," Braun wrote on Twitter and Instagram on July 31. He added, "Needed to say this as I know first hand how she helps so many when we are watching and when we are not. She isn't about what is popular she is about what is right."
Katy Perry
The first star to speak out in support of DeGeneres was multiple-time guest Katy Perry, who last appeared on the show in September 2019. "I know I can't speak for anyone else's experience besides my own but I want to acknowledge that I have only ever had positive takeaways from my time with Ellen & on the @theellenshow," Perry, who is readying new album Smile for later this month, tweeted on August 4.
Kevin Hart
After the Oscars reneged their hosting offer to Kevin Hart in light of past anti-gay comments, the comedian went on Ellen for a redemption interview. Now, he's defending his friend amid her own online criticism. "I have known Ellen for years and I can honestly say that she's one of the dopest people on the fucking planet," he wrote on Instagram on August 4. "She has treated my family and my team with love and respect from day 1."
Diane Keaton
Oscar winner and often guest Diane Keaton defended Ellen on Instagram on August 4 with a simple, all-caps message. "I ALWAYS ENJOYED MY VISITS TO THE ELLEN SHOW," she wrote on Instagram. "I'VE SEEN HOW THE AUDIENCE EXUDES HAPPINESS AND GRATITUDE. SHE GIVES BACK TO SO MANY INCLUDING ME." Keaton last appeared on The Ellen Show in February.
Ashton Kutcher
Although he hasn't appeared on her show in two years (his wife, Mila Kunis, is also a regular and last appeared in 2019), Ashton Kutcher came to DeGeneres's defense on Twitter on August 4. "She & her team have only treated me & my team w/ respect & kindness," Kutcher tweeted. "She never pandered to celebrity which I always saw as a refreshing honesty. When things aren't right she handles it and fixes."
Alec Baldwin
After guest-hosting for DeGeneres on a (prerecorded) episode that aired this March, Alec Baldwin gave a tempered defense of DeGeneres on Twitter. "In the entertainment business, sometimes people can go too far in pursuit of a creative or commercial goal. Or people who work for you may do so," he wrote on August 5. "Having stated that, @TheEllenShow has always been kind to me. So … there's that."
Jay Leno
A former fellow talk-show host who also supported DeGeneres's career as a comedian, Jay Leno came to DeGeneres's defense on August 5. "I don't discard a 40-year friendship on hearsay," he tweeted. "The Ellen I know has raised over $125 million dollars for charity and has always been a kind and decent person. I fully support her."
Sophia Grace and Rosie
After getting famous as regular Ellen DeGeneres Show guests from a viral cover of Nicki Minaj's "Super Bass," cousins Sophia Grace Brownlee and Rosie McClelland have posted their own defenses of DeGeneres. "I literally grew up on this show so I can only talk from my experiences but I think that it is important to share these right now!" 13-year-old Rosie wrote on Instagram on August 5. "I would never disregard other people's experiences but it's just important to talk about all the good that @theellenshow has done over the years and the lives it has supported and changed! I stand by a show that has been amazing throughout my childhood!" Seventeen-year-old Sophia Grace followed up on August 6 with a less direct #ThrowbackThursday Instagram post of DeGeneres and Selena Gomez surprising her for her 10th birthday.
Sofia Vergara
The Modern Family actress defended DeGeneres after a 2015 Ellen interview of the duo resurfaced on social media. In the interview, DeGeneres teased Vergara's struggles to master English-speaking lines when they collaborated on a Covergirl commercial. Degeneres also poked fun at Vergara's heavy Colombian accent. "Two comedians having fun with each other to entertain," Vergara wrote on Twitter. "I was never a victim guys, I was always in on the joke."
Compared to her outing with Bush last year, more of Ellen's friends are staying quiet — or at least taking their time to voice support. A source told Us Weekly on August 5 that Ellen's "close friends, like Jennifer Aniston, Justin Timberlake and Mario Lopez, are on her side," but none of those celebrities have spoken out. Neither have those who were eager to defend her friendship with Bush, like Kristen Bell, Dax Shepard, Reese Witherspoon, Blake Shelton, or Gwen Stefani (or Jameela Jamil, who took back her defense of DeGeneres after researching Bush). After the critical comments by DJ Tony, Ellen's current DJ, Stephen "tWitch" Boss, still has yet to speak out on his boss. Other frequent guests who've stayed silent include Ryan Gosling, Taylor Swift, Steve Carell, and Pink, along with high-profile friends ranging from Oprah to the Obamas to Meghan Markle and Prince Harry.