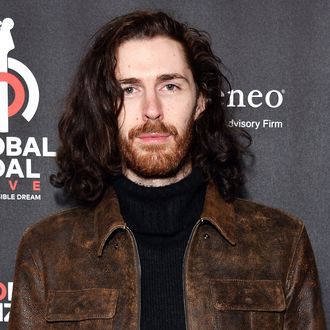 Normal face for reference.
Photo: Getty Images
Instagram developers knew what they were doing when they put the "Add to Close Friends" button so close to the "Add to Story" button. It's messy and we see you. But today it gave us the most wholesome celebrity interaction on the platform since Lorde made a finsta for onion rings. RIP @onionringsworldwide. Hozier inadvertently posted a video of himself with the Handsome Squidward filter, which chisels you to perfection in the image of Squidward from a 2007 episode of SpongeBob SquarePants. In the video, Hozier makes what can only be described as Chad-like noises and laughs at himself. When he realized his mistake, he wrote "Hahahah Inconsolable Weeping Christ that Handsome Squidward content was Just For the Boys," in fluctuated caps. "Pray for me. Thank you." He also posted a video apologizing for any trauma incurred. "I am so mortified," he said. "I'm not high. I just pressed the wrong button and then my phone … my phone shat the bed. And I couldn't delete it fast enough."
"You live by the Squidward filter, you die by the Squidward filter. I'm still a bit … You're all drinking in the chaos on Twitter, God bless. Thanks for understanding. Thanks for your discretion. Thanks for not posting on Twitter." (No one tell him it's trending.) Hozier's social-media presence has been giving us the kind of intimacy his music is known for. Just last month, he was exposed for bumping Flo Milli's "Like That Bitch." Glad to know we're all living the same lives right now.