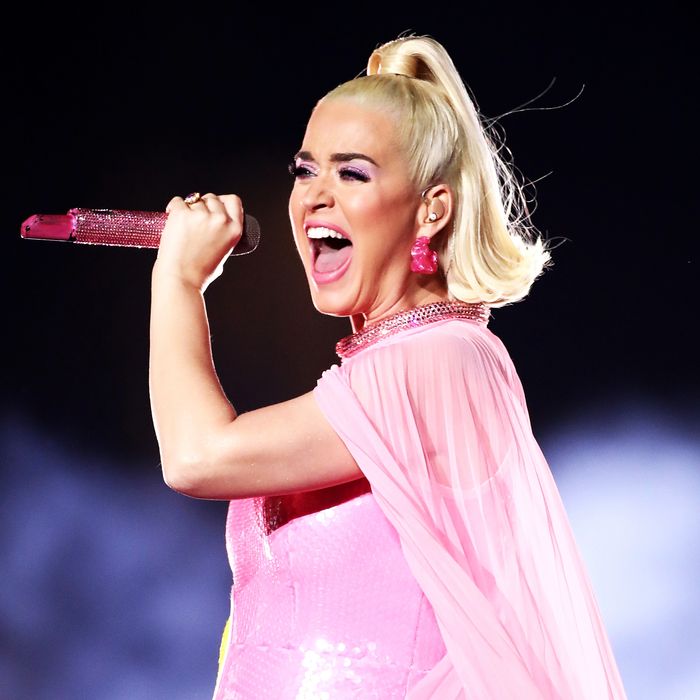 Perry's evolution from preternaturally talented Christian contemporary music circuit hopeful to hit machine to the wise veteran
Smile
shows in its better moments continues to inspire.
Photo: Cameron Spencer/Staff/Getty Images
Around the turn of the millennium, Katheryn Hudson, teenage daughter of a pair of traveling California Pentecostal church pastors, took a chance on a dream of making music and signed a deal with Christian indie label Red Hill Records, traveling to Nashville to workshop songs for her debut album. Inspired both by Christian singer-songwriters like folk-rock star Jennifer Knapp and by the outpouring of great secular pop-rock tunes written by women in the '90s, Katy Hudson, released in early 2001, saw the 16-year-old performer scratch at the boundaries of Christian contemporary music by embracing a grab bag of styles, shifting between Dido-esque folktronica, moody piano songs indebted to Fiona Apple hits and No Doubt ballads, and rockers that showed shades of Alanis Morrisette and Shakira. Katy hadn't yet come into her own as a lyricist, but she was already a formidable vocalist. Where words failed to cut deep, melismatic vocal runs carried the show (you can see and hear it in archival footage of the early Katy Hudson live engagements). Excitement around the album would prove to be short-lived, though. The singles didn't stick at Christian radio, and without a team capable of crop-dusting the market, sales tanked in spite of exposure Katy gained opening for the Newsboys' Phil Joel on tour. By December, Red Hill had folded.
At the top of the next decade, after two more doomed record deals, having finally scored a breakout hit and a necessary act of preacher's kid rebellion in "I Kissed a Girl," Katy — now going by the last name Perry, her mother's maiden name — released Teenage Dream, the high-water mark by which all of her future works would be measured. The album spawned five consecutive Billboard Hot 100 chart-toppers, repeating the feat Michael Jackson pulled with the run of singles from 1987's Bad. Teenage Dream is epochal modern mainstream music, a showcase for the neat, glossy disco-pop amalgam crafted by hot shot producers Dr. Luke, Stargate, Max Martin, and Benny Blanco, and a template for successful hit-making pop-star efforts for years to come, whose fingerprints still show in recent songs by stars like Doja Cat and Kim Petras. For a time, Dream cemented Perry, once demure and leery of the spotlight, as pop's protagonist. In a few short years, she made it from touring clubs to introduce herself and her music to crowds lured in by a string of promising hit singles to flying across gobsmacked arena audiences in a candy-cane dress on a cotton-candy cloud during the lengthy intercontinental California Dreams tour.
If Katy Perry spent the first ten years of her professional career climbing incrementally toward peak music-industry notoriety, she spent the next ten years figuring out how to stay there. 2013's Prism eased off the campy adult-cartoon sensuality of Teenage Dream, balancing "Dark Horse," a winning collaboration with Memphis strip-club-music maestro Juicy J of Three 6 Mafia, against motivational anthems like "Roar" and big ballads like "Unconditionally," whose rumored Christian undertones were teased out in the climax of Fox's The Passion: New Orleans as lead actor Jencarlos Canela surprised the Tyler Perry production's live audience by singing the song from a nearby rooftop as the newly risen Jesus Christ. 2017's Witness positioned itself in part as a correction, after Perry faced criticism for missing the mark on wokeness and appropriation in music videos where she mimicked traditional garb from other cultures. Witness was released amid a chaotic three-day livestream in which Perry was filmed round the clock in heart-to-hearts and therapy sessions that reconciled her sheltered church upbringing with her pop-star present, drawing a line between Katy, the avatar of empowerment, and Katheryn, the caring human being hiding underneath. Witness debuted at No. 1 but failed to match the sales of its predecessors. The righteous pop of the lead single "Chained to the Rhythm" landed awkwardly, as did the attempt to look cool dancing with the Migos in a Saturday Night Live performance of their collaboration "Bon Appétit," which became instant meme fodder.
This summer, Katy Perry stages another reset with Smile, her sixth album. The long run of singles that heralded the new collection suggested that Perry had worked out the kinks in her sound. "Never Really Over" spoke of overcoming the rocky spells in her relationship with actor Orlando Bloom over a track that was a blast of chipper dance-pop. (This week, the pair welcomed their first child, a baby girl named Daisy Dove Bloom.) "Harleys in Hawaii" is tasteful, tuneful airport reggae. "Daisies" and "Never Worn White" grappled with passing depression and pending motherhood. Smile fares best when it digs deep, but like Witness (and, if harsh criticisms from 2010 are to be trusted, parts of Teenage Dream, too), it sometimes trips on simplistic lyrics and pleasant pablum. The great tracks recall the era where Katy singles didn't miss. The patchy ones are reminders that she's always been a work in progress. Cuts like "Teary Eyes," "Cry About It Later," "Not the End of the World," and "Champaign Problems" sell motivational boilerplate, waving away passing clouds but never describing what the storm felt like.
As was the case with Witness, you have to dig deeper than Smile's front-line singles to find the best gems. Third-quarter heater "Tucked" deserves a chance on the radio. Stargate reunion "Resilient" touts the coldest hip-hop beat Perry has graced in a while. The title track is her most honest, euphoric tune in two album cycles. Katy Perry's Midas touch might've faded, but Smile is an improvement on her last album, and Perry's evolution from preternaturally talented Christian contemporary music circuit hopeful to hit machine to the wise veteran Smile shows in its better moments continues to inspire. With that being said … Katy, please call up Max Martin, Benny Blanco, Ester Dean, and Bonnie McKee. Get the band back together. It's time.