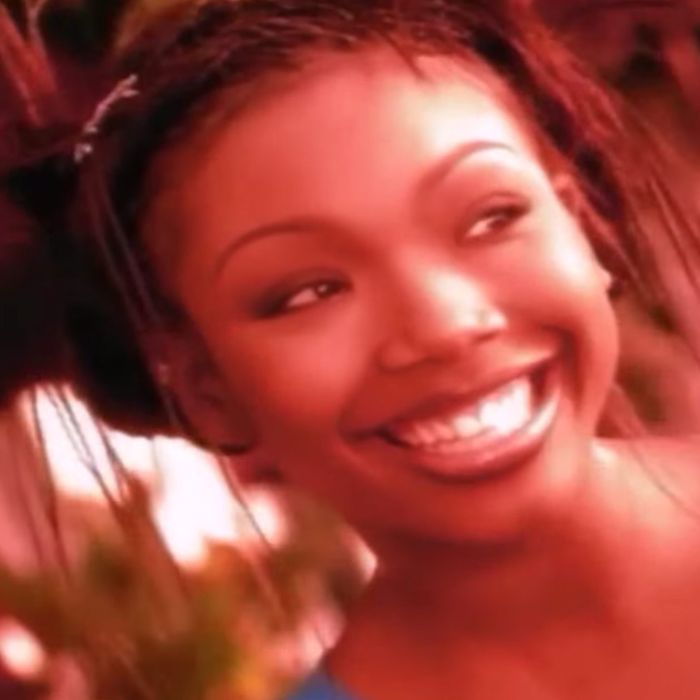 "The thing that was happening at that time in television, in the early '90s, was that you would
see
a Black show but you wouldn't
hear
a Black show."
Photo: YouTube
If you owned a TV in the 1990s or early 2000s, chances are you would've heard a theme song composed by Kurt Farquhar. The brains behind more than 30 legendary Black-sitcom themes and scores, from Moesha to Sister, Sister — and even ones you may have forgotten, like Sinbad and Cousin Skeeter — a sizable chunk of the childhood memories of many Black people wouldn't have a soundtrack without Farquhar.
With Netflix's Strong Black Lead initiative announcing that the streaming platform has finally acquired the rights to classic Black shows, including Moesha, Sister, Sister, and others that Farquhar worked on like One on One and Girlfriends, it only felt right to honor the undisputed king of Black-sitcom music. Farquhar spoke to Vulture about his 30-year career, touching on his favorite theme songs that he's written, why TV and film need more Black composers, and how Brandy is basically Nostradamus.
Most life-changing theme song
I got an end-title theme song on a show called Livin' Large!, which was a pilot that didn't get picked up. The writers went on strike that year [1988], and I was sitting around one day and just saw that the pilot I was working on was on TV! The network had decided to start airing every pilot they had as a way of putting out new material. They never made any deals for the music, and a lot of people went about suing them, but I just called them and up and they said, "Yeah, we'll pay you!" It was my first big job, and I was very lucky. Not long before that, I was homeless and living on the street, so I thought that if there was some way to get some dollars, then I'll take 'em!
Most groundbreaking theme song
Sister, Sister was definitely a turning point. The team was having difficulty trying to find somebody that they felt was right [to do the music] for the show. One of the executive producers, Suzanne de Passe, came from a really strong music background, so it was really important to her to get the music right.
The thing that was happening at that time in television, in the early '90s, was that you would see a Black show but you wouldn't hear a Black show. Shows like Good Times, while being a Black show, the music didn't sound anything like what Black people actually listen to. There were a lot of dynamic, young Black showrunners and producers, and they were starting to write stories that were about what was real to them in that generation.
Music is such a big deal to everybody, but I think that Black people really identify themselves and connect with who they are based upon music a lot. And so when you take that element out of it, the story doesn't really come off as real as it could. It was very exciting to be a part of that and put my stamp on it and basically show off what these characters are hearing in their heads. We wanted to get the characterization as close to real-life Black teenage girls as possible.
Proudest moment
We went on a really interesting journey with the Proud Family theme song. The producers [Bruce W. Smith and Ralph Farquhar] were very clear that they wanted some known artists to be able to sing the song, and they went from a virtual who's who of artists that were popular at the time to try to do the song.
At the very last minute, they managed to get a deal with Solange and Destiny's Child. It was so last minute that I don't think any of them had really heard the song when they came into the studio. They were pretty shocked at how cool the song was, especially as it was just for a TV show, but it sounded like something that they would be cool with and sign off on. They were all such complete professionals, though, and they all just worked so hard. You often get the case when you work with singers that they are put together in the studio through all of the magic of technology, and that's not the case with these folks. For anybody that's wondering, Beyoncé really is that good — they all are! These are people that work their tail off to be what they are, every last one, so I have a lot of pride that I was able to experience that with them.
I'm having a lot of fun with the reboot, Proud Family: Louder and Prouder, at the moment. I can't say too much, but music is still really important to them, and they've got a lot of really exciting guest stars this time around.
Most surreal moment
My older brother, Ralph Farquhar, was the executive producer and showrunner of Moesha, which is how I got that job, and I thankfully did a good job there because he told me that if I messed it up, he'd be the first one to fire me!
When it came to the theme, Brandy and I wrote that together, but it's an interesting story, as the producers had already called me and asked me to do a theme song. Pretty much immediately, I had a track. I had the melody down and just needed to do the vocals when they told me that they wanted Brandy to do them. She came by my place, and we were talking and discussing what she wanted. She said, "Well, I have an idea of something. Let me sing a little bit of it for you," and she sang this piece, and I kid you not, it was in the same key of the track that I had already done! It changed in the exact places where mine changed, and it was the exact length that mine was — we virtually changed nothing. I said, "You're kidding. I don't believe this!" And I just turned around and had my engineer turn on the track that I'd been working on. Nothing really significantly changed beyond those first few minutes, and we went to the producers, who loved it.
Every year, we would make some changes to it because the music was so important to Brandy, and they wanted to be able to always sound current. So every season, in most cases, I just did a remix of her vocal that we already had and changed the music under it to keep things fresh.
Theme song you forgot you wrote
Cousin Skeeter is one of those that's a cult classic, but the whole process is such a blur now. I remember having a lot of fun on it, but it was during a time where I was doing probably seven or eight different shows at the time, such as The Parkers and Soul Food, so overall it's all a bit of a mash-up to me in my head. Sometimes when I look back at it, I remember even at the time not being able to totally always connect that I'm doing certain shows. My older brother asked me the other day, actually, when he was watching TV, that he swore I did a particular show, and I couldn't even place it myself.
Best theme song
Most composers will just say whatever they wrote that weekend! But looking back, South Central is a show that I really enjoyed doing. It was an amazing, groundbreaking show in terms of the writing as well, but it only lasted one season. I thought that the things they were allowing me to do at that time were just really bizarre; I couldn't believe they were giving me that much freedom. I also am really in love with Being Mary Jane — that's another special one to me.
Most frustrating thing about being a Black composer
The BMI Film, TV & Visual Media Awards are given to composers of top shows on American television and film. I remember getting my first one for doing the show score for The King of Queens, and it had to be almost 20 years ago. Every year, they take a big picture of all of the award winners, and there are dozens of guys up on the stage, and I've always been taken by the fact that it would be me on a stage full of white guys. That's 20 years ago. I've won seven of these things throughout the years, and since then, there's been maybe one other brother. That's not a lot of growth. And it always changes what other brother is going to be onstage each year, and it's just not enough.
There are some really amazing young Black composers coming up, like Kris Bowers, who did When They See Us for Ava DuVernay; Amanda Jones, a young Black woman who is doing a lot of amazing work right now; and I'm mentoring an amazing young talent called Daeus Cannon, who I feel is going to be better than I am! People always ask how we can get more Black people into television and film, and it's easy: Just hire more Black people. Say yes to more of them. It doesn't have to be for projects when you only see a Black face on the screen or something that you think should be "sort of hip-hop." I know that's how I got in and what much of my work is, but it is shocking to me because I wrote my first symphony when I was 12 years old. I went to the National Conservatory of Music in Versailles, France, and my favorite genre is country and Western, so why I get chosen for hip-hop scores is still surprising to me, but I make it work.