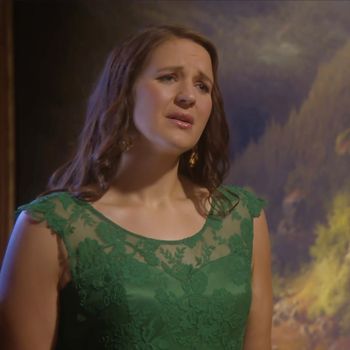 Lise Davidsen, streaming.
Photo: Courtesy of the Metropolitan Opera
In any normal year, late August is a frenetic time at the Metropolitan Opera. In a basement rehearsal room, the orchestra bones up on scores. Tailors drape cast members' customized mannequins. Techs focus lights, stagehands make sure castles and swans will hit their marks, and singers who haven't seen each other since Bayreuth or Buenos Aires exchange elaborate kisses. This year, the house lies fallow along with the thousands of talents who churn through. A lack of opera is far from the worst tragedy to have struck in these strange months, yet the silence that rings through such a vibrantly noisy place is one measure of the pandemic's cruelty, especially because opera is so emotionally suited to these times. Vainglorious leaders ignoring wise advice, lovers banished from each other's presence or dying alone in distant chambers, crews of thuggish enforcers, multitudes rising in anger, children sundered from their parents, inescapable gloom pierced by scintillas of hope, the whole wild implausibility of fate — these are opera's basic ingredients. One way to make sense of them all is with superhuman voices and oversize sets.
For months, the Met has been providing solace in the form of free nightly streams from its bottomless archives. More recently it has started a series of live recitals performed by its idled stars, including, last Saturday, the Norwegian soprano Lise Davidsen, who made the rare leap from company debut to house star in Tchaikovsky's Queen of Spades last November. I can still summon the feeling of her voice on my skin. She has a voice strong enough to strip the gilding off the Met's décor and the wisdom to dole that power out with gentleness and care.
In Saturday's recital, broadcast in high definition from the Oscarshall, the summer palace of Norway's royal family, Davidsen opened with Wagner's ode to a beloved house, "Dich, teure Halle," from Tannhäuser. When the pandemic lifts and live music returns in earnest, audiences all over the world will report for duty with that tune in their ears ("Joyfully, I greet you, beloved room"). Davidsen previewed that exuberance. One of her gifts is the broad grin in her voice, a fizz that springs from each note. You get the sense that there's nothing in the world she would rather do than spin out those impossible sounds and send them your way.
It's hard, listening to these recitals, not to miss the usual trappings: an orchestra instead of a Steinway; the gasp and clamor of an audience; the way Davidsen's voice rolls through a space, so warm and quivering you can practically caress it. The first few performances in the series only sharpened my sense of loss. Jonas Kaufmann singing tenor arias amid the plaster confectionery of Polling Abbey in Bavaria, Renée Fleming in the solitude of the music room at Dumbarton Oaks, the husband-and-wife duo of Roberto Alagna and Aleksandra Kurzak perched over the Mediterranean as if in a cruise-ship ad — these singers seemed somehow diminished by circumstance. Davidsen, backlit by the bright Nordic evening, transcended the awkwardness of the vacant hall, perhaps because she did a more convincing job of imagining the worldwide audience on the other side of their screens, or because she knew she could fill the warm wood room with her liquid sound.
In the short run, we will be denied her fall appearance in Fidelio, but if and when the world ever clicks back onto its axis, the Met has a list of hefty roles in store for Davidsen: Eva in Die Meistersinger, the title role in Strauss's Ariadne auf Naxos, Chrysothemis in Elektra, the Marschallin in Der Rosenkavalier, and, eventually, Sieglinde in Wagner's Ring. During the recital, she inserted a suggestion that the company shouldn't overlook her Verdi: Her performance of "Morrò, ma prima in grazia" from Un Ballo in Maschera was a tour de force of maternal regret. As Amelia pleads to see her son before being put to death, Davidsen's voice burrowed into the grieving low end of her register; then, after a dangerous pause, she uttered a biting, keening "Ah!" It's the kind of pitiless moment that can produce a squawk or a hitch or at least a disappointment. She gave it a cutlass edge.
For a singer with a giant voice, Davidsen has an astonishing command of intimacy. In Strauss's orchestral song "Ruhe, meine Seele," she deftly stitched together smoky lows and ozone highs without losing the expressive thread. "These are overwhelming times, distressing the heart and mind," she sang, with an emotional specificity that made it seem like a commentary on the day's news. But then she pivoted to serenity in the ravishing "Morgen," and I could hardly keep watching after that hit of hope, the vision of a fine tomorrow carried on Davidsen's auroral voice.
Later, after she had tossed off a gleeful and perfect "I Could Have Danced All Night," acknowledged her absent fans, and offered her stilted thanks, as her fellow Met star Christine Goerke, back in the studio in New York, was finishing up as emcee, the screen at the back of the control room caught Davidsen's final gesture, made when she surely thought the cameras were off: She collapsed to her knees in relief, gratitude, sadness, or all three. I know exactly how she felt.
Available through September 9 through metopera.org.