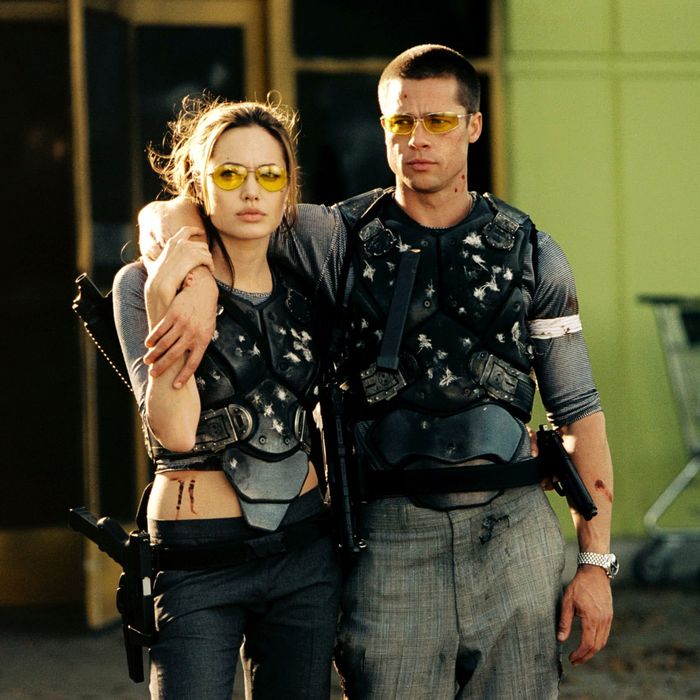 This week's Friday Night Movie Club is a testament to star power.
Photo: 20th Century Fox
Every week for the foreseeable future, Vulture will be selecting one film to watch as part of our Friday Night Movie Club. This week's selection comes from film critic Angelica Jade Bastién, who will begin her screening of Mr. and Mrs. Smith on August 14 at 7 p.m. ET. Head to Vulture's Twitter to catch her live commentary, and look ahead at next week's movie here.
Finding a movie star requires a very specific alchemy. There is a need for charisma and skill, a fusion of contradictions that delight and an ability to speak to an audience member with an intimacy that makes their experience feel singular even if they're one of many. These kind of stars have been important to the Hollywood film industry since the beginning, but they feel in short supply lately, save for up-and-coming actors of color like Zendaya. Part of the problem is that the market for movies and the way films are made in Hollywood has changed dramatically in the past decade or so; audiences return to the theater for characters spanning bloated franchises rather than stars, or at least that's how studios approach the work in an age when IP rules all. But there is still value in the movie star, a personification of our ideas about power and art, onscreen and off. And no two 21st-century celebrities capture this value better than the now-divorced Angelina Jolie and Brad Pitt.
When Jolie and Pitt collided on the set of the 2005 film Mr. and Mrs. Smith, two very different visions of Hollywood came into close proximity. On the one side is Jolie, a hellion from a famous family who shirked the playbook of modern stardom to create her own, showing a keen understanding of what it means to be a star when the studio camera isn't rolling. Then there is Brad Pitt, a picture of the traditional silver-screen lead, who worked his way up from Springfield, Missouri, baring a magnetic smile for paparazzi everywhere. Combined, their talents proved to be irresistible. They effortlessly elevated a midrange action film — about Jane (Jolie) and John Smith (Pitt), a milquetoast suburban couple in a fraying marriage, both hiding from each other a secret: they are high-class assassins — transforming what could have been a forgettable trifle into a warm delight worthy of study. When a job Jane and John are both assigned to goes wrong, they're forced to try to kill the other to retain standing at work, a mission of mutually assured destruction that allows the dormant sparks in their relationship to urgently rekindle.
Rumors swirled during the making of Mr. and Mrs. Smith about a possible affair between Jolie and Pitt, the latter of whom was married at the time. On April 19, 2005, a few months before the release of the film, a picture of Pitt and Jolie with her son Maddox in Kenya seemingly confirmed a relationship and set off a tabloid storm that few couples in history have experienced. In many ways, Jolie and Pitt feel like descendants of the fury and attention Elizabeth Taylor and Richard Burton garnered when they flounced from their respective marriages and fell into each other's arms on the set of the 1963 extravagant epic Cleopatra. (Jolie and Pitt were never condemned by the Vatican, though.) Mr. and Mrs. Smith wasn't a success solely as a result of the gossip it spawned, but oh, how delicious it has been over the years to observe the ways Pitt and Jolie played the game of celebrity by each other's side — and now separately. (The only other time they worked together was in the 2015 bruising masterwork directed by Jolie herself, By the Sea.)
Mr. and Mrs. Smith director Doug Liman expertly leaned into the personas of his stars — Jolie, notably, already an action lead. She brings a particularly confident sultriness to her dramatic roles post—Lara Croft, a veteran demeanor I desperately miss. Pitt, beside her, is wry and charming in that sunny way he can be. Together, they're gleaming, as if they each carry their own internal source of light, unimpeded by the other's. Liman knew that their presence in front of the camera was the simplest wonder of his film, allowing the story to be less a defining moment in cinema, and more a defining moment in the history of Hollywood stardom. In the end, Mr. and Mrs. Smith is a straight shot of joy, the kind of balm needed in a time when delight is in exceedingly short supply. And I don't need to tell you that time is now.
Mr. and Mrs. Smith is available to stream with a HBO Max subscription, and is available to rent on YouTube, Google Play, Vudu, Prime Video, and iTunes.