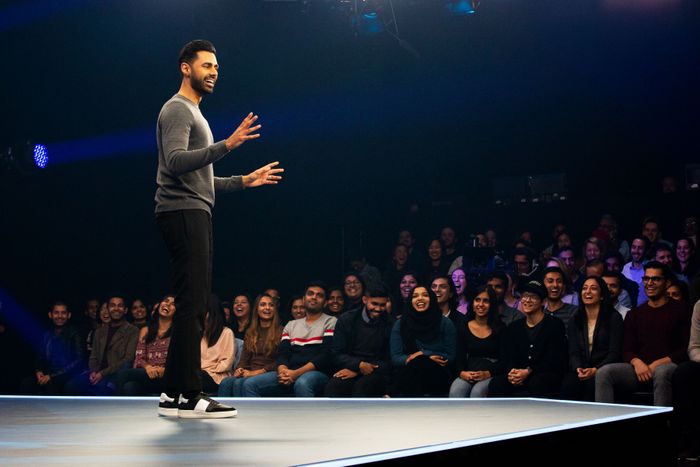 Hasan Minhaj and a
Patriot Act
studio audience.
Photo: Netflix
The first time I tuned into Patriot Act, I saw a familiar face in Hasan Minhaj. Indian Americans all know someone like him: beard lined up, hair slicked back, sparkling eyes, Jordans. He looked like the type you'd expect to be successful. At that thought, I felt a bit of unease — of course the conventionally attractive, blisteringly telegenic man is the Indian American that got a Netflix show — but I kept watching.
The inaugural episode, on the Harvard affirmative action battle, was the first of countless direct addresses to Asian American viewers, but before it even began, Minhaj had a celebratory bar: "We did it! We did it baby! We're out here!" It had taken two years, he said, to make Patriot Act, a Netflix comedy show about "culture and politics and the news" hosted by an Indian American man, a reality. He then slammed that last part home: "I was talking to my dad, and I was like, 'Dad, I can't believe it. Netflix gave us a show.' And he was like, "Great, you can finally save up for grad school.'"
Two years and 40 episodes later, the show's run has come to a close. On August 18, Minhaj announced via Twitter that Netflix had canceled Patriot Act. The streaming giant's reason for doing so is still unknown, and fans are furious. A petition to save the show has amassed over 14,000 signatures and counting. That anger is wholly justified. Though flawed in several important ways, Patriot Act provided biting comedy and cultural analysis with an eye to the South Asian diaspora, a population that has historically suppressed such discourse.
Formally, Patriot Act wasn't reinventing the wheel. In the second episode in October 2018, Minhaj described the show as a "woke TED Talk." There was a bit of that TED Talk urgency, a bit of the "YouTube explainer" genre, and touches of his alma mater The Daily Show, all with the open, communal feel of stand-up. But let's not get it twisted: Patriot Act was a damn good show. What mattered, and resonated, was Minhaj's (and head writer Prashanth Venkataramanujam's) command of this hodgepodge — a deft blend of the personal and the political that recognized and challenged this loose, patchy thing we call the Indian American Experience.
Calling any type of representation in media "important" can be decrying. Saying "This thing matters because it's a desi guy doing it" can paradoxically come off as tokenization. We care about representation because we want to see people who (1) look like us, and (2) we can relate to and learn from. That doesn't mean propping up someone "diverse" that plays into the same tired tropes constructed by white people.
Minhaj understood that worry. In the December 2019 episode "Don't Ignore the Asian Vote in 2020," he probed Andrew Yang's campaign rhetoric, which would often double down on Asian stereotypes. ("Fuck that! I'm the PowerPoint guy!" Minhaj joked.) He artfully navigated Yang's presidential run, equally considering Yang being left off polling graphics, receiving little speaking time in the debates, and strategically projecting himself as a model minority. He even interviewed Yang in Chinatown, then took to the streets with him, asking Asian passersby, "What do you think the biggest issue is for Asian American voters in this upcoming election?" "Representation, really," one man candidly said. "We see Crazy Rich Asians last year. It's gonna be great, I think representation's great."
"So are you gonna be voting for him?" Minhaj asked, pointing at Yang. Suddenly, the man started stammering. "Well … We'll see where we're going," he replied. It's a hilarious, and uncompromisingly real, Patriot Act moment.
Unlike Yang, Minhaj rarely played into stereotypes on Patriot Act. The show achieved a sort of deep, fulfilling representation that, paired with its populist, information-driven format and cross-platform engagement on YouTube, helped it reach a wide audience of South Asians. These episodes were for the South Asian diaspora in a nuanced, prescriptive way, from their tiniest textual details to wide-angle themes and messaging.
Any show that aspires for such a vision has to look the part. Inspired by The Arsenio Hall Show, which deployed frequent cutaways to a majority-Black live audience, Minhaj showcased and played off the mostly brown people in the studio with him. And beyond those physical walls, Patriot Act found its way into South Asian households across the country. In my family, and in countless others, viewings became a regular, communal experience.
Patriot Act both affirmed and challenged us. Minhaj would often drop references and experiences that only South Asians would get. In a December 2019 episode called "Why We Can't Retire," he said that soon, retirement plans in this country will be so nonexistent that the U.S. will look like India (a country where living with and taking care of your aging parents is the norm). In a November 2018 episode titled "Oil," he mockingly listed off everything the U.S. is "number one" in: prison population, health-care spending, defense spending, "and we have the biggest gaps in bathroom stalls." The punch line: "Close the gap, use a lota, please."
A couple episodes prior, in the now-infamous "Saudi Arabia," he explained for the uninitiated what a lota is: a small watering pot often found in South Asian bathrooms for washing after taking a shit. "Why don't we treat our butts with the same respect we treat our Air Jordans?" he asked. Inserting that reference later on in the season with no explanation, he trained that word into viewers' minds. This is the kind of microlevel cultural education Patriot Act did.
Most important, Patriot Act tackled head-on certain topics that South Asian families don't tend to discuss, including themes like anti-Blackness, voting, the value of college, and mental health. Even episodes about streetwear and hip-hop unpacked novel trends while silently prompting Minhaj and Indian American viewers to examine their own complex relationship with Black culture.
At the start of the March 2019 episode "Indian Elections," Minhaj faced a tension that many Indian Americans have experienced. He's shot down by a swarm of uncles and aunties after he reveals to them his intent to speak his mind on the Indian elections. "You cannot talk about Narendra Modi. You cannot talk about Priyanka Gandhi," says one aunty. "You are an ABCD. You are an American-born desi," says an uncle. It's the kind of survivalist, nationalist mentality common to Indian immigrant parents that has kept Indian Americans out of the loop on homeland affairs. Few others in recent memory have spoken to so many of us so directly.
Most strikingly to this point, buried in Patriot Act's final season is an 11-minute episode that breaks form. It's Minhaj's swiftly cut reaction to the nationwide protests surrounding the death of George Floyd. He looked defeated and dejected. He tried to fit in a few jokes, but none of them really landed. Then, he made his point: Indian Americans are as complicit as anyone in anti-Blackness. "We love Black America," he sneered, "but if a Black man walks into your living room, or wants to date, God forbid, marry your daughter, you'd call the cops." It's the realest, most devastating Minhaj has ever been, and it emphasizes the work that goes into and comes out of representation in the media.
Patriot Act wasn't perfect. To the show's long-term detriment, Minhaj based a lot of his jokes on memes and other timely, immediate touchstones that weren't designed to age well. Season five references to "hot girl summer" and the Sonic the Hedgehog trailer already feel dated. Moreover, his showy, ebullient style, while effective, isn't for everyone and loses steam fast. And the show's final season, taped remotely, felt limp; Minhaj thrived off audience interaction, which was sorely missing.
Behind the scenes, Patriot Act allegedly faltered, too. In the week since its cancellation, former show staffers Nur Nasreen Ibrahim and Sheila V Kumar came forward on Twitter with experiences of feeling "humiliated and gaslit" during their time at the show. Back in June, during the widespread callouts of media workplaces for being unwelcoming spaces for people of color, Kumar tweeted that she'd never been more unhappy than when she was working at Patriot Act. More recently, expressing gratitude for Patriot Act and its impact, Ibrahim still wondered "if it was worth the mental anguish I went through over my last few months there." Per another former employee, the producers had acknowledged the complaints and were planning to enact change were they to get another cycle. Whether that would've actually happened is another story, but Netflix erasing this possibility entirely left the show entrenched in the minds of some of its women-of-color staffers as an unsafe, unwelcome space. Shows like Patriot Act that project as woke have to practice what they preach in their work environments, too.
It's admittedly difficult, but it's possible to acknowledge the show's greatness while recognizing its structural flaws, as these former staffers have done. It is impossible to treat such things as commensurable. Countless viewers found themselves in Patriot Act, while some of its very makers felt dehumanized. That leaves the show with a messy, important legacy that is a lesson in both fostering strong representation and critically examining our most beloved institutions.