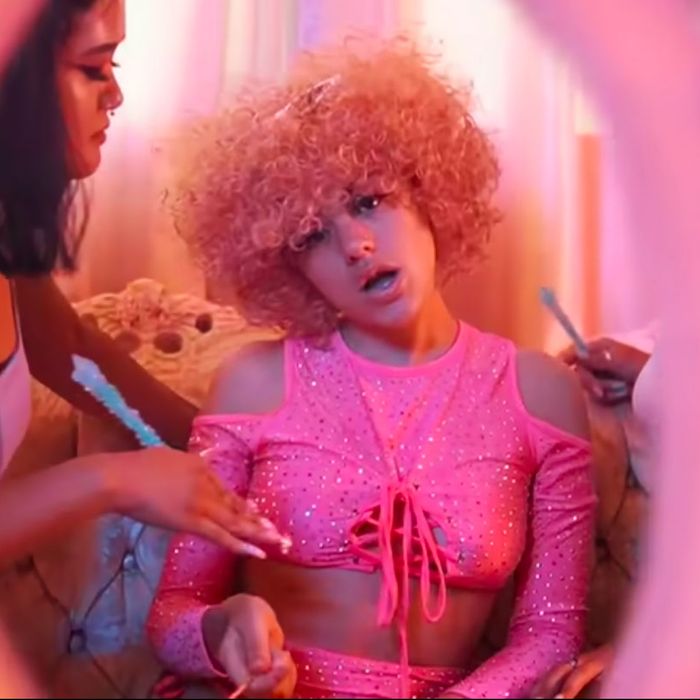 The safest-for-work scene from the "DDLG" music video.
Photo: YouTube
A Rico Nasty–inspired rapper with a Doja Cat bubblegum pink exterior, rapper ppcocaine (formerly known as trapbunniebubbles) has had four songs out for less than a month and three of 'em are TikTok hits. With a nasally cartoon-character voice and X-rated lyrics, ppcocaine, real name Lilliane Diomi, a 19-year-old lesbian from Santa Monica, California, has had TikTokers everywhere, including Charli D'Amelio, lip-syncing stuff like "Tell shorty 'Come here' / I'm tryna blow her back out / Walking funny for the year" from "Three Musketeers," featuring her best friend Nextyoungin. If you've exclusively been listening to Megan Thee Stallion and Flo Milli this summer, ppcocaine takes what they do and makes it gayer. It's the summer of "Pussy Talk" by the City Girls. Trust that ppcocaine is fluent. The audio for "3 Musketeers," about the "three bitches on me like the 3 Musketeers" and the video for "DDLG," a filthy fantasy whose cleanest lyrics went viral, each have over a million views on YouTube. Her latest drop, "Pj," has over 500,000 videos on TikTok. Here's how not one, not two, but three ppcocaine songs went viral on TikTok at the same time.
Since partying is more or less relegated to our screens this summer, ppcocaine took over the TikTok playlist. Starting in June, ppcocaine posted snippets of her songs weeks before they were officially released, building excitement and TikTok clout. Confident dancers hyped up their hesitant friends with "Pj," her latest single, out just last week. Going back and forth between the two "characters," TikTokers lip-synced ppcocaine's "Hold on, bitch, did you hear what the fuck I said? / Shake some ass, hoe!" and made it jiggle to her snarling "Spittin' bars, drinkin' Henny, sum'n light / Put it on me, do it slow and do it right / Gettin' ratchet with my hoes every night." The energy she brought to the song is the energy we all believe we'd be bringing to summer 2020 right now.
Eight days after "3 Musketeers" officially dropped on July 6, @colo.cag uploaded his dance, a yiking, body-rolling groove that kicks off right when ppcocaine does. His expressions are enough to make anyone wanna dance, but at the very least it'll make you wonder how some TikTokers got famous with half the energy. No shade to Charli, though, who debuted purple streaks by covering the dance. Between the hair and lip-syncing the lyrics "I'm tryna see that box," commenters were ready to initiate her into alt TikTok.
The first track to really take off was "DDLG" (a reference to daddy dom/little girl BDSM relationships that's already caused controversy for her). It has a lot of lyrics that would make conservatives want to cancel TikTok even more than they already do, but a safe for work clip from verse two — "For you, I might let you hit it for free / For you, I might let you hit it for free / For you (I probably shouldn't though) / I might let you hit it for free" — went viral with TikToks fantasizing about celebrity crushes from Harry Styles to Danny Phantom. The trend involves using the green screen feature to slideshow through the song as ppcocaine gets more and more intense, but a personal fave is @fejiroboje's loving example of drunk women supporting drunk women.
ppcocaine follows in TikTok mainstay Flo Milli's footsteps with TikTok bangers that give everyone permission to do what (or who) they want to. Her songs have thousands of videos on TikTok, some earning millions of views, and giving life to a hypeless summer. For a brief 15 to 60 seconds listening to ppcocaine, we're all the baddest bitch in a bright pink wig and a tiny top.