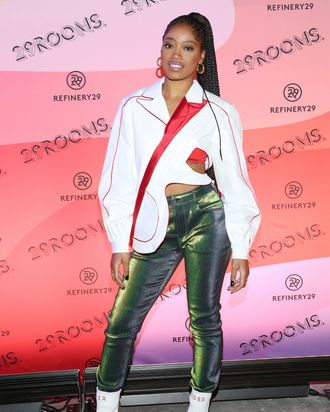 Keke Palmer, living the young millennial dream of being on the
Proud Family.
Photo: Monica Schipper/Getty Images for Refinery29's 29Rooms
If the name "LaCienega Boulevardez" means anything to you, keep reading. (And if it doesn't, go learn your history.) Back in February, Disney+ gave us more information on its Proud Family revival, which would reunite the original cast of voice actors and characters and be called Proud Family: Louder and Prouder. In addition to Penny, Oscar, Trudy, Suga Mama, Puff, the twins, and Penny's friends, there are going to be some new characters in town. Disney+ tweeted a first look at a new character who will be voiced by Keke Palmer, captioned, "Prepare to fall in love with 14-year-old activist Maya Leibowitz-Jenkins." A reminder that activism has always been important to Penny Proud: Remember when she fought to join the boys' football team? Or when she went on a labor strike? Or when she traveled back in time and desegregated her school? We still don't know when the show is premiering; the tweet just says "coming soon." But it's already doing something novel in 2020: casting a Black actor to voice a Black character.