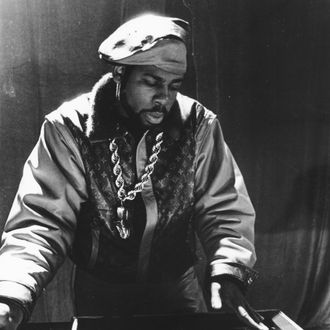 Photo: Michael Ochs Archives/Getty Images
Federal prosecutors have announced the indictment of two men suspected to be involved in the killing of DJ Jam Master Jay. Hip-hop pioneer and member of Run-DMC, Jam Master Jay (real name Jason Mizell) was shot in the head at a recording studio in Queens in 2002. After nearly 18 years with few witnesses and no clear motives, two men, Ronald Washington and Karl Jordan Jr., were indicted on charges of murder while engaged in drug trafficking, per a press release from the U.S. Department of Justice.
The indictment alleges that Mizell acquired ten kilograms of cocaine intended to be distributed by Washington, Jordan, and others, but after a dispute, Mizell told Washington he would no longer be part of the deal. Investigators believe this to be the motive behind the killing. On October 30, 2002, prosecutors claim Jordan fatally shot Mizell at close range and struck another individual in the leg. Jordan, 36, was taken into custody on Sunday, August 16, and is additionally charged with one count of conspiracy to distribute cocaine as well as seven counts of cocaine distribution. His arraignment takes place August 17.
Washington, 56, is currently serving time in a federal prison for robbery, per the New York Times, and will be arraigned at a later date. Both men face a minimum of 20 years in prison. Washington was originally named as an "accomplice" in 2007 court documents claiming he "pointed his gun at those present in the studio, ordered them to get on the ground and provided cover for his associate to shoot and kill Jason Mizell." (Washington is also a suspect in the 1995 murder of Randy Walker, an associate of the late Tupac Shakur. He previously denied involvement in both killings.) No new suspects or charges have been brought about — it was even declared a cold case in 2017 — until now.
This is a breaking news story and has been updated throughout.