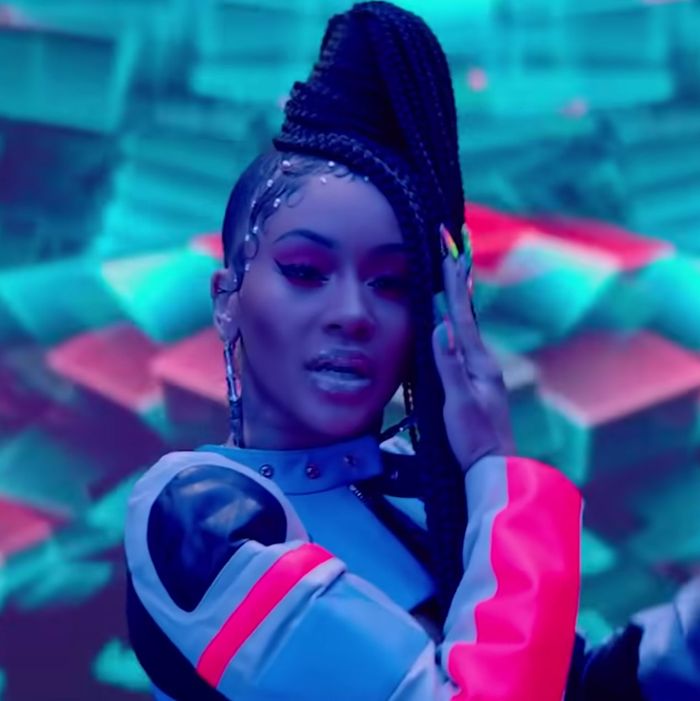 "Tap In" has been a mainstay since it dropped this June.
Photo: YouTube
Now that we've heard the remix with DaBaby, Jack Harlow, and Post Malone, we need to talk about the way Saweetie's "Tap In" dominated TikTok this summer. Dances came and went, but "Tap In" has been a mainstay since it dropped this June. Oakland-born rapper Saweetie seemingly has a new music video for the remix on the way, with a sexy new stands dance to pay homage to her college days as a majorette. But the song's massive success first came from a TikTok-friendly challenge created by a 16-year-old.
Eleven days after "Tap In," Saweetie's first single from her upcoming debut album, Pretty Bitch Music, dropped, @yadamnmomma dropped her choreo. A little hip pop, a twist, the dance underscores Saweetie's first verse: "Wrist on glitter, waist on thinner / I'ma show you how to bag a eight-figure nigga / Face on my zaddy, pockets on Jigga / You better get the card and make it swipe like tinder." Not all 5.3 million videos with the sound are dance covers, but all the highest earners are, with several surpassing 40 million views. Somewhere along the line, someone started using a finger over the mouth Pretty Little Liars–intro style to stop themselves from saying the N-word, evidently. If you can't mind-over-matter that one, you shouldn't really be on TikTok dancing to a Black woman's song, but I digress. The mostly innocent gesture had @funt021 hilariously about to cancel herself, a Black woman, for saying the N-word.
Saweetie's viral stardom has no end in sight. Before "My Type" went viral, "Icy Girl" landed her a record deal (and low-key her man, Quavo). With over 16 million views on YouTube, "Tap In" was even nominated for "Song of the Summer" at the MTV VMAs. Haters can try to come for her iconic use of sampling — "Tap In" takes after Too $hort's masterpiece "Blow the Whistle" and "My Type" came from cultural touchstone "Freek-a-Leek" by Petey Pablo. But her style mirrors how TikTok can take something "old" and say something new. That's why she's on top and they've yet to tap in.