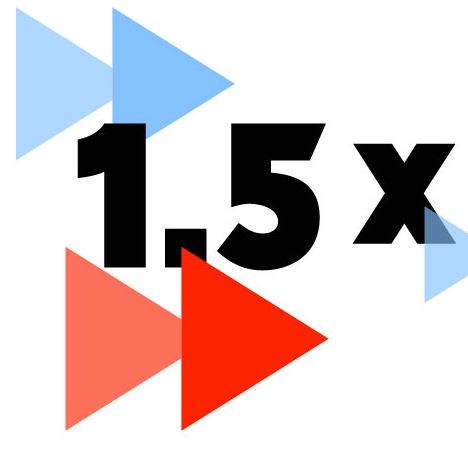 Hey there! Welcome to the very first issue of 1.5x Speed, Vulture's new podcast-recommendation newsletter.
Listen, I get it. There are way too many podcasts. Everybody's makin' jokes about there being too many podcasts. There are even too many jokes about how there are too many podcasts. All of which is to say that sometimes the sheer quantity is such that you might feel discouraged from even trying a new show out. It's like Peak TV. I spend more time scrolling through Netflix looking for something to watch than actually watching stuff, only to dip back into Parks and Rec for the 50th time. The struggle is real.
That's why we're here. I'm Nick Quah, Vulture's podcast critic and your chaperone through these podcast wilds. Every week, you'll get two big picks, an assortment of smaller picks, and nods to interesting shows coming down the pike. Some of these selections will be new, some will be old, but either way, they're all things that could perk up your ears a bit.
One quick note before we kick off the inaugural edition: It's my hope that this newsletter is yours as much as mine, so please consider this an open invitation to let me know what's on your personal listen list. (Bonus points, truly, if it's not your own podcast.)
Find me on Twitter or hit me over email: nicholas.quah@vulture.com.
All right, let's get started.
School Colors
Eight-part serialized documentary series, plus bonus episodes, from Brooklyn Deep.
Apple Podcasts | Spotify | Stitcher
If you're listening to Nice White Parents (and you probably are; everyone's talking about it), you'd be well served by picking up School Colors, an excellent audio documentary series that dropped last fall. Led by Mark Winston Griffith and Max Freedman, the project comes out of Brooklyn Deep, a digital journalism effort affiliated with the Brooklyn Movement Center, and this community-rooted orientation lends the series added potency given the subject matter.
While Nice White Parents fundamentally presents a specific argument about power and possible change within the context of the New York City public-education system, School Colors offers a slightly more sweeping look at how the system got to where it is today. The narrative is primarily run through an investigation — why are the schools in District 16 so wildly underutilized? — and the resulting analysis stretches across a half-century's worth of historical processes that saw race, color, and power continually collide to forge the current world.
To that end, you'll find the series is mostly anchored in two eras: the late 1960s, which saw the rise of the community-control movement and a progression of strikes by New York City schoolteachers, and the opening inning of the 21st century, which was marked by the more contemporary dynamics of gentrification, school privatization, and ever-increasing inequality.
School Colors is a meaty, chunky study, a little less light on its feet than Nice White Parents but still packing a hard punch. I'm tempted to say the two podcasts serve as complementary pieces to refract a much larger whole, but the reality is that the full complexity of New York City's public-education system extends far, far beyond the frame of these projects. As a unit, School Colors and Nice White Parents make for greater primers into the issue.
It's entirely possible that you may chafe at the idea of stories that focus on New York City, with its school-choice system and designation as the most segregated school system in America. If you'd like to shift locales, you might also want to check out the latest season of Leon Neyfakh's Fiasco, which looks back at a 1970s campaign to desegregate Boston's public-school system. (You have to pay for a Luminary subscription to access that show.) Another project worth keeping an eye on is the upcoming season of The Promise, a podcast from Nashville Public Radio, which is set to publish a two-parter on the 43-year court battle in Nashville that followed the Brown v. Board of Education decision.
30 for 30 Podcasts: Heavy Medals 
Seven-part serialized documentary from ESPN.
Apple Podcasts | Spotify | Stitcher
Half a decade into the horrific revelations around the systemic sexual abuse perpetrated by team doctor Larry Nassar, it's hard to see how the reputation of USA Gymnastics could get any worse — unless, of course, someone were to point out that the problem extends all the way back to the organization's modern roots.
That's the premise of Heavy Medals, the latest season of 30 for 30 Podcasts, which came out last month. Led by ESPN journalists Alyssa Roenigk and Bonnie Ford, the series focuses on the story of Bela and Martha Karolyi, the two figures who have been credited with elevating American gymnastics to international success since the 1980s  and whose bruising, brutal methods essentially set the stage for all the program's sins we know about today.
The Karolyis defected from Soviet Romania in the early '80s, and when they began their work building up the American gymnastics program, they carried over some of the tactics from their time coaching the Romanian teams: punishing training regimens, psychological bullying, extreme dietary control. But one of the more interesting things Roenigk and Ford convey is the extent to which the Karolyis didn't have to push all that hard to impose these tactics. Indeed, with the Americans, they found more-than-willing collaborators.
All of which is to say that Heavy Medals works out to be another verse in the long, ongoing song about America's extremely screwed-up relationship with sports and the idea of glory, success, and achievement. The Karolyis' methods and mindset may be brutal, but they were enabled by a performance-obsessed American culture that is prone to viewing success as a sufficient excuse for all manner of harm. The podcast is also a study of the profound power that institutions wield over individuals, an aspect that feels additionally resonant right now as we continue to grapple with the possibility that some colleges may go ahead with risking the lives of student-athletes during a pandemic in order to make as much money as they can from the collegiate-sports industrial complex.
Heavy Medals is a solid addition to the 30 for 30 Podcast lineup, though I confess I've generally come to prefer the show's anthology seasons, in which every episode gets the chance to tell a smaller, stranger story. (My personal favorites remain "The Spy Who Signed Me" and "On the Ice.") Heavy Medals is a serious, powerful investigative text, but to some extent, it also feels as if it could have come out of the televisual version of 30 for 30. Which isn't a knock on the project, really — I'm just mulling over the uniqueness of the 30 for 30 Podcast and all the things it can do that the main franchise can't.
Meanwhile …
• Tracy Clayton, one half of the defunct but beloved Another Round podcast team, returns with a new one, Back Issue. Co-hosted by Josh Gwynn, a producer at Pineapple Street Studios, the show intends to "tell the stories behind formative moments in pop culture." The inaugural episode, with guest Jay Manuel, looks back at Tyra Banks and the messiness that was America's Next Top Model.
• If These Ovaries Could Talk, Jaimie Kelton and Robin Hopkins's conversational indie podcast that seeks to normalize nontraditional families, returns for its sixth season on September 7. The show also has a book coming out later in the month.
• If you're digging The Vow, the HBO documentary about the multilevel-marketing scheme/cult NXIVM, you should check out Uncovered: Escaping NXIVM, a CBC audio documentary from 2018. And if you really want more stuff on multilevel-marketing schemes, there's always the first season of The Dream.
• I'm not personally a fan of QCODE, which leans hard into the quick-and-dirty "Let's use podcasts as a cheap way to test Hollywood scripts" business model, but people do seem to like Dirty Diana, the studio's most recent project, which features Demi Moore. QCODE is also dropping a new horror podcast — Ghost Tape, starring Kiersey Clemons — in October.
And that's a wrap for the first edition of 1.5x Speed! Hope you enjoyed it. We're back next week, but in the meantime: Send podcast recommendations, feedback, or just say hello at nicholas.quah@vulture.com.