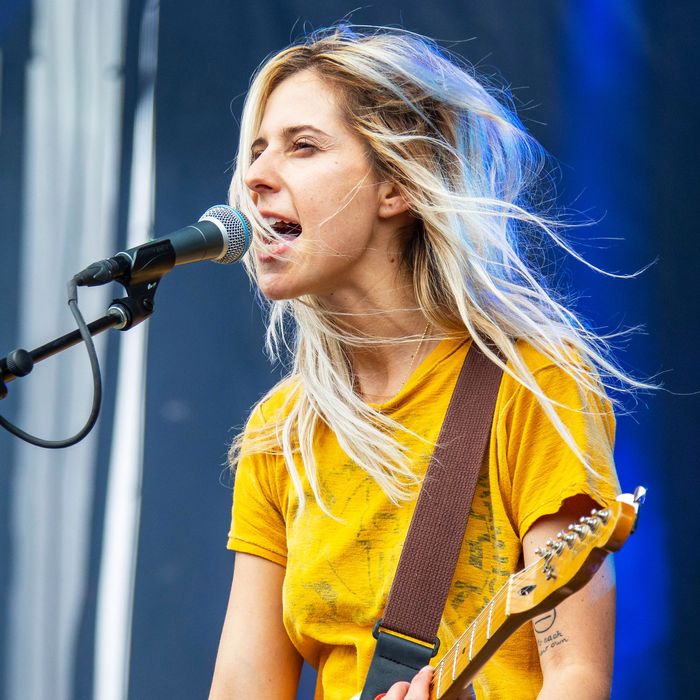 Photo: Scott Legato/Getty Images
Alicia Bognanno wants to tell you how it feels. Her 2015 debut album with her garage-rock band, Bully, was called, literally, Feels Like, and its blistering centerpiece, "Trash," had a simple refrain. "Feels liiiiike … traaaaassshhh!" she wailed. Raw and guttural, it sounded like a last resort, evoking the same despondence Courtney Love and PJ Harvey did more than 20 years before. Followup Losing slightly defanged Bully's biting sound, with Bognanno's trademark scream only coming in flashes (one of them on the lead single: "I feel the same," Bognanno strained). As much as her lyrics told the listener, the power of Bognanno's screams really get the point and punch of her music across.
Bully's third album, Sugaregg, is full of firsts: It's Bully's first as Bognanno's solo project, the first Bully album Bognanno didn't self-produce, and Bognanno's first album since pursuing treatment for bipolar 2 disorder. It's the most developed offering from Bully yet but still overflowing with the raw fervor of Feels Like, with late-album scorcher "Not Ashamed" a prime example.
Bognanno screams more than she sings on "Not Ashamed," sandwiched between two of her more pristine vocal performances yet on "Come Down" and "Hours and Hours." "I started writing stuff that was really personal and meaningful," she told the New York Times, "and because of built-up aggression, some of the words just felt like they needed to be screamed." Five years after debut, the payoff for letting her vocals really blow remains high, especially on "Not Ashamed" — "It's like pressure I feel daily," she opens. Past the song's sonic fire, the lyrics are open for interpretation but ever-relatable. "It's not in line with you," Bognanno proclaims. "I'm capable, I've thought this through." Whether the "you" is an ex-lover, the government, or anyone in between, Bognanno expresses the sort of venom you reserve for such figures.
At its core, the goal of "Not Ashamed" isn't to tear down others but to show where Bognanno ended up in comparison. "I'm fine with the person I wound up to be," she opens the second verse, after that simple chorus of "I'm not ashamed and I don't regret it." After years of hearing Bognanno's cathartic despair on songs like "Trash," it's a victorious moment — not unlike the ending of Her Smell, which Bognanno wrote songs for, when Elisabeth Moss's Becky Something returns to the stage after a yearslong struggle with substance abuse and anger. There's an earned confidence to Bognanno's screams too.
The song doesn't break two-and-a-half minutes and never relents from its thrashing guitar. At a time when we all need to scream, "Not Ashamed" — along with all of Sugaregg — feels like a perfect release.