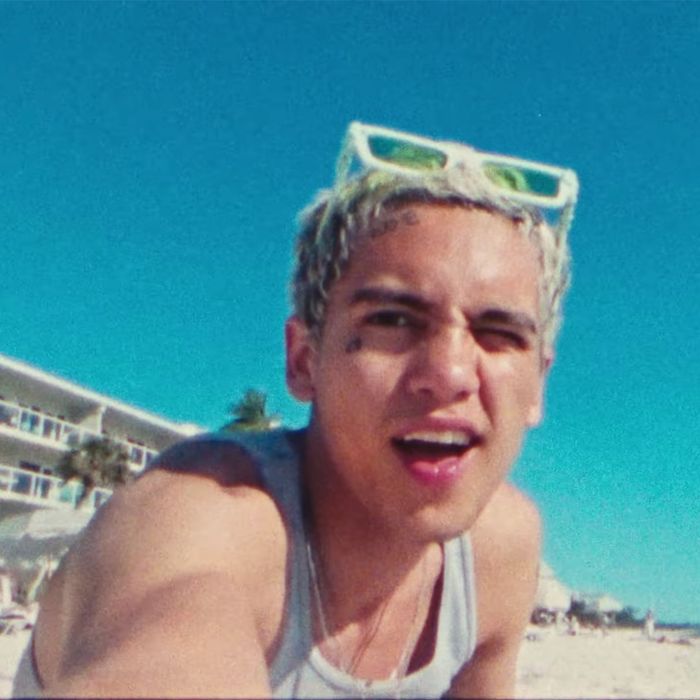 He works against himself on "Cancel Me."
Photo: Vevo
A month or so ago, Dominic Fike talked to Brockhampton ringleader Kevin Abstract for a video about his new album. He's noticeably nervous, even around his friend — he fidgets, he yells, he just can't focus. "Ever since all this shit happened I feel so tense all the time," he says at the beginning of their conversation. "I shake a lot when I wake up and before I go to sleep and when I'm drunk and right before I get high." It's unclear at first what all the 24-year-old Naples, Florida, native is referring to: his 2018 stint in prison from a charge for battery of a police officer, or the alleged $4 million deal he signed the same year off the strength of his music. He clarifies that it's the latter. "I guess I just am always anxious," Fike says. "Except for when I get on stage."
Fike's debut album What Could Possibly Go Wrong is the product of that $4 million deal with Columbia, years in the waiting since his catchy breakout alt-rock hit "3 Nights." On the song "Cancel Me," he takes stock of his newfound fame — a whiplash-inducing ride from "3 Nights" hitting No. 1 on Billboard's Alternative Songs chart to eventual co-signs from Halsey and Tyler, the Creator to an upcoming New York Times documentary episode about his rise (also airing on FX and heading to Hulu). "I hope they cancel me," he raps in the chorus. "So I can go be with my family / So I can quit wearin' this mask, dawg." The verses run through a quick list of ways Fike deals with being slightly famous — he has nearly half a million followers on Instagram and headlined a small tour last fall. He doesn't want to go on TV ("motherfucker, Jimmy Kimmel does not wanna meet me") or back to Los Angeles, he does too much coke, he dumps his girlfriend to sleep around.
The lyrics are mostly just hyperbole — he currently lives in L.A. — if poorly executed. "I hope I get Me Too'd," Fike raps to close the second verse, a line that only muddies the statement he's trying to make, just like the title and chorus do. As recent conversations have shown, most talk of so-called "cancel culture" is both imprecise and inaccurate. But unlike most who mention it, Fike isn't railing against cancel culture — he's grabbing a close cultural reference and telegraphing his own worries onto it. It's an easy way to get your song noticed, but a hard way to be taken seriously.
As if it needs to be said, Fike doesn't seem to want to actually be canceled. Even if he doesn't enjoy the fame, he's made good use of it, hiring a lawyer with his record advance to help negotiate down a prison sentence for his mom. He knows his craft — in that same interview with Abstract, he talks about finding scales by banging on the sink in his jail cell — even if "Cancel Me" itself is a pretty basic lo-fi hip-hop song. He wants to make music for others who feel the way that he does; he even hits that goal elsewhere on his album, like the chilled-out, anxious pop of "Superstar Shit" or the spiraling stream-of-consciousness "Politics & Violence." Listening to those, Fike sounds like a musician on the verge of something: refracting hip-hop through the commercial alt-rock of decades past and the dark bedroom pop of the present, confessing and channeling the stresses that so many internet-age teens and twenty-somethings feel. With a song like "Cancel Me," he's only asking to knock down everything he's started to build.