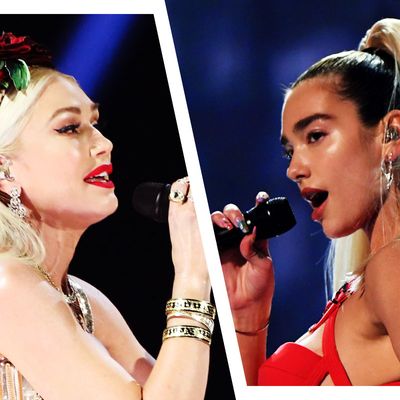 Taken in one sitting, it's pop-history whiplash.
Photo-Illustration: Vulture and Getty Images
Well, we are devastated to report that it takes over 25 minutes for something exciting to happen on Dua Lipa's remix album Club Future Nostalgia. By that point, the pop revivalist and her hodgepodge cast of producers have already thrown in a verse of Neneh Cherry's "Buffalo Stance," spun Lipa's "Break Your Heart" into Jamiroquai's "Cosmic Girl," and even put Madonna and Missy Elliott onto the same damn track. Taken in one sitting, it's pop history whiplash. Then Chicago house legend Mr. Fingers pulls out a sample of Gwen Stefani's booming hit "Hollaback Girl" for his remix of "Hallucinate" — already the best song off Lipa's fun, if sometimes empty, disco-revival album Future Nostalgia. He reduces Lipa's vocal to just a whisper as a gurgling bass line mutates into slinky synths. It's the most daring remix on the whole album, because Mr. Fingers isn't afraid to make something wholly different and equally interesting out of the track. He's confident like Stefani was in 2004, stepping out of her pop-ska roots to make a percussive hip-hop song that grew bigger than herself.
Stefani doesn't strike anywhere close to that with her own Club Future Nostalgia feature, on Mark Ronson's remix of Lipa's single "Physical." It was one of the only tracks Lipa specifically teased ahead of the album, along with the crowded "Levitating" remix, leading stans to believe the album would be chock-full of major features. (Who could blame them in 2020, the year of Peak Remix?) They were disappointed to find out the album was full of actual new mixes of Future Nostalgia tracks and other songs, but "Physical" still had promise, with both a guest and the whole project's most famous producer. Instead, it's one of the set's biggest failures.
The songs on Future Nostalgia didn't need new mixes to begin with. Even before her hard pivot to disco-inspired dance music, Lipa made big songs. The best ones on Future Nostalgia have enough space to feel limitless, like "Hallucinate," lead single "Don't Start Now," or the title track. "Physical" played it safer than those songs but still delivered a burst of euphoria during that final chorus, when the backing cut out and Lipa demanded that you shout along. Ronson's remix undoes everything good about the original: It's too cramped or too sped up for a worthy payoff, too overwrought to feel alive like its source material did.
Then there's Stefani, who in the 16 years since releasing "Hollaback Girl" has become one of the most tepid voices in pop. She takes a break from performing with her country-star boyfriend to sound even more anonymous on this remix, where you have to strain to notice the differences between her voice and Lipa's. While Madonna and Missy Elliott are at least dance floor icons in their own right, it's unclear what Stefani is doing on this album, in 2020 no less. (Plus, on a record where random samples abound, did no one even bother to reach out to Olivia Newton-John for the most obvious one?)
On Club Future Nostalgia, Lipa wanted to turn her album into one seamless DJ set — hardly a novel idea but still an adventurous take when pop remixes and deluxes have become nearly a requirement. But good DJ sets, never mind disco, try to make the best moments last forever. Mr. Fingers's remix kicks off the album's most exciting run: a second, bigger remix of "Hallucinate," a mix of unreleased track "Love Is Religion," a remix of hit "Don't Start Now" by alt-house musician Yaeji. None live up to his remix, but they're all good, and for just a few minutes, you do get sucked into the set. Then the "Physical" remix rolls in, and this time, Dua Lipa's call to "keep on dancing like you ain't got a choice" falls flat.