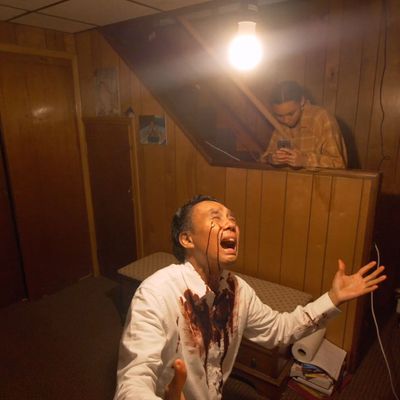 Photo: Ma-Yi Theater Company
Live theater, you may have heard, is shut down. School, whether in person or online, is a nightmare. Anyone wrapping their mind around the losses to both — say an artist who's also a parent, or a playwright who needs to teach this fall — spends a lot of time in the fetal position, crooning softly. But what if there were a way, in quarantine, to have both at once? A recent short film made by Ron Domingo, his family, and three top-notch playwrights (two of them living, one ancient and Greek), manages to hit both of Horace's ancient dramatic-poetry criteria: "to instruct and delight." The sly and moving Sophocles in Staten Island is the first micromovie hosted by the Ma-Yi Studios, the pivot-to-video operation by the long-lived Ma-Yi Theater Company. In any other time, the film — charming, thoughtful — would be welcome, but under current circumstances, it feels like a life preserver in troubled water. It's a model for intergenerational creativity, which itself cracks open issues of teaching, listening, and adaptation.
When you see Domingo, chances are that you'll recognize him. He has been an Off Broadway stalwart for nearly two decades, and he pops up regularly on TV dramas like Madam Secretary and Law & Order. He's in the history books too: In 2003, he won an Obie in Ma-Yi's production of The Romance of Magno Rubio. Recently, he had been finding theater roles that served both his sense of mischief and classical grace: In 2017, he was the adorable, befuddled dad in Susan Soon He Stanton's Today Is My Birthday; in 2018, he was part of the all-local-hero Henry VI for the National Asian American Theater Company. During the shutdown, though, he and his wife Lynn Taylor, his mother Consuelo Domingo, and his two kids, Autumn (15) and Connor (11), were all living in the house he was raised in on Staten Island, and they were all trying to muddle through quarantine, trying to keep spirits roughly pointed in the "up" direction. In the spring, the family sent Ma-Yi's artistic director Ralph Peña a birthday video, in which they were all playing different instruments and singing. Peña suggested that the group work on a project. "I don't really want to do a project right now," said Domingo, already planning.
Domingo's daughter Autumn is of an age where she's supposed to be reading texts from the College Board's recommended list, and in looking through it, Domingo noticed Oedipus Rex and Antigone. He immediately thought of Michi Barall, a playwright, performer, and scholar with deep grasp of Ancient Greek theater, who adapted Euripides's Iphigenia in Tauris into the fleet-footed Rescue Me for Ma-Yi in 2010. Barall and Domingo had themselves played versions of Medea and Jason in Sung Rno's 2004 play wAve, a smash-and-adapt modernization of Euripides's Medea. So when Barall was drawn to Antigone but didn't think she was the right person to adapt Oedipus, they called Rno.
On a recent Zoom call with much of the film's team, including the director Jack Tamburri, Rno talked about the process. "We talked a lot about the relevance to what we are going through now. We started out thinking it was going to be a play that we were filming, and then at some point, we realized: It's actually a film very much informed by theater. For me, Oedipus, it's so heavy. When I first started going into it, the main thing was, how in the world can Ron's family deal with this incredibly dark, insane material? When you read it, when you actually think about it, it still makes you very viscerally [makes horrified shrinking gesture]." It's about 3000 years too late for spoiler alerts, so I feel comfortable noting the relationship between Oedipus and his mother Jocasta might be enough to squick out even the most art-minded youths … particularly when played by their actual parents. (At this point in the call, Connor floated quietly out of the Zoom.)
Tamburri gave Domingo certain prompts, sometimes simply to film certain objects in the house. For instance, a photo of Domingo's father glows in the background, taking on new significance as we realize his Oedipus is looking everywhere for the truth of his missing father. In the frame story, Domingo plays an amplified version of himself, a goofy Everything Is A Learning Moment dad, a portrait which then segues into the unlistening Oedipus, who can't hear the truth when it's told to him. Autumn herself plays the fiery Antigone, who eventually takes over the whole project with her own movement piece, which Autumn choreographed to express her own helplessness after the killing of George Floyd. Character and girl fuse together, and the ancient story of a dead man, left to bake in the sun in a Theban street, comes into sudden alignment with the present. (Some productions of Antigone talk about this resonance; Sophocles in Staten Island has Autumn dance about it.)
Many of the collaborators had children at home, and the stress of taking on instruction has told on them all. Barall has an 11-year-old daughter says, "Everything was fuzzy in the spring; all the lines disappeared. We struggled to get through fifth grade. We barely made it. I've been in school, basically, my entire life, there was only like a ten-year period where I was not in school. So I think it's just part of my DNA. Now it was like, 'What is it? What're we actually doing?' There's this mystery of how it is that people learn things. You know, how do you teach a child?"
As filming started, Barall, her husband (playwright Charles L. Mee, Jr.) and her daughter found themselves watching the process of how the Domingo family was working together. After that tough fifth grade semester, it looked … fun? "It was inspiring to us as a household that you could make something together collaboratively," says Barall. "And that certainly wasn't kind of how education was working in our house! Even though she goes theoretically to a progressive school, and a lot of their learning is project based, it still doesn't put adults and children in the same space. And I thought that was actually a really exciting and interesting thing about the process."
Rno has a 14-year-old boy and a 9-year-old girl, who had both adapted well to immersive, self-directed remote learning projects during the spring semester. "I actually felt like we were trying to create something that was in the same vein," he says. "But if you take the Greeks head on, it can get a little dry and pedantic." This meant that the original project, to make bite-size but faithful adaptations of the tragedies, changed to being something that met the tweens with their own vocabulary. Suddenly, learning started flowing the other way. "I was watching these influencers that my kids were telling me about, like Emma Chamberlain," says Rno. I was watching all these videos because that was the chorus character, and my kids felt I was invading their turf! So I as a writer learned a lot because I felt like I had to really dig into both plays and then try to find ways to bring that to an idiom that the younger generation would find interesting or appealing."
For their part, the younger generation was both learning and taking control. Autumn got a crash course in cinematography, started suggesting shots and solving compositional problems on the fly; her friend Kassandra Cordova appears as a sort of chorus figure, a YouTube coryphaeus who offers context and information. Connor, Domingo says, "is the best actor in the family," and his total unstudied ease in front of the camera is one reason the 38-minute film feels so light, even as the material gets darker and sadder. "It was such an organic, wonderful creative experience," says Domingo. "The collaboration is what I missed the most from performing. Being with a community of artists working together."
And everyone learned something from the plays. Tamburri talks about "the reality of plague and the pressure that puts on structures of society and structures in the family," and how those are relatable to today. Rno talks about the original Greek productions, which were, he notes, "communal events. They were cultural. They were a way to feel less alone in a very challenging world. So I felt like, in a weird way, we captured a flavor of that." Barall finds that Oedipus Rex and Antigone are opportunities to stop, to look at the impact of suffering on all kinds of bodies, and at the political decisions that perpetuate suffering. "As Americans, how do we understand the scale of what we've wrought, and how do we make some kind of amends?" she asks. "I think it's incumbent on us as educators, as artists, as people who are responding to this material to think about that."
Sophocles in Staten Island shows just how skills honed in theaters can translate to the small screen and how handsome cinematography can be, even if you are pressing your family members into service. (Jon Burklund was the video producer; much is also due to Fabian Obispo's compositions.) It's also a way to make quarantine seem less claustrophobic: If the Domingo family can turn a small house into all of Thebes, then a tiny apartment might feel a little less close. But it's as a prompt for intergenerational learning that I think might prove its greatest influence. The method and the material have so clearly reinforced each other, and the way that the playwrights, director and Domingo family shared the process leads the viewer more deeply into the play. The creative team itself reinvents the hierarchy that Sophocles questions so keenly. Oedipus doesn't listen; Creon, his successor, isn't much better. But the younger generation is there, offering suggestions, holding the camera, showing the way.