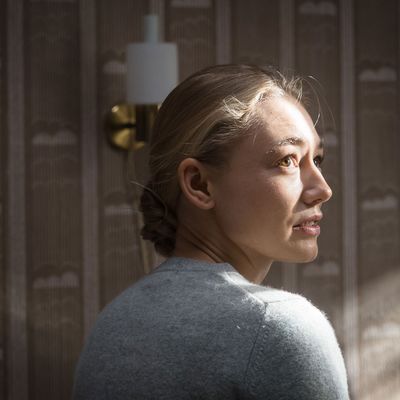 "Life has gotten pretty much back to normal in Moscow," says Oksana Akinshina. "Cinemas recently opened up."
Photo: Courtesy of IFC Midnight
Oksana Akinshina made her film debut at 14 and exploded onto the international film-festival stage with her award-winning second feature role, in Swedish director Lukas Moodysson's disturbing Lilya-4-Ever, as a young Russian teen who is abandoned by her family and forced into prostitution. Since then, the actress has worked in a variety of genres: She starred in the marvelous Russian musical Hipsters, and also appeared in The Bourne Supremacy. Later this year, we'll see her in Chernobyl, a big-budget Russian drama about the 1986 Soviet nuclear disaster. In the new Russian sci-fi horror film Sputnik, which opened last week, she stars as a troubled, reserved psychologist tasked with interrogating a cosmonaut who's returned from space with an alien parasite. It's a surprisingly intimate thriller, and the whole thing turns on Akinshina's riveting presence. We talked recently (through an interpreter) about Sputnik, Chernobyl, the COVID-19 situation in Russia, and the differences between Russian and American film sets.
Where are you right now, and how is the coronavirus situation where you are? 
I'm at home in Moscow. Life has gotten pretty much back to normal in Moscow. There's no lockdown. Everything's open. You have to wear a mask in specific places that require it, but not everywhere. The only difference is that you can't go traveling because the borders are locked. So there are some ways around with the bus, but you can't have normal travel.
Have your kids been doing remote learning?
Initially, when everything closed, of course, all the kids were doing homeschooling, distant learning. And it was complicated for everybody because the parents had to participate. Once summer came, everybody who had an opportunity sent their kids to camps or some kind of socializing places.
I loved your performance in Sputnik. It's an interesting role because she's a psychologist who, for much of the film, doesn't show much emotion. She's very closed off. And we learn very slowly about who she is and her background, and really it's only at the very end that we find out her story. What are the challenges of playing a character who doesn't emote that much?
Before the film, the director and I talked about this, and we actually encountered some of the life situations she had gone through, to justify her character. There were a lot of discussions about why she was like that, what would have happened to her, that sort of thing. We cast the backstory that you discover at the end of the film. But it was important to talk about all this before really shooting the scenes.
Did you have to do any additional research or preparation for this part? 
The most efficient research for me is the table reads. We try to do those as much as possible, and all the members of the team, not just the director, try to analyze the character. That's the best way to prepare, and also to learn about some of the story's emotional background before shooting. That way, on the set, you can already manifest that.
Most of the visual effects in Sputnik are with the alien creature itself, and it's clear there's a lot of computer effects involved. When you're shooting those scenes, what are you acting against? What's there on the set for you? Is it something that looks like the creature, is it just a green screen, is it tennis balls?
In terms of the creative aspect, we discussed a lot with the director what his vision of this creature was — how it moves, what it will look like, especially since it's a creature that's not living by itself but is part of another character. So we talked about how their symbiosis really works. But on the practical level, the process was nothing extraordinary. There were just dots I was following. Sometimes, if I was following or reacting to a movement, there were swords or other moving objects that our eyes are following. For static scenes, we had a plastic-doll kind of thing, which we called Cheburashka [a classic Russian children's story character, with big ears and a teddy-bearlike body].
What has the release of this film been like in Russia? As I understand it, it had to go out digitally because cinemas were closed. Do you think it might still get a chance to come out theatrically?
When the team learned what was going to happen, at first, everybody was disappointed, of course, because they felt that they were missing the real-life event that they were preparing for. But the closer it got to the premiere day, the more everybody understood that in the current situation, which wasn't improving in Russia, it was really the optimal way to go. And when it actually happened, surprisingly, it was the reverse effect of what we were expecting — because first of all, many more people watched it online during lockdown, now that they were at home. And then the feedback that we received after this premiere was much more intense. There were many more people calling or emailing and expressing their real opinions, and they wanted to share it. Usually if it's a real-life premiere, it's just a nice event and everybody says something nice because they have to say nice things, and then they leave for the cocktail party and they forget the whole thing. But after this digital premiere, the effect was much more intense, and it went on for many more days. There was so much more reaction.
For films like Sputnik, which are medium-budget movies and not huge blockbusters, the opportunity of going directly to digital, which hasn't really happened before in Russia, is a great opportunity. And probably after this whole virus thing, it will still continue to happen. It's really very helpful for such films. So that's a good thing. On the other hand, filmmakers and other people from the film world will continue vouching for the real cinemagoing experience, especially for bigger films, that there definitely should be a theatrical release in cinemas.
As for Sputnik, I know there were talks about it, but there isn't really a defined date they're going to screen it at a theater. In general, in Russia, cinemas recently opened up in August, and they are now operating under some restrictions about the amount of people that can be in the room. And so far, the results haven't been outstanding, but we're only in the second week. Around 58 films are planned for release until the end of the year in the cinemas theatrically. Right now, to this date, only about 25 percent of cinemas are open. There are some bigger films planned for release at the end of August. So I think people will see whether the audience is going to movie theaters in general. We don't know yet what will happen.
I have to ask you about the upcoming Russian film Chernobyl, which looks fascinating to me. I saw the trailer. What can you tell me about this film and your role in it? It looks like a much bigger movie than Sputnik.
It's a project that's very dear to my heart. I've actually already seen the movie, and I know that it delivers. If you ask about the difference between this and the American TV series Chernobyl, it's very different — this really talks not about the whole catastrophe, but more about small stories of people, and the story of a specific family who were witnesses to this catastrophe. Obviously it's a much bigger film than Sputnik, in terms of budget and ambition. Right now, the theatrical release in Russia is scheduled for October 15. It's still holding onto this date, but again, you know, everybody's going to see what the state of the theaters is in general. If it doesn't look like people are going, or if things aren't working out, they may postpone the release to a bit later.
How would you compare the Russian and American film industries?
Probably one difference between American and Russian cinema is that in Russian cinema people don't really take risks. They find a comfort zone — everybody on the team, from all departments. And they learn to do it well, and they try to stay within the frames of this comfort zone. In the American film industry, people are more likely to take risks and always challenge themselves. With each new project, they try to develop themselves and to learn something new — again, in each department. And this creates very interesting work. In Russia, we're more cautious.