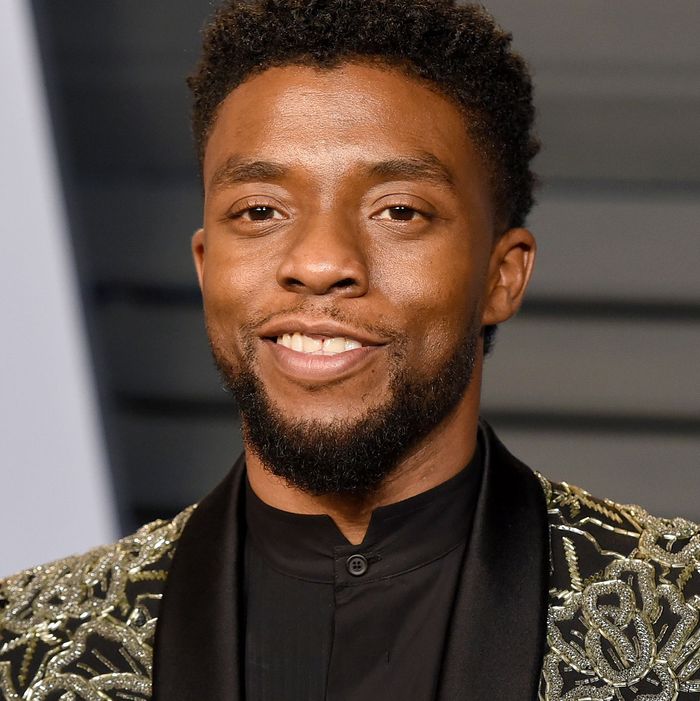 He had the talent to be James Brown, Jackie Robinson, Black Panther, and Stormin' Norman. He was a chameleon and a pure actor in every sense.
Photo: Presley Ann/Patrick McMullan via Getty Image
In a year that's witnessed more deaths from a pernicious virus than we've seen in several wars, Chadwick Boseman's passing from stage four colon cancer has sent shockwaves through Hollywood and beyond. His death marks the untimely loss of a masterful young actor, but for African Americans, he represents even more: yet another hero gone. Fans have equated his abridged acting career with that of Heath Ledger or River Phoenix, but Black death exists in another category. From civil rights leaders to pop-culture icons like Aaliyah and Tupac, African American history is uniquely dotted with tragic examples of what might have been were the world a little different. In a summer of Black Lives Matter demonstrations, being reminded of the ephemeral nature of Black life only adds to the pain.
Boseman's story, as we've only recently learned, is astonishing. He lived for four years in the public eye without ever publicly speaking about his illness or the treatments he was receiving. The undaunted manner in which he faced mortality mirrored the roles he loved playing: heroic Black men battling seemingly insurmountable forces. It's a revelation that makes his death at 43 especially devastating. He was already an icon, a king, a cultural force, but his turns in films like Marshall, the final Avengers installments, Da 5 Bloods, and the forthcoming Ma Rainey's Black Bottom have taken on new dimension.
Born on November 29, 1976, in Anderson, South Carolina, to Carolyn and Leroy, Boseman took an early interest in art, and at the same time, activism. In a Rolling Stone profile, the actor explained how he transitioned from a high-school basketball player to a storyteller shortly after one of his teammates was shot and killed. To commemorate his death, Boseman wrote and staged a play called Crossroads and the experience ignited a career. He later attended Howard University, then the British American Drama Academy, and soon found spots on major television shows like Law & Order, CSI: New York, ER, and Cold Case.
After years of TV appearances, he made his big-screen debut in Gary Fleder's biopic The Express. Detailing the real-life story of the first Black Heisman Trophy winner Ernie Davis, Boseman played a minor part in the movie, as Floyd Little, a running back who followed the transcendent player. I was a sophomore when Fleder filmed the story at my high school — Lane Tech — in Chicago. Shot in our modest football stadium and locker rooms, I remember when the film arrived, and the excitement we felt seeing it all in moving picture. I also remember Boseman. In his lone scene, his character meets Davis — then dying of leukemia at age 23 — and explains how he wants to model his own career after Davis's. When the famed athlete tells Little to be better, Boseman listens. The way he emotes humility makes the scene.
Five years later, Boseman had his big break: He landed the role of Jackie Robinson in the biopic 42. Without any significant credits to his name, and at 36 years old, he nabbed a starring role, and the late-blooming actor with a talent for portraying resiliency vaulted into the mainstream. Robinson's bravery stemmed not just from playing baseball, but from enduring a torrent of vicious hate. It's easy to stereotype Robinson as a man of quiet strength, but Boseman adds complexity to his pioneering persona. For instance, when the frustrated Robinson smashes his bat against a brick wall after gritting his way through abuse from white fans, he's confronted by Branch Rickey (Harrison Ford). Acting opposite the veteran Ford, Boseman holds his own, ripping open Robinson's exasperation and unrequited rage to reach a gripping emotional register. Like the valiant men he portrayed, Boseman's ability to handle the pressures associated with playing defiant Black figures allowed him to never be overwhelmed — by anyone — onscreen.
After a modest role in the football drama Draft Day, Boseman accepted another seminal part, playing James Brown in Tate Taylor's Get On Up. The electric Brown ran on a different wattage than the stately Jackie Robinson. Yet Boseman, a chameleon, easily adopted Brown's gravelly voice, his soulful energy and dynamic footwork, his flair for showmanship. In one scene, when the Famous Flames give an impromptu performance, Boseman bursts to the forefront, high-stepping and twirling his way past artifice and into a full transformation. More than any other actor, Boseman channeled the real motivations behind legends, be it Robinson's sense of duty or Brown's revolutionary individualism. His performances were less newsreel-footage mimicry and more tactile reality, his characters less ghost and more animate objets d'art. That his work never earned awards buzz will continue to baffle us all.
Even so, his successes catapulted him into the Marvel Cinematic Universe as T'Challa, first in Captain America: Civil War and later in the Ryan Coogler–directed Black Panther. The role brought with it a familiar set of challenges: His performance wouldn't just be a demonstration of craft, like it might have been for his white counterparts in the superhero world. It'd become a piece of history. He'd face a slew of pressures, because a Black epic, even a period piece, is forever expected to be important, representative of the past, present, and future. Boseman always bore the temporal heaviness well. He likely felt the gravity of it all — the unfounded fear that a Black film would lose money overseas, that a Black director wouldn't be afforded the same big budget as his white peers — but he never let it show.
The sound of Boseman shouting "Wakanda Forever" soon became a revolutionary cry and a sign of affirmation. The word "forever" served not only as a rebuke of history — spinning the yarn of a vividly colorful, advanced African kingdom untouched by the ravages of slavery — but a vocalization of African American mythology: the fabled belief that all African American men and women originate from kings and queens. Few actors exuded the perceived regality of Blackness more than Boseman. As a character, T'Challa required him to emit an even eminence; the role often left him with fewer charged scenes than say Michael B. Jordan's Killmonger or Danai Gurira's Okoye. But Boseman struck the balance between the serenity of a statesman and the passion of an action superstar, letting his fight sequences with Jordan play even more powerfully. Their confrontation rings as a metaphorical struggle of ideas about diaspora and a continent that mourns its people's abductions. When T'Challa willfully condemns his father for abandoning Killmonger, Boseman pitches furious disappointment into the film's uplifting message: We might mourn the past, but we are more than the actions of our ancestors. We can be better.
In between Captain America: Civil War and Black Panther, Boseman backed both Message From the King and Marshall as a producer, helping to usher new Black stories into the cinema himself. As the famed civil rights attorney Thurgood Marshall, Boseman returned to biopics with a commanding performance — playing the smartest man in the room, a Black man unafraid to raise his voice — that offered a glimpse into another of his abilities: a capacity to intimidate. After turns in Avengers: Infinity War and Endgame, the trait served him well playing a detective investigating corrupt cops in the crime drama 21 Bridges. Opposite Michael Trujillo (Stephen James) — a man accused of killing eight police officers — Boseman showed that he could communicate an unstable aura with just a flex of his chiseled cheeks and the force of his glance.
We'll have to wait to witness the final film of Boseman's lifetime — Ma Rainey's Black Bottom, in which he stars opposite Viola Davis, is slated for a later release date — but for now, we're left with his performance in Spike Lee's Da 5 Bloods. Boseman assumed the role of Stormin' Norman: a young soldier who died during the Vietnam War, yet now lives on in the memories of his friends. A martyr to Black liberation, and a mentor, his now-aged compatriots ostensibly return to Vietnam to recover their squad leader's lost body for a Stateside burial. Haunted, the veteran Paul never made peace with this death; Norm's passing leaves the same hole in him as the loss of Malcolm X or Martin Luther King Jr. Paul held onto the memory of what Norm represented — Black empowerment and unflinching bravery — until it basically drove him mad. It's not until Norm's spirit embraces Paul, and forgives him, that he feels at ease. Norm's plea — "It's all right, man" — is a request for Paul to continue living freely rather than suffer guilt-ridden for his hero's sake. It's a message to generations of Black people who must live with and without martyrs and legends.