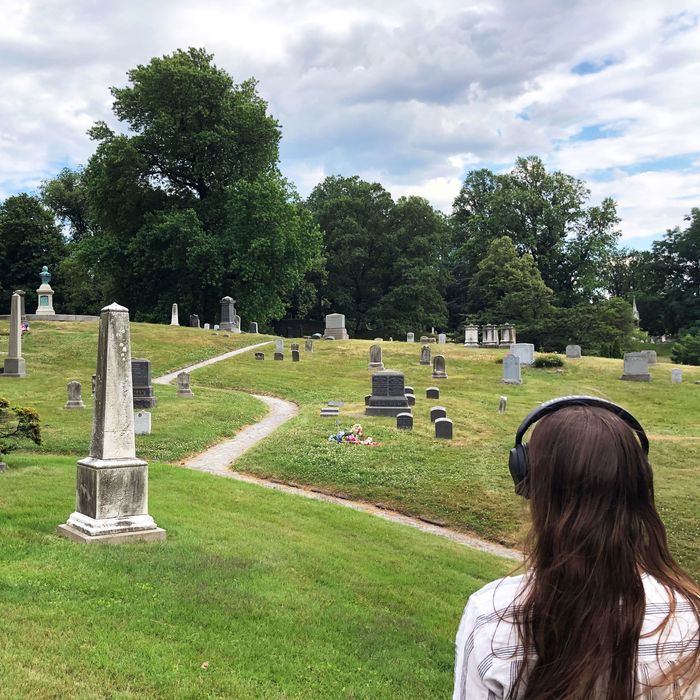 When I first walked to Brooklyn's Green-Wood Cemetery to experience Gelsey Bell's audio work Cairns — a sound-walk for the wandering cemetery visitor — I made a rookie mistake. I always do whatever my phone's map app tells me, and Google's robot voice led me to Richard Upjohn's Gothic Revival approach on 25th Street. So that's where I pushed "play." The first track of Cairns begins with a caution about cars, but I didn't see any. No problem. Then Bell's light glockenspiel voice instructed us to walk through "the tunnel," but the main entrance doesn't have a tunnel. In my ear, Bell had started a wordless, hollow-sounding aria; clearly she had found a real tunnel somewhere to sing in. I gave a couple of hopeful hoots under the 25th Street gate, but there wasn't an echo.
Only then did I realize I needed to go out and come in again at 35th Street — not usually an option for the inhabitants of Green-Wood Cemetery. Once I'd started Cairns all over again in the right location, it made much more sense to follow in Bell's swift footsteps. Now when she directed my attention to the feeling of gravel underfoot or the sound of gossiping aspens in the wind, I was right where she wanted me to be. I admit I missed the sensation of displacement, though, of hearing someone confidently guiding me through a world I couldn't see. Back at 25th Street, I had convinced myself that I was supposed to be seeing through to another world. Maybe the aspens were just invisible? Through my headphones, the sound of gravel crunching made the solid concrete of 25th Street feel … softer. The "right" experience of Cairns is lovely; the wrong one is magic.
Bell's actual project, though, concerns different, more tangible rituals. The cairns of the title are small piles of rocks made as wayposts or tributes to the dead, and once Bell has drawn your attention to them, you'll see that they're everywhere on top of the gravestones in Green-Wood. Bell notices a number of such small things (a plastic kite caught in a tree) as well as large ones (an angel sculpted by Adolfo Apolloni), and her calm directions call order out of the chaotic necropolis. She particularly likes to guide the listener to markers of women's graves, including that of Do-Hum-Me, a daughter of a chief of the Sac and Fox Nation (Thâkîwaki and Meskwâki) who died in 1843 in P.T. Barnum's museum; Eunice Foote, the first scientist to suggest a correlation between carbon dioxide and global warming; and Dr. Susan S. McKinney Steward, the first female African American physician in New York. "New York royalty," as Bell says.
Cairns isn't primarily tour-guide stuff, though. Bell is known for her songwriting and musical performances, particularly the otherworldly Mary in Broadway's Natasha, Pierre & the Great Comet of 1812, and she collaborates here with the composer Joseph White. They create a looped musical number out of the huffing and puffing it takes to climb one of the cemetery's steep hillsides, and they construct tree music inspired by the way saplings purr their own deep song at 220 hertz. Cairns is best listened to with one earbud out, since Bell also lets Brooklyn take on some of the composing (strong solos from Distant Siren and Traffic Helicopter). Even the tour itself operates like a fugue; the facts are the theme, which then gives way to variations of information — boreal, aeolian, your own body's sweat and thirst and lassitude.
You can download Cairns anytime, and you don't need to listen to it in Green-Wood, although if you can get there, I would recommend it. It's not a very long recording, but walking to the cemetery and then following Bell's map (and messing up the beginning) took me around four hours, just about the length of a nice piece of uncut Shakespeare. That extended experience is what I'd try to re-create, even if you're listening to it far away from Kings County. Look at a map, pick a place a few miles away and then go listen to Bell there. The way she talks about the trees and the women we've buried will make your walk back seem completely different. You'll know the piece is working on you for as long as city noise sounds like music. It took me a full day before my mind readjusted and sirens sounded like emergencies again.
One of the surprises of pandemic theater-making has been this embrace of audio work. I expected the experiments on video, the play readings, even the digital puppet shows. Given the prevalence of live projections in theater these days, theater-makers were clearly already primed to find editing solutions to the limitations of quarantine. So I fully expected to keep my long-standing habit of watching something every day; I just didn't expect to be doing so much listening. Yet from Shakespeare to microdramas to sound-walks, that's where I've found much of my favorite COVID-era theater.
With that in mind, a short-run piece in the Ice Factory Festival, We Need Your Listening, seemed like the right piece for the moment. A small audience Zooms into the New Ohio Theatre's virtual lobby, only to be diverted into "breakout" rooms for one-on-one interactions with actors. Despite the Zoom interface, we were actually "together" in the physical theater: The makers Ilana Khanin, Velani Dibba, Elizagrace Madrone, and Stephen Charles Smith had arranged a low-fi hi-tech meetup, in which phones, tablets, and laptops were carried around the tiny West Village theater and set up facing each other in pairs. After each short conversation, a stage manager "carried" us to a new interaction — speed-dating for devices.
Each actor talks to us for just a few minutes, answering a prompt such as "What do you do first thing in the morning?" Despite each speaker's conversational tone, the audience is muted, so we can't respond; we communicate only by listening more and more intently. One of the actors was an old student of mine; we recognized each other at the same moment. Another performer told me she had been abandoned by a potential lover who couldn't stand dating over FaceTime. I beamed my recognition and my sympathy through the camera. How much emotion can you pour through a lens? The show was barely a half-hour long, and while it was lovely, it was almost as tiring as my walk through Brooklyn.
The show was an experiment in de-glossing video production. How to make Zoom feel fresh again after all these months? By roughing up its surface. In facing screens at each other, like two mirrors in a mise en abyme, the team had distressed the video into something new. The feeds looked like crackly, noisy '80s TV — which is to say, great. But having spent a day in Green-Wood, I actually wished that We Need Your Listening had only … needed my listening. The show at its best felt as if it were casting even further back into our technological past, to the telephone, the party line, the buzz and click and the random dial. I wanted to close my eyes to listen, not watch. I wondered what it would have been like to hear the show while sitting under a tree in Green-Wood. The voices and their troubles would have sighed into the wind.