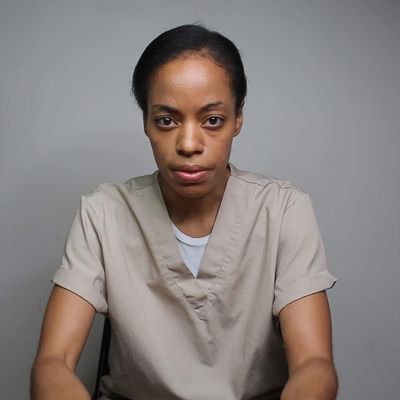 Patrice Bell in
Thank You for Coming, Take Care.
Photo: Cherie B. Tay
The online season of Theatre for One: Here We Are feels like a response to this year's loneliness, but it existed long before COVID-19. In 2002, artistic director Christine Jones got the idea to design a microperformance initiative as (literal) closet drama: An audience member enters a freestanding box about the size of an elevator to experience a specially commissioned, five-minute monologue, delivered from about a foot away. By 2011, she was producing shows in Times Square. It was amuse-bouche theater, close-up magic, eye-contact-palooza. The purpose-built "theaters" — you may have spotted one lurking in the lobby of the Signature theater — look like bulky black phone booths. They provided, Jones said, "intimate exchanges in public spaces." Well, these days, intimacy is out and webcams are the new phone booths, so the Theatre for One experience has gone online.
The most obvious limitation of the form is capacity. On a Monday, you need to quickly sign up for tickets for a Thursday show; they go fast. At showtime, each lucky ticket winner follows a link to the quiet digital "waiting room," a black screen populated by texts, drifting like lightning bugs. Viewers contribute thought bubbles, typing little messages that manifest in the void. "Are you real?" one person writes. "I think so" floats by. Someone in the room is clearly from management, so bubbles ask about voting, then reassure everyone that "you're in the right place." We engage, but our busy, Zoom-dazzled eyes relax.
The viewer surrenders some burdens in that waiting room … including choice. The current Theatre for One slate includes eight plays, written by Nikkole Salter, Stacey Rose, Lynn Nottage, Regina Taylor, Carmelita Tropicana, DeLanna Studi, Lydia R. Diamond, and Jaclyn Backhaus. You can sign up to participate, but you aren't allowed to select a specific performance — it's playlet roulette. You linger in the screensaver limbo until your performer is ready for you. Then, without warning, you're diverted to another web interface. The waiting-room screen dissolves and an image of your own unprepared face looms out of your living room for an instant; it's a brief reminder that management has switched on your webcam. For the duration of each one-on-one live performance, the performer can see and hear you and can probably tell if your crinkled brow goes from "listening intently" to "distracted." (You don't have to watch yourself for the whole thing, though, thank God.) The waiting room's invisible restful collective vanishes and we're plunged into the intensity of the one-on-one.
I was whisked into two performances, Thank You for Coming, Take Care, by Stacey Rose, and Vote: The Black Album, by Regina Taylor. The first is an affecting monologue performed by Patrice Bell, playing a woman named Larhonda who sits in khaki scrubs against a plain white wall. Larhonda looks at her listener hungrily. "You look like you smell like the sky / in May / after a good rain," she says. As she speaks, the source of that hunger shifts. Her scrubs are actually a prisoner's uniform, and what at first seems to be a deep cry for sky and freedom is actually a terrible expression of grief about her child. Why is she so simultaneously grateful and resentful toward her visitor? What exactly are we here to take away? Rose makes her character study in just a few strokes, deft in the way she sketches both Larhonda (with rushing language) and the visitor (with our silence). Mute and helpless, the watcher can't comfort Larhonda or lie to her or assure her that her daughter won't forget her. Rose's sure hand with the form's conventions — brevity, the viewer's discomfort, even the glassy screen — combine to make a swift, sure strike at the heart.
The playwright Regina Taylor performs her own piece, which uses the opportunity to deliver a kind of lyric invective. "That which I think I know / like the lines in the palm of my right hand / have changed course / pointing in other directions / the world is a topsy-turvy mess," she says, standing in front of window. Taylor speaks in her distilled lyric about her great-grandmother ("hemming the skirt of a white suffragette") and her own mother's injuries, scars from old civil-rights battles. Moving through her family's generations, she ends with praise for her granddaughter, protesting in the streets where she — a 60-year-old woman — fears to go. In Vote, there's less reliance on the give-and-take of the one-to-one presentation than in Rose's show. Taylor seems more interested in delivering her message, literally. (The short sequence ends with her holding an envelope, vowing to mail her ballot.) Vote is what soapbox oration must have been like, passionate rhetoric on opportunity and necessity, the citizen addressing the public square. And that's a shadow on its effectiveness: The piece, though extremely brief, seems built for a larger audience. No one goes to Speaker's Corner hoping that people come by one at a time.
These pieces constitute further digital experiments in the piece-by-piece analysis of theater that's taking place right now. One production deconstructs liveness, another closeness, another the primacy of the written word, the next the way the audience operates. The online embodiment of Theatre for One mainly reminds us of the value of awkward closeness. One of the best things about live performance is the abrasion of our too-frequent comfort; other entertainments are happy to let us basically slop on over in our pajamas, since nobody is watching us back. Movie theaters install giant recline-o-loungers; television screens at home are big and bright enough that we can see them even while half-snoozing. But given the intense performance of yes-I'm-listening that we each need to do, Theatre for One isn't really for one, it's theater with one. These shows use that frisson of visibility to give us the adrenalizing effects of live, in-person theater, even if just for five minutes. You sit up straight and lean in and listen hard. It feels difficult but good, like tensing a muscle we might not get to fully use again until sometime next year.