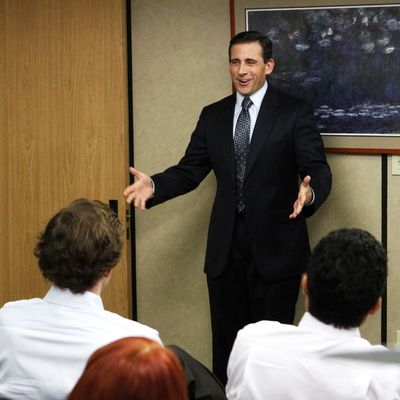 Steve Carell on
The Office.
Photo: NBC
The comedy-podcast universe is ever expanding, not unlike the universe universe. We're here to make it a bit smaller, a bit more manageable. There are a lot of great shows, and each one has a lot of great episodes, so we want to highlight the exceptional, the noteworthy. Each week, our crack team of podcast enthusiasts and specialists and especially enthusiastic people will pick their favorites. We hope to have your ears permanently plugged with the best in aural comedy.
An Oral History of The Office — When We Said Goodbye to Steve
For fans of the American version of The Office, there was no bigger heart-wrenching moment than when manager Michael Scott resigns to pursue the love of his life from Scranton, Pennsylvania, to Denver. The hapless, clueless, yet somehow lovable character had been portrayed to perfection for seven seasons by Steve Carell, whose contract had just … run out. An Oral History's host, Brian Baumgartner (who played doofus Kevin Malone in the series), talks to people from the show about that turn of events this week to find out how it could have happened. And it turns out to have been a kind of perfect storm of, essentially, dropping the ball, with no one really taking responsibility for even trying to negotiate a contract extension with Carell until it was too late. With the die cast, Michael Scott's good-bye episode had to be written and shot. Baumgartner talks to cast members about how emotional those days were. John Krasinski, who played Jim Halpert, recalls that it took 17 takes to get his final scene with Carell shot without crying. The host saves the best for last, with a post-credits tag from his chat with Carell: As they get ready to talk about the episode, Carell says, "Well, this is going to hurt like a motherfucker." —Marc Hershon
Listen: Spotify
Back Issue — Remember How Messy Top Model Was? (Feat. Jay Manuel)
Back Issue, a new weekly podcast from Pineapple Street Studios, "tells the stories behind formative moments in pop culture." Hosted by Tracy Clayton and Josh Gwynn, the debut episode focuses on how messy America's Next Top Model was. At its core, of course, this is a conversation about Tyra Banks, one of the most influential supermodels of all time and the creator and host of the early reality competition show. The hosts are here to remind listeners that, "in case you forgot, we let Tyra get away with a lot." Gwynn points out that while Banks meant well, "sometimes her tendency toward spectacle kneecaps her intentions." This sets the stage for the hosts to revisit and riff on specific examples of Bank's blunders, including the mixed message the show's makeover episodes offered. Clayton and Gwynn shine as affable commentators, drawing listeners into the conversation to laugh alongside them. As a bonus, the back half of the episode includes a conversation with Jay Manuel, former creative director for America's Next Top Model, about "the cost of being a trailblazer." It makes for a witty and well-rounded podcast that offers entertainment and education. —Becca James
Listen: Spotify | Apple | Website
You're Wrong About — The Stepford Wives
You're Wrong About hosts Michael Hobbes and Sarah Marshall describe themselves as "journalists obsessed with the past" who "reconsider a person or event that's been miscast in the public imagination" every week. Topics they've covered include everything from Courtney Love to Enron to the Satanic Panic. Marshall is writing a book on the last. This week, they tackle The Stepford Wives, a 1970s horror novel with a "real-life conspiracy written between the lines." After Marshall reads an excerpt, Hobbes coyly cracks the obvious Stepford Wives joke: "Rooobooots." It's the same for the rest of the episode, where Hobbes enthusiastically punctuates Marshall's read-aloud with punch lines. This pairing of well-researched information met with responses that will make you laugh creates an engaging pace that keeps listeners interested through every twist-and-turn comparison Marshall makes between the novel and reality. —Becca James
Listen: Spotify | Apple | Website
Other Podcasts We're Listening To:
Working It Out - Ronny Chieng
Listen: Spotify | Apple | Website
Bigfoot Collector's Club - Jordan Morris
Listen: Spotify | Apple | Website
Got a comedy podcast recommendation? Drop us a line at comedypodcasts@vulture.com.
If you like comedy and you like podcasts, we recommend you subscribe to Vulture's own Good One podcast, which releases new episodes every Tuesday on Apple Podcasts, Spotify, Stitcher, Overcast, or wherever you get your podcasts.