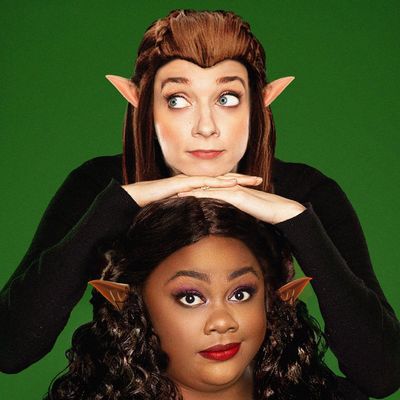 Lauren Lapkus and Nicole Byer.
Photo: Headgum
The comedy-podcast universe is ever-expanding, not unlike the universe universe. We're here to make it a bit smaller, a bit more manageable. There are a lot of great shows, and each one has a lot of great episodes, so we want to highlight the exceptional, the noteworthy. Each week, our crack team of podcast enthusiasts and specialists and especially enthusiastic people will pick their favorites. We hope to have your ears permanently plugged with the best in aural comedy.
Newcomers - The Lord of the Rings: The Fellowship of the Ring w/ Jon Gabrus 
If you're looking for relief from the hellscape that is our Earth, I recommend you take the escalator down a flight to a less chaotic place: Middle-earth. Although you may encounter some orcs and hobbits fighting over a ring once there, you'll also find our friends Nicole Byer and Lauren Lapkus watching the battle from afar as they embark on an epic journey of their own: season two of Newcomers! After exploring notable content from a galaxy far, far away, Byer and Lapkus are back and ready to dive headfirst into all things Lord of the Rings. Much like season one, our hosts are here to ask the hardest-hitting questions. Ever wonder which LOTR character is considered a daddy? Byer has you covered! Ever look up from a J. R. R. Tolkien novel and think, What are those hobbits packing in their pipes? Well, Lapkus is here to figure that out. Ever pause a DVD copy of The Fellowship of the Ring and think, What the hell are any of these characters' names anyway? Then look no further, because this is the podcast for you! —Tom Rainey
Listen: Spotify | Apple | Website
Full Court Chat: The Bubble - Dr. Lavan British / Laci Mosley & Ify Nwadiwe
What's been the main element to the NBA's success in creating a COVID-19-free Orlando bubble? Is it that, unlike Major League Baseball, they listened to medical professionals? Or is it due to a technically advanced ring that can detect both the coronavirus and horniness levels of the players? In this week's Full Court Chat, a podcast that mixes sports into the Comedy Bang! Bang! formula of a straight man vexed by the wacky guests he keeps inviting onto his show, Dave Schilling talks to the creator of the Oura Ring, Dr. Lavan British (Laci Mosley). It turns out that the ring (Ify Nwadiwe) is more interested in spouting out details about Schilling's love life, including everything from astrology to anilingus, than the rote declaration of a positive or negative coronavirus test. The advances of self-aware technology usually spark the image of a violent robot uprising, but death by embarrassment is another factor not to be ignored. —Pablo Goldstein
Listen: Spotify | Apple | Website
Hollywood Handbook - Beth Stelling, Our Close Friend
Tom Scharpling. Julie Klausner. Ayo Edeberi. These are the rarified personalities that Hollywood Handbook fans consider perfect thirds to Sean and Hayes, and Beth Stelling — whose podcast rounds for her Girl Daddy special, filmed in Minneapolis just days before lockdown and premiering tonight, have been a delight — belongs in that conversation. Stelling's rapport with the boys is instant, the first Zoom-era guest to be cracking the room up from quip one. As their playful antagonism heightens over the course of the too-short episode, Beth is raked over the coals for misusing "ironic" and "opposite," Engineer Devon earns a slam dunk by remarking that he likes "normal moms" as his sexual proclivities are questioned, and Sean treats the room to an extremely long joke about a parrot who says "fuck you." Referring to her first-round Tournament of Laughs loss to the recently accused Jeff Ross, Beth lands the line of the week in comedy podcasts: "As in every election, there's a sexual predator you can vote for." Don't miss it. —Noah Jacobs 
Listen: Spotify | Apple | Website
SmartLess - Kamala Harris
It pays to have triple star power hosting a podcast to pull that big "get." And just five episodes in, SmartLess shows that off as hosts Jason Bateman, Sean Hayes, and Will Arnett land vice-presidential candidate Kamala Harris. In an interview that took place the day before Joe Biden named her as his running mate, Harris drops in via Zoom to show her humanity, drop a little policy, and reveal that she's got a pretty sly sense of humor as well. They get into the incredible situation facing the U.S. Postal Service, voter suppression, COVID-19 and — in a number of ways — sniping at the current president. As someone who sits on the Senate Intelligence Committee, the senator makes no bones about their findings that Russia interfered in the 2016 election, and they fully believe it's happening right now as well. Harris talks in fairly simple and approachable language, but sometimes it's unclear if that's for the listeners benefit or the hosts. (Two of the hosts often pick on the third for being less than smart, but that third person keeps changing.) Harris's favorite shelter-in-place pastime? Cooking: "I make a mean Bolognese." —Marc Hershon
Listen: Spotify | Apple | Website
Everyday Decisions With Jo Firestone - A Bumpin' Day w/ Jo's Mom
Celebrating "the specifics and eccentricities of daily routines," popular podcast Everyday Decisions With Jo Firestone provides a close look at peoples' lives through the details of their daily choices. And now that our physical worlds have gotten smaller by necessity, the podcast has become even more intimate. The pivot to a tighter scope was unavoidable, but that doesn't make it any less potent, and what might generally seem mundane is now wholly relatable. This week, Firestone calls her mom, Marilyn Firestone, to discuss what's currently catching her attention. She recommends Hulu's Ramy, which she finds "so well-written, very interesting, and funny, and poignant, and all those good things." She's also newly into mochi and gets "kind of upset if there are no mochis in the freezer." The conversation is full of comfort and chuckles. It's especially funny to hear how matter-of-fact Firestone's mom is as she says things like, "Hopefully, people are listening to this podcast to get happy, right? It's on Comedy Central." She isn't wrong, though, so tune in if you're looking to get happy. —Becca James
Listen: Spotify | Apple | Website
Other Podcasts We're Listening To:
Conan O'Brien Needs A Friend - Maya Rudolph
Listen: Spotify | Apple | Website
Dumb People Town - Patton Oswalt & Meredith Salenger
Listen: Spotify | Apple | Website
Got a comedy podcast recommendation? Drop us a line at comedypodcasts@vulture.com.
If you like comedy and you like podcasts, we recommend you subscribe to Vulture's own Good One podcast, which releases new episodes every Tuesday on Apple Podcasts, Spotify, Stitcher, Overcast, or wherever you get your podcasts.