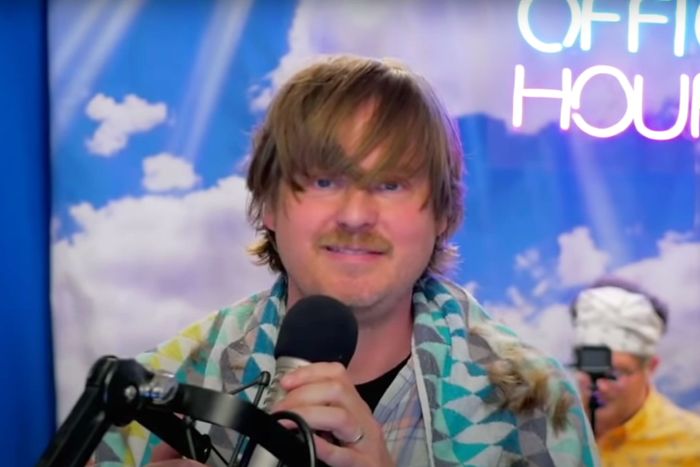 Looking good, Tim.
Photo: YouTube
The comedy-podcast universe is ever-expanding, not unlike the universe universe. We're here to make it a bit smaller, a bit more manageable. There are a lot of great shows, and each one has a lot of great episodes, so we want to highlight the exceptional, the noteworthy. Each week, our crack team of podcast enthusiasts and specialists and especially enthusiastic people will pick their favorites. We hope to have your ears permanently plugged with the best in aural comedy.
Office Hours Live With Tim Heidecker — 12 HEALTHY CIGARETTE RECIPES!
Nothing has been doing more for my day-to-day mental health in quarantine, besides Lexapro, than a constant, honking stream of Office Hours Live With Tim Heidecker and the rest of the Holy Trinity, Vic Berger and DJ Douggpound, which keeps me (a) having fun, (b) laughing, and (c) meeting people who can make me laugh. This week's episode starts with some throwback jamming along to Tim's ol' "All Aboard the Cain Train" song in memory of the late Herman. Ike Barinholtz makes an appearance, as does Palm Springs star Cristin Milioti, who gets along swimmingly with Tim's mom, Mother Heidecker. Best of all, though, is a return appearance from OHL fan Ben Levin, which prompts a revisit of his masterful Oprah wordplay joke from 2018. He debuts a new one, something about Harrison Ford and a Ford Mustang, that's as hilariously bad as his last joke was hilariously good. Plus, Tim gets a Beatles mop-top haircut live! The only thing that could've made this episode better is a return of the chicken-voice character, who is quickly becoming a breakout. —Rebecca Alter
Listen: Spotify | Apple | Website
Esther Club With Esther Potvitsky — Be Assertive! Be Be Assertive! 
Listening to Esther Club With Esther Povitsky right now is relatable. Like many people, she's been sitting around a lot indoors and passing the time, or, as she says, "I fucking sit like a big loser with nothing to do. I sit in my own filth." This stagnancy means she's especially ready to discuss anything of interest, paying acute attention to the immediate and providing the podcast with a sort of stream-of-consciousness flow. It's soothing, charming, and engaging, even as she goes through a "full-body scan" that consists of listing all her ailments, such as her bad hips from the aforementioned sitting and her "dying tooth." Other topics include her relationship with social media, as she mentions she saw the Kardashians had an outdoor sleepover. Later she runs through tips on being assertive, but her best advice comes when she says, "I don't follow [Kim Kardashian West], but I like to peek because it's so much fun … It's a little more safe for my mental health." Oh, and her tip to sit on a pillow to elevate those hips is also a good one. Tune in for more everyday takeaways. —Becca James
Listen: Spotify | Apple | Website
SpermCast — Broadway Superstar, Ali Stroker!
How many comedy podcasts have you heard about disability and pregnancy? In this podcast about "making babies, wanting to make babies, not wanting to make babies, fertility, and infertility," Tony Award–winning Broadway star Ali Stroker joins host (and longtime friend) Molly Hawkey to look bias in the eye. The fact that Stroker is the first person in a wheelchair to perform on Broadway and the first person in a wheelchair to win a Tony is … reason enough to pay attention to everything she says. She shares her feelings on having kids and what challenges may come with that, plus how all parents have limitations. Even though people with disabilities are the largest minority in the U.S., it's the least represented in the entertainment industry — which is exactly why Stroker speaks about it whenever she can. She infuses the conversation with humor, too; she and Hawkey laugh about Stroker's version of tripping (falling out of her wheelchair). From accessibility on Broadway stages to correct language for your next disability conversation and a call to watch Crip Camp on Netflix (do it!), this episode is both a timely nod to the recent 30th anniversary of the ADA and a fun reminder to keep the conversation going. —Anna Marr
Listen: Spotify | Apple | Website
Mike Birbiglia's Working It Out — Roy Wood Jr.: From Birmingham to The Daily Show to Broadway?
At the start of the most recent episode of Mike Birbiglia's Working It Out, with guest Roy Wood Jr., we're not sure what it is that's being worked out. We get there, though. Wood has no qualms about laying bare some of the events in his life leading up to his getting into stand-up comedy. He believes in getting it all out there before someone else finds out about it and tries to control what happens next. The Birmingham, Alabama, native talks about how he, some friends, and fans of his comedy had just been out cleaning up several downtown blocks after Black Lives Matter demonstrations. Then he shares some stories from his life, from his early days as a kid "when we were less afraid of the crack dealers in the neighborhood than we were of the police," to the present day and being in a COVID-19 lockdown when "every day feels like either a Tuesday or a Thursday." The thing about how funny Wood makes these events sound is that he never talks about himself in his stand-up — a fact not lost on Birbiglia, who, by the end of the episode, convinces Wood to let him help produce his first one-man show. —Marc Hershon
Listen: Spotify | Apple | Website
Other Podcasts We're Listening To:
Monster Party — Clint Howard
Listen: Spotify | Apple | Website
Almost Better Than Silence — Looks Lit
Listen: Spotify | Apple | Website
Got a comedy podcast recommendation? Drop us a line at comedypodcasts@vulture.com.
If you like comedy and you like podcasts, we recommend you subscribe to Vulture's own Good One podcast, which releases new episodes every Tuesday on Apple Podcasts, Spotify, Stitcher, Overcast, or wherever you get your podcasts.