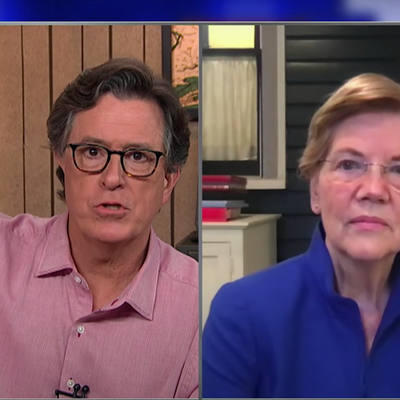 Nevertheless, the post office will persist.
Photo: YouTube/The Late Show With Stephen Colbert
Did you hear the big news? Comedy is dead. Okay, that's not entirely true, but three comedy shows and one late-night program got the ax this week: Comedy Central said good riddance to Tosh.0 and good-bye to Drunk History, while Netflix canceled one of its only remaining late-night offerings, Patriot Act, with Hasan Minhaj announcing that the show would not be returning for another season. Patriot Act's cancellation stung for a multitude of reasons, not the least of which being that Netflix canceled an overtly political late-night comedy program hosted by a minority in the midst of an election year. It's all very what happened to The Nightly Show With Larry Wilmore in 2016 vibes, am I right, ladies? Anyway, history repeats itself and we salute you, Patriot Act.
Speaking of history repeating itself, we've got another moderate Democratic candidate for president of the U.S. of A: #IKnowJoe. The 2020 DNC was the crown jewel of late night this week, with The Late Show With Stephen Colbert filming live after each night of the event. Let's take a gander at the best of what late night had in store this week:
5. Ben Platt Breaks Out the Quarantunes on Jimmy Kimmel Live
If you've been reading this column since I took over in January, (1) thank you, you're a doll, and (2) you've probably guessed by now that I love musical theater. Can't get enough of the stuff. As such, I was obviously tickled pink when I saw that Tony, Emmy, and Grammy Award winner Ben Platt was guest hosting for Jimmy Kimmel Live. Obviously, he did not disappoint and did a damn good Alice Ripley impersonation within the first two minutes of his opening monologue. He followed that by imagining what musicals will look like once Broadway comes back, and from Don't Kiss Me Kate to No Company to How to Succeed in Business Without Going to Your Office, each joke was cornier than the last, and I laughed every time. He then broke out those golden pipes of his and sang a few funny original songs about quarantine, titled "quarantunes," which is a name he totally stole from this website. It's okay though, because they were very cute and funny, particularly the one about hating Zoom. Also, I recently sang "Waving Through a Window" in the car with my family, and that's a hard-ass song to sing, so he makes the list for doing that eight times a week.
4. Russell Crowe Shows Off His Guitar Collection on Late Night
If you thought I was done talking about musicals and that I would transition to politics because that's what is du jour these days, then you simply don't know how I operate through the world. Russell Crowe (a.k.a. Javert in Tom Hooper's swing-and-a-miss well-intentioned adaptation of Les Misérables) stopped by Late Night With Seth Meyers to discuss his latest movie, Unhinged, which insists on premiering in theaters amid a global pandemic. Apparently, Unhinged isn't worth getting the coronavirus for, so we won't be discussing that, but instead we will be discussing the wall of guitars directly behind Crowe during his Late Night entire interview. The sheer number of guitars (5) in his home in New South Wales imply that Crowe is still playing the guitar, which suggests that he's still singing, which, after Les Misérables, honestly blows my mind. Thanks to a wonderful article by Karen Han at Polygon, Crowe's singing voice is back in the public discourse, eight years later. While I won't relitigate Crowe's performance in the Les Misérables movie (it was bad), I would be open to seeing Crowe sing for us with one of the many guitars. Sing for us, Russell, you coward! Also, don't you dare cut a hair on that pretty little head, Seth Meyers.
3. Kerry Washington Talks to Kids About Voting
Now we're finally gonna get political … but with kids. Before Ben Platt serenaded us on Jimmy Kimmel Live, Kerry Washington stopped by to guest host the show and interviewed a bunch of adorable little kids about their thoughts on voting. Can you imagine that even today, in the year of our Lord 2020, kids still say the darnedest things? The first boy interviewed, Ian, admitted that he did not know how to vote, but thinks that maybe you go into the White House to do so. A little girl named Peyton, who could honestly play a young Kerry Washington in a television program or feature film, said that she believes people without front teeth should be able to vote, because she is missing her front tooth. Yes, expanding voter enfranchisement! Washington, who would go on to appear in one of the nights of the 2020 DNC, did not hide her disdain for the current administration, asking the kids what they thought about our current president. My favorite response was from a little girl named Teagan, who straight-up called Trump an alien. Wow, from the mouths of babes, am I right?
2. Rachel Maddow Gets Candid on The Tonight Show
All right, we've finally reached a truly, no-holds-barred political moment on the list, and it comes from a somewhat unlikely source: Jimmy Fallon. I've gotta say, I appreciate the journey I've seen re: Fallon's willingness to be more overtly political. He's no Seth Meyers or Stephen Colbert, but he's making an effort, and I commend him for that. I mean, four years ago he was inviting then Republican presidential candidate, Donald Trump, onto his show and patting him nicely on the head, and now he's interviewing Rachel Maddow about the potential destruction of our democracy. That's a thing I like to call growth. Fallon had Maddow guest on The Tonight Show to break down the highlights of the 2020 DNC convention, and as someone who both respects Maddow and didn't watch the whole thing (sorry not sorry), I found it to be a helpful guide to the standout moments and speeches from the event, specifically Michelle Obama's speech from the first night. Also, I like that Jimmy and Rachel basically have the same haircut.
1. Elizabeth Warren Fights for the USPS on The Tonight Show
Look, I've missed Elizabeth Warren. I'm not too proud to say it. It was great to see her and her progressive politics again this week, even for a brief moment. She also has a way of explaining things that just really, for lack of a better phrase, makes sense to me. She reminds me of my third-grade teacher, Mrs. Ippolito (Mrs. Ipp for short), which makes sense, because before politics, Warren was a public-school teacher. She just has a way of making opaque and complex issues incredibly clear and uncomplicated. All of this was highlighted when she stopped by The Late Show With Stephen Colbert and broke down what's going on with the post office, from the corrupt way Louis DeJoy got the job of U.S. postmaster general (he's boys with Trump), his conflicts of interest with the USPS, and how we can save the post office. The Late Show's slew of programming covering the DNC was top-notch this week, but it was this albeit smaller moment that reminded me that we can maybe possibly come together: progressives, moderates, and (gasp) independents. It feels like we need to if we have any hope of winning the election this fall or saving the USPS.