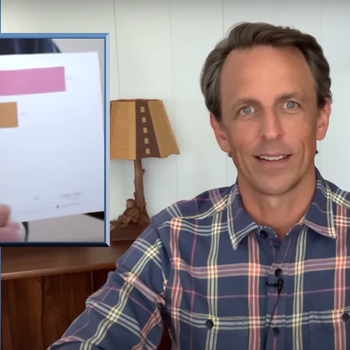 That's one fake-ass chart.
Photo: YouTube
The dog days of summer are here in full swing, and what does late night have to show for it? Um, not much. Most of our late-night hosts have been on hiatus since what's felt like Nam (looking at you, James Corden), resulting in only a few shows airing new episodes this week, so the pickings were pretty slim. However, that should change as James Corden and Stephen Colbert head back into the studio next week to film their respective late-night programs without a live audience. Who knows how long Corden will be behind a late-night desk after rumors circulated this week that he was being considered as a replacement for Ellen. Even if this is not true and ultimately does not come to pass, I do not care because I love gossip. Also, I just realized that Corden's first name is "James," so we easily could have had three late-night hosts named Jimmy instead of two, so we do have to thank Corden for that small kindness. Can't wait for Corden's daytime show, Jimmy, to absolutely dominate the 2021 Daytime Emmys.
5. Jimmy Fallon and Jamie Foxx Auto-Tune It Up
Okay, I'm ready to just come out and say it: Jimmy Fallon can really sing. Not like "comedy sing," but like actually sing. It's a fact. It's one of those things that he tries to obscure by being "funny" because being a talented singer makes him less "relatable," but the dude's got mad pipes. We saw this in action during his segment "Auto-Tune Up" with Jamie Foxx, where the two traded off singing about boring stuff like a DVD copyright warning and the ingredients listed on a bag of Combos with Auto-Tune. Fallon's tenor vocals honestly soared, specifically when he sang Combos ingredients "milk, wheat, and soy," and the Auto-Tune effect really allowed us to appreciate that. Noted renaissance man Foxx also did not disappoint with the vocals, and he earned a spot on this list for the way he sang the word offender. Kudos on your incredible placement and impressive riffs and runs, Mr. Fallon and Mr. Foxx.
4. Luann Reunites With the Pirate on Watch What Happens Live!
Can you tell I love Bravo and The Real Housewives of New York? Well, I do, and like Dorinda Medley, I refuse to apologize for that and, while we're on the subject, anything else. I love RHONY so much, I was literally on an episode this season auditioning to be Countess Luann's warm-up comic for her cabaret. If you're wondering, I did not book the job, but Sonja Morgan said I was funny and had nice skin, so we'll call that a win. So imagine my surprise when after the bicentennial episode of RHONY, Andy Cohen reunited the countess with Tomás Ribeiro, "the Pirate" whom Luann did not hook up with on the girls trip to St. Barts in season five, on Watch What Happens Live. The energy in the room … shifted when Ribeiro entered the chat. Luann, an incredibly handsome woman in her 50s, instantly became 40 years younger, blushing and flirting like a schoolgirl. "The Pirate" was positively dreamy all these years later, and finally set the record straight, confirming that he and Luann did not hook up (!) in St. Barts. Ribeiro and Sonja though … that's another story. Atta girl!
3. John Oliver Gives Us a U.S. History Lesson
Leave it to John Oliver, a Brit who recently gained American citizenship, to give us all a much-needed history lesson. On the latest episode of Last Week Tonight, Oliver shed a light on the many inaccuracies and altogether missing information about slavery and Black history that plague so many American textbooks, and why this is a huge problem. In the year of our Lord 2020, some history textbooks still refer to the work slaves were expected to do as "chores." Chores! Washing your dishes and changing your air-conditioning filter constitute as chores. Picking cotton for a slave master does not. Oliver also touched on important events in African American history and, as such, history at large that are all but erased from textbooks, like Juneteenth and the Tulsa race massacre. If you only just heard about the Tulsa race massacre because you happen have an HBO account and watched Regina King slay in Watchmen, then congrats, you have great taste, but that's also a major issue. Until we start teaching history as it actually happened and not how we wish it happened, how can we expect anything concrete to change? Also, you're welcome for the reminder to change out your air-conditioning filter.
2. Jamie Foxx Inspires Kobe Bryant to Earn His Fifth Ring
I know what you're thinking: Chris, you already put Jimmy Fallon and Jamie Foxx on this list. What are they doing here again? Blink twice if you're okay. One, thank you for your concern. Two, it's a slow week. And three, Foxx's interview with Fallon was both surprising and sweet. After Auto-Tuning it up, Foxx sat down with Fallon and told him about how he motivated the late, great Kobe Bryant to win his fifth championship ring. Apparently, Bryant and Foxx had a little bit of a "cantankerous relationship," which involved a healthy dose of trash talking. As the story goes, many moons ago Foxx was performing at the Staples Center, and Kobe came to see the show. Foxx, a Texas native, told Kobe about his preference for the Mavericks, prompting Kobe to say, "Mavericks? I thought you were a winner," which is an iconic diss. The two went back and forth trading barbs until Kobe decided to skip Foxx's show to go work out to prepare for the upcoming season. And you know what happened that season? The Lakers won the NBA championship, and Kobe got his fifth ring. You've gotta love that commitment and follow-through. RIP, Mamba.
1. Seth Meyers Takes 'A Closer Look' at Trump's Axios Interview
Okay, I'm ready to come out and say it, part two: I don't really find any Trump content to be all that funny. It's not because I'm not an absolutely hilarious person (see: me almost booking the warm-up comic gig for Countess Luann), or because we never took him or the damage he was capable of doing seriously as a nation until it was far too late (which is sad-but-true vibes). It's honestly because he's too basic for me to find funny. He is a bad man who is very dumb who often does very stupid, bad things. He's shockingly easy to impersonate. He needs to learn how to contour. It's all so painfully obvious and rote and, frankly, uninteresting to me. As such, content involving him rarely makes this list. But this week Trump (somehow) hit a new low in his interview with Jonathan Swan for HBO's Axios, and attention must be paid.
This brings us to Late Night With Seth Meyers's "A Closer Look." Meyers effectively put Trump's Axios interview under a microscope and analyzed the many levels of incompetence and inanity at play that the memes (though hilarious) just can't capture. From the loose papers to "the fakest-ass chart I've ever seen," Meyers captured the nuances of what makes this interview stand out among the many, many idiotic things the president has done in the past four years. The fact that Meyers correctly noted that Trump put his tail between his legs and ran over to Fox News to stroke his broken ego is honestly [chef's kiss]. Yes, it's absolutely bleak that our president can't pronounce the word Yosemite correctly, but in brighter political news, progressive congressional candidates like Cori Bush and Marquita Bradshaw won their respective races this week. If we keep this energy up, then maybe — just maybe — come November we'll be rid of him once and for all and can instead focus our efforts on teaching Biden that people can be both Black and Latinx.