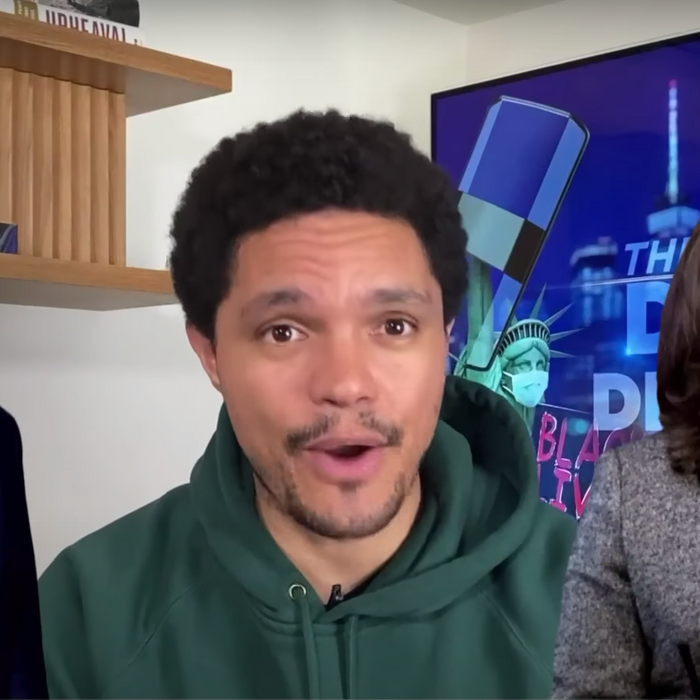 Trevor Noah smack dab in the middle of a Biden-Harris sandwich.
Photo: YouTube
Wow. Some pretty big, history-making stuff happened this week that sent shockwaves through the late-night universe. And yes, I am obviously talking about hearing TikTok comedian Sarah Cooper's voice for the first time when she guest hosted Jimmy Kimmel Live on Tuesday. It's lower than I expected, to be quite honest. Also, Joe Biden picked Senator Kamala Harris to be his presidential running mate. Buckle up, because like it or not, 2020 is happening, folks! Nevertheless she persisted, am I right?
While the news is, in fact, actually historic as Harris is the first Black woman and first person of Indian descent to be nominated for national office by a major party, it's also a great opportunity to watch all of our favorite late-night hosts break out their best Joe + Kamala material. As such, this week we are going to hone in on the top five JoeKs (an incredible portmanteau of Joe and Kamala I just made up) of the week. Although let's be honest, we all know Maya Rudolph has the last laugh.
5. James Corden Adds a Laugh Track to Kamala and Joe's Announcement
If you thought a monthlong-plus hiatus would turn Mr. Carpool Karaoke himself into a sharp and savvy political humorist, you would be sorely mistaken. Simply put, that's not his beat. You see, Corden's gotta stay in everyone's good graces in case they ever want to sing songs with him in a motor vehicle that he pretends to drive, which results in political fare that is typically B-minus at best. This week was no exception. In his first foray back in the studio since March, Corden, in a striking burnt-orange suit, managed to make Joe and Kamala's already dystopian campaign debut even more dystopian by simply adding a laugh track to the proceedings. While not the most incisive political commentary late night has ever seen, the loop of applause as Kamala walks up to the podium in an empty high-school gym will haunt me for many moons to come. Love the suit though, James!
4. Stephen Colbert Sports Biden's Signature Aviator Shades
You may be a bit surprised to find Stephen Colbert coming in at the bottom half of this list, so we'll chalk it up to finding his sea legs now that he's semi-back in the studio, filming The Late Show in his office at the Ed Sullivan Theater. After an extended bit about [checks notes] the Connecticut primary (not my favorite bit), Colbert breaks out his Kamala material, wondering aloud exactly how Trump would be racist toward the California senator. Time would soon tell that Trump would land on the "Angry Black Woman" stereotype, but on Tuesday we didn't know that yet, so it was a fair question on Colbert's part. He also accurately noted that Harris was a somewhat surprising VP pick, given how hard Auntie Kamala came for Joe's ass during their previous debates. It looks like Biden and Harris brought themselves to the Red Table, because some healing of old wounds has occurred. While Colbert is not as old as Biden, throughout the monologue he was able to channel Ol' Joe's "hottest dude at your grandma's nursing home" vibe, so the impression and jokes ultimately worked. The aviator shades do a lot of heavy lifting, though.
3. Seth Meyers Shouts Out Suburban Housewives on Late Night
"Former Vice-President Joe Biden announced yesterday that Senator Kamala Harris will be his best friend," cracked Seth Meyers about the big news, prompting me, a reality-television connoisseur, to shout at my television, "This is not America's Next Top Best Friend!" Who am I kidding? I watch all of these shows on YouTube. Anyway, Meyers kept the jokes coming, astutely noting that VP Mike Pence is "not allowed to dream of other women" (Mother simply wouldn't approve!), that Americans have plenty of time to learn Chinese (because, you see, we're all sort of trapped in our homes for the foreseeable future due to a global pandemic), and that Trump thinks his target audience is "suburban housewives." "By the way, the suburban housewife will be voting for you?" says Meyers. "Then I guess you have a good chance of defeating Dwight Eisenhower." Okay, that's a legitimately sick history burn.
2. Jimmy Fallon Impersonates Joe Biden on a Zoom Call
What can I say? I'm a sucker for production value. It's the theater kid inside me. And The Tonight Show Starring Jimmy Fallon definitely brought out the big guns to (gently) roast Joe Biden for upping the excitement quotient of his ticket tenfold by choosing Harris as VP. With a background resembling the room that I can only assume Biden refers to as his "den," Fallon impersonated Biden on a Zoom call talking to voters who were a little more eager to chat with Kamala than Ol' Joe. "I have a foreign-policy question," said one Zoom attendee. "Has Kamala asked about me?" When Fallon as Biden said no and asked how that qualifies as a foreign-policy question, the Zoom attendee admitted, "I was just hoping to take a trip with her." God, remember trips abroad? I know at least half of you do, because I see you still taking them on Instagram, but I digress. Fallon also got in a great "Fauci is tiny" joke in his monologue, which made me, a fellow short king, audibly laugh.
1. Trevor Noah Recalls When Kamala Dusted Biden's Ass
The Daily Show takes the top slot for the first time (!) during my late-night column reign of terror for Trevor Noah's hilarious and honest takes on the Kamala Harris campaign. Noah had the top spot all but sewn up when he introduced the VP position as what it really is: "America's assistant manager." But he kept the jokes coming, noting that Biden may have picked Kamala just so she wouldn't "dust his ass in public again" like she did during the debates. "Dust his ass" is the most eloquent and accurate way to describe what Kamala did to Biden, re: "That little girl was me." That was an ass-dusting if I ever saw one. Noah also gets points for not being afraid to directly address Harris's disappointing record as attorney general of California and former love affair with the carceral state. "Everything she's done in her career appeals to Trump's base," Noah quipped. But he was still able to acknowledge that this is a historic moment for women, specifically Black women, saying that Harris on the ticket is "a great moment for her and for America" all in the span of two minutes. This is, perhaps, a great example of why late night needs more diversity (hello to Peacock's Amber Ruffin and Larry Wilmore!), so we get more nuanced looks at politicians and less laugh tracks in an election year.