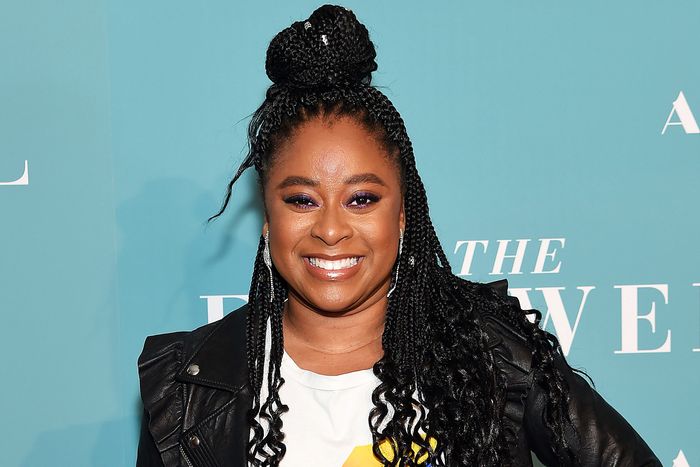 Phoebe Robinson.
Photo: Jamie McCarthy/Getty Images
The comedy-podcast universe is ever-expanding, not unlike the universe universe. We're here to make it a bit smaller, a bit more manageable. There are a lot of great shows, and each one has a lot of great episodes, so we want to highlight the exceptional, the noteworthy. Each week, our crack team of podcast enthusiasts and specialists and especially enthusiastic people will pick their favorites. We hope to have your ears permanently plugged with the best in aural comedy.
Black Frasier — Phoebe & Tracee Ellis Ross Are BFF's (Don't Fact Check That)
Phoebe Robinson is back with an all-new podcast! But if you thought Black Frasier was going to be a show where Phoebe shares her favorite Roz quotes or ranks the top ten times Niles found himself in some sort of mix-up, or even tossed-salad and scrambled-eggs recipes, guess again. She's never seen a single episode of Frasier. But like Dr. Crane, she's jumping in front of a microphone and doling out advice to listeners. Longtime fans and followers will no doubt recognize British Baekoff, Robinson's boyfriend and now podcast co-producer and editor, who makes a quick appearance in the beginning of the episode. For this inaugural episode, the dope queen herself is joined by Tracee Ellis Ross, and the two talk Black hair care and learning to love yourself through your hair. And, as promised, they offer listeners advice. Stay to the end to hear one listener's question about finding joy in these literal nightmare times we're living in. The question leads to a discussion about finding joyful things and staying informed that's soothing and comforting in ways white Frasier could only dream of being. —Leigh Cesiro 
Listen: Spotify | Apple | Website
Don't Ask Tig — Nicole Byer
Though a frequent guest on podcasts during the past decade, Tig Notaro has only had one to call her own: Professor Blastoff, which she co-hosted with Kyle Dunnigan and David Huntsberger and shuttered in 2015. (The cast actually got together just this week for a live reZoomunion.) Now she's got Don't Ask Tig, a sort of anti-advice show where she takes audience questions and puts the onus for answering on her guests. This week she welcomes Nicole Byer, and you would be hard-pressed to find a more bubbly person to raise a COVID-weary audience out of the blues. She's amped to be with Notaro (virtually) out of the gate, and she has a POV on everything that comes up. Advice for when you're given criticism? She's on it. Not the "right" body for a bikini? Screw it: "I like wearing bikinis!" Byer really rocks it when a listener asks whether she should open a pizza joint with no business experience; Byer goes off on a three-minute riff about getting a business degree, finding an investor (versus a partner), and a bunch of other smart stuff. She must have been channeling Suze Orman, because it turns out that Byer has no such experience herself. Notaro plays to her low-key, wry strengths here, plus comes across as a warm and generous podcast host. —Marc Hershon
Listen: Spotify | Apple | Website
Waiting to X-hale — What's Good Is Bad & Bad Is Good With June Diane Raphael
Waiting to X-hale is back with a new season, as June Diane Raphael joins hosts Karen Tongson and Wynter Mitchell-Rohrbaugh to reexamine revered '90s movie Clueless. "It doesn't hold up," says Raphael. This take feels mind-blowing, especially because it's hot on the heels of numerous 25th-anniversary posts celebrating the film. But the hosts, of course, are down to delve into the finer points of the film, holding to their pledge to revisit "the pop culture and social justice issues that defined Generation X from a (queer) woman-of-color perspective in a way that sheds new light" on the subject. The episode showcases the podcast's pairing of analysis and humor as the hosts take in the news, ready to riff. "Cher Horowitz is deeply problematic," continues Raphael, citing her general misguidedness and notable disregard for those around her at every stage of her journey. As for Alicia Silverstone's acting, however, Raphael says, "I love her performance in this movie. Let me be clear: I think she's incredible." The hosts agree, praising Silverstone's physicality and lamenting the career whiplash she must have suffered going from beloved (Clueless) to body-shamed (Batman & Robin) in just a few years. Tune in for more hot and often hilarious takes. —Becca James
Listen: Spotify | Apple | Website
How Did This Get Played? — Teenage Mutant Ninja Turtles: Shaun Diston, Scott Aukerman
Marking the release of Shaun Diston's new Patreon exclusive We Have to Stop Talking TMNT on CBB — the latest in the grand Analyze Phish tradition of explaining something that you love to a combative Scott Aukerman — Nick Wiger, Heather Anne Campbell, and producer Matt Apodaca have the hosts on to discuss the Turtles' near-impossible 1989 Nintendo debut. Heather and Shaun's shared superfandom of the franchise is infectious despite the willful ignorance of Scott, who insists that he sat through two movies before the game's introduction finally taught him that the Turtles each have a different weapon. Those competing knowledge bases produce a dynamic that welcomes all skill levels and explores how pervasive Turtlemania still remains in pop culture, including how a perfect joke got Shaun into comedy in the first place, the uncanny valley that is a young Nick Wiger playing with toys, and Scott's stubborn insistence that he's seen the Teenage Mutant Ninja Turtles eat a manhole cover. —Noah Jacobs
Listen: Spotify | Apple | Website
Life Is Short With Justin Long — Beanie Feldstein 
Last year when Justin Long invited Jonah Hill onto his podcast Life Is Short, the longtime friends covered a lot of ground. One thing they kept coming back to, though, was Hill's family, which includes his younger sister, Beanie Feldstein. The admiration Hill shared for, among many things, her burgeoning career and ability to correct people with compassion was endlessly endearing. Fast-forward to Feldstein's own episode, where she's just as supportive of her brother, calling him "effervescent," "naturally brilliant," and her "favorite person." She also lives up to every kind thing Hill had to say about her. Charming and self-assured, she shares stories about being quarantined with her parents right now, her love of musicals, and her experience working with talented directors like Greta Gerwig and Olivia Wilde. She cannot say enough good things about both women, declaring midway through a praise parade that "I would jump in front of a car for both of them." The family affair continues as Long and his younger brother, Christian Long, wrap the episode with a quick and funny debrief that brings listeners even further into the fold. —Becca James
Listen: Spotify | Apple | Website
Other Podcasts We're Listening To:
Double Threat — 1st Annual NYC Fantasy Draft (With Desus & Mero)
Listen: Spotify | Apple | Website
The Endless Honeymoon Podcast — Coyote Dick With Chelsea Peretti
Listen: Spotify | Apple | Website
Talk Easy With Sam Fragoso — Jenny Slate in 2020
Listen: Spotify | Apple | Website
The Need to Fail — Seven Years Later: Abbi Jacobson
Listen: Spotify | Apple | Website
Why Do You Know That? — Wario Land 2 With Alex Firer
Listen: Apple | Website
Got a comedy podcast recommendation? Drop us a line at comedypodcasts@vulture.com.
If you like comedy and you like podcasts, we recommend you subscribe to Vulture's own Good One podcast, which releases new episodes every Tuesday on Apple Podcasts, Spotify, Stitcher, Overcast, or wherever you get your podcasts.