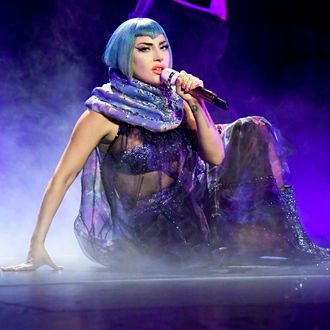 Photo: Kevin Mazur/Getty Images for AT&T
Earth's not having the best go of it right now, but hey, it's not the time to turn away Lady Gaga. Mother Monster herself will return from planet Chromatica to perform on August 30 at the VMAs, where she leads (along with "Rain on Me" collaborator Ariana Grande) with nine nominations. It's the first time Gaga will perform at the Video Music Awards — to which she wore her iconic meat dress in 2010 and attended as alter ego Jo Calderone in 2011 — since 2013. Expect more weirdness this time, with Gaga teasing the appearance as only she could, in a video with pink, Pokémon-esque wings on her head. No word on if Grande will join Gaga for the live debut of their hit "Rain on Me," but other performers at the VMAs — which will take place outdoors across New York City, according to MTV — include the Weeknd, Roddy Ricch, J. Balvin, Doja Cat, and BTS debuting their English-language single "Dynamite." Hopefully, Gaga plans her return to Earth with enough time to self-quarantine.
Update, August 18: Let this news wash over you: Ariana Grande will in fact be joining Lady Gaga for the live debut of "Rain on Me" at the VMAs. Grande announced the news with a cloudy black-and-white video on social media. Along with Lady Gaga, Grande leads the pack with nine VMA nominations, including Video of the Year for "Rain on Me." Now the only question is: Where in New York City will their soaked performance take place? By the Hudson? Rain on me, tsunami, indeed.