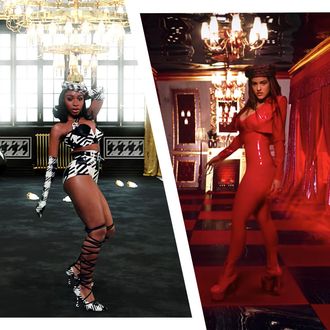 Normani and Rosalía.
Photo-Illustration: Vulture and YouTube
Being stuck inside your own house too much these days? Let Cardi B and Megan Thee Stallion take you on a journey through theirs in the "WAP" music video. The high-profile collaboration between two of the biggest rappers in the game produced not only a truly illicit song, but an instantly iconic video filled with whimsically Seussian visuals, looks that kill, multiple splits, and even a snake pit. (When mom asks, tell her "WAP" stands for What A Production, everyone's thoughts after one view of this video.) And then there's the cameos, from moguls like Kylie Jenner to breakout stars like Normani and Rosalía to up-and-comers like Mulatto, Sukihana, and Rubi Rose. "These are the girls that I personally like," Cardi told Apple Music of the latter group. "That I like their music. That I really feel they are going to go mainstream." Here's your guide to the "whores" in the "WAP" house.
Kylie Jenner
The first guest to appear in the video turned heads on social media, with fans simply wondering: Why? Cardi explained to Apple Music, "I wanted a lot of different females, not just female rappers. Y'all going to see it on the music video as well, from models to influencers and everything." Kylie Jenner is, indeed, a model, an influencer, and everything, even a possible billionaire (along with being a friend of Megan's). As Cardi noted in a retweet, it's a surefire way to rack up those views — or maybe it was all for this meme?
Normani
After breaking the internet with her own "Motivation" video last year, Fifth Harmony member Normani is back with more incredible moves in "WAP." She twerks, turns, drops, and splits in her short cameo, leading Cardi to tweet, "When I saw her dancing on set I was like DAMN !!" Earlier this year, Normani featured on Megan Thee Stallion's contribution to the Birds of Prey soundtrack, "Diamonds."
Rosalía
Wearing a full latex bodysuit and a traditional Spanish bullfighter's hat, flamenco-pop performer Rosalía was serving in the next room over from Normani. She's released a steady stream of singles since her 2018 album El Mal Querer, including Travis Scott collab "TKN" most recently.
Mulatto
The first winner of Jermaine Dupri and Queen Latifah's Lifetime competition The Rap Game, Mulatto gave the camera a quick booty-shake in an eye-popping colorful room. She signed to RCA Records earlier this year after releasing her first album, Mulatto, independently in 2018. She dropped her Gucci Mane collab "Muwop" last week, and today has been even bigger, between the "WAP" video and a feature on NLE Choppa's song "Make Em Say."
Sukihana
Love & Hip Hop: Miami's Sukihana was ready for her close-up during her "WAP" cameo, dropped to the floor and feeling herself right in the doorway. A newcomer to the VH1 series this year in season three, she's already had multiple internet hits including "Blame Trina" and "5 Foot Freestyle."
Rubi Rose
And we're not talking Batwoman. The rapper Rubi Rose already has a hit under her belt in "Big Mouth" and recently dropped a new track, "He in His Feelings." If she seems familiar, maybe it's from starring in Migos' 2016 video for "Bad & Boujee," or maybe it's from "On Top," the joint with ex Playboi Carti that leaked in 2018.
The cheetahs, tigers, and snakes
The real "whores in this house"? The jungle animals that Cardi and Meg danced with. The cheetahs and tigers seemed to be no problem, but the snakes were a different story, with Megan revealing on Instagram Live that Cardi was "scared as hell." "You asked for this. You wanted these motherfuckin' snakes, bitch, so we about to lay in these motherfuckin' snakes, bitch," she told Cardi. "And that's what we did."