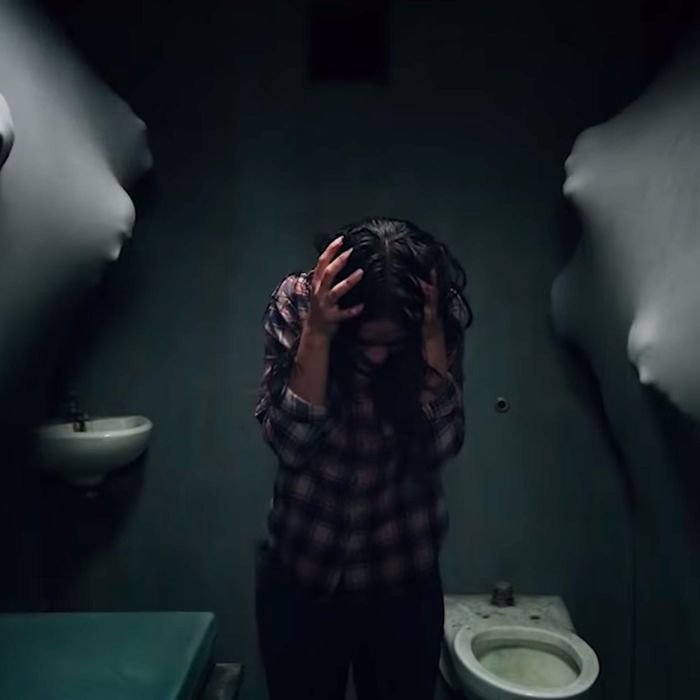 The behind-the-scenes story of an X-Men horror movie five years in the making involves
The Breakfast Club
, penis graffiti, and a whole lot of rewrites.
Photo: 20th Century Studios
Somehow, the X-Men spinoff The New Mutants has managed to sustain prerelease buzz ever since its first teaser trailer dropped all the way back in 2017 — though audience awareness has mostly kept pace because of the movie's superhuman ability to elude release. The horror-skewing project, directed by Fault in Our Stars filmmaker Josh Boone, was originally slated to hit theaters in 2018 but was delayed again and again and again and again.
In normal, non-novel-coronavirus times, a studio wouldn't generally push a movie with a fair-to-middling shot at making money from its release date so many times. Fox (the studio that produced the title in conjunction with intellectual-property holder Marvel) and Disney (its media-behemoth inheritor in last year's $71.3 billion Hollywood megamerger) didn't exactly do much to spark optimism in the film's commerciality over New Mutants' three years in distribution hell. They eventually opted not to screen the movie for critics ahead of its August 28 arrival as one of the first major-studio entrées to hit theaters post-lockdown and the lone superhero event title in this Summer of No Blockbusters. In interviews with several people close to the film ahead of its August 28 release, it became clear that the story of The New Mutants' tortured path to the screen might be more intriguing than the film itself.
Focused on a disparate team of Gen-Z mutants struggling to understand and control their dangerous powers while facing down a demonic foe, The New Mutants was green-lighted as a "hybrid-horror Breakfast Club movie." It was actually set in the 1980s in oblique homage during the script stages, but most elements of that John Hughes–directed generational touchstone wound up being scrapped before the cameras rolled. However, according to sources familiar with New Mutants' production, Boone and his co-writer, Knate Lee, were reluctant or outright unwilling to implement such script changes requested by the studio, requiring round after round of rewrites and one intervention-like roundtable read just before filming. Once principal photography was finished, Fox was so displeased with the initial cut the studio discussed throwing the entire movie out to "start over" with a total reshoot. The controversial finished product — a PG-13 dark fantasy pulsed with "jump scares" if not outright horror or gore — then fell victim to the studio merger and the ensuing uncertainty over "What now constitutes a Disney film?" Answer: not this.
Since 2000, Fox has released a dozen X-Men–related event films, including seven with the word X-Men prominently featured in their titles; two blockbuster spinoffs centering on the mutant "merc with a mouth," Deadpool; and several artier entries about Hugh Jackman's character, Wolverine (such as 2017's Logan, which landed an Academy Award nomination for Best Adapted Screenplay). Dark Phoenix ranks as the franchise's only commercial flop, costing a reported $200 million while taking in just $65.8 million domestically. Otherwise, over the past two decades, Marvel's Uncanny X-Men has basically minted money for Fox, helping usher in the modern era of blockbuster superhero IP and delivering a cumulative gross of nearly $6 billion.
The New Mutants, however, would represent something of an experiment for the studio. Flush from the financial overperformance of the Fox-distributed 2014 teen romance The Fault in Our Stars, longtime X-Men fan Boone and his childhood friend Knate Gwaltney (a cameraman on all the Jackass-branded movies who also works under the pseudonym Knate Lee) created a homemade comic book based on The New Mutants' "Demon Bear Saga" series, created by Chris Claremont and illustrated by Bill Sienkiewicz. After talking studio executives and veteran X-Men producer Simon Kinberg through its potential as a filmed trilogy, Boone got Fox's go-ahead to make a tonally distinct first installment — featuring teen mutant protagonists being held against their will at a spooky medical facility — albeit at a much lower budget than any previous film in the franchise. Horror is cheap. And The New Mutants would arrive as a kind of budgetary palate cleanser at a time when X-Men stars like Jennifer Lawrence and Michael Fassbender were demanding ever-larger paydays for sequelizing their roles.
"It was understood this was going to be X-Men at a price," says a source with knowledge of New Mutants' development, who, like several people quoted here, spoke to Vulture on condition of anonymity citing ongoing business sensitivities. "Deadpool had come out and was such a hit. It was sort of like, 'What would an X-Men movie look like if it was hard-R, broke down some walls, was kind of meta, but it was also like a teen-horror flick with a John Hughes sensibility?'"
Trouble was, Lee and Boone's initial 2015 screenplay drafts failed to deliver the kind of vividly drawn teen drama the filmmaker had pitched to the studio. Moreover, the script's crude humor needed toning down. "Josh was sending around posters where [the New Mutants] characters are put into the Breakfast Club poster. The Legend of Billie Jean was another movie he was always bringing up," says another source with knowledge of the production. "Punk-rock-y, rebellious teens are already baked into the X-Men, but here, one of the characters was a misogynist and graffiti-ing his penis on stuff. There were head scratchers. Like, That's not going to work."
Further, some outside observers felt Boone and Lee's initial script violated viewers' expectations for beloved X-Men characters such as Storm, a powerful mutant capable of psychically controlling the weather, who turned up as a kind of prison warden in early versions of Mutants. "She was their sadistic jailer," says one source. "It felt like the kids were being tortured. If the X-Men are holding [the young mutants] there, it can't feel different from the mental furniture that audiences bring into the theater knowing that the X-Men are good guys. Storm like that made no sense." (A spokesperson for Disney said Boone was unavailable to speak with Vulture for this article.)
The studio eventually brought in outside help, enlisting Fault in Our Stars writers Scott Neustadter and Michael H. Weber to give an uncredited punch-up to the characters. But according to sources who spoke to Vulture, the director remained at a creative "impasse" with Kinberg — the journeyman screenwriter-producer behind such franchise hits and misses as Deadpool, 2015's Fantastic Four, and 2006's X-Men: The Last Stand — and Fox senior vice-president Jason Young. The cycle went like this: New versions of the script would come in, then Boone would revise them by replacing or eliminating some of the work that had been added. (Weber and Neustadter could not be reached through their representatives. Interview requests sent to Young via email and LinkedIn were not returned. A representative for Kinberg said the producer was not available because he is "on deadline.")
By the winter of 2016, however, Fox officially got cold feet about the direction in which New Mutants was heading. Studio chairperson–chief executive Stacey Snider personally ordered the course correction. "Stacey didn't want to do anymore Breakfast Club parts. It had to be horror. Straight horror," a source tells Vulture. Another source adds, "They had zero faith the horror-[teen movie]-hybrid version would work in the marketplace."
A roundup of uncredited screenwriters were again hauled in, this time to dial up Mutants' scares. Among them: Chad Hayes and Carey W. Hayes (behind smash hits The Conjuring and its sequel), Joshua Zetumer (RoboCop), and Seth Grahame-Smith (writer of Abraham Lincoln: Vampire Hunter and producer of It and 2019's It: Chapter Two). But according to people close to Mutants, Boone continued to reject script changes as they came in: "Josh and Knate clarified the horror. Then [the Fox executives] bring in another outside writer. And then Josh went back again. There was this pattern where it would be Josh, then someone. Then Josh, then someone. Then Josh. That went back and forth." (Attempts to reach Zetumer and Grahame-Smith through their representatives were unsuccessful. A representative for Chad and Carey Hayes said, "They aren't credited on this film. I don't think it's imperative they are part of an article on this film.")
In an interview with Creative Screenwriting, Boone contrasted his experience adapting Stephen King's novel Revival in an undisturbed creative "bubble" and putting together the X-Men spinoff. "New Mutants is very different — when you work with a studio, you're not in a bubble. The process of writing becomes a much different thing because you have so many people who have an opinion since the movie is so expensive," Boone said. "My guess is that it will never be done until we're done shooting!"
The conflict came to a head in 2017, just before cameras were set to roll. Fox organized a roundtable script reading in New York to compel Boone to come around to their suggested "notes" to improve the film. In addition to Boone, Lee, and Young, the studio assembled six or seven of the uncredited writers who had been working on New Mutants up until that point as well as Scott Frank, a top-tier screenwriter behind Logan and 2013's The Wolverine, who has functioned as a kind of secret X-Men whisperer, advising on many of the franchise's films. According to a Vulture insider, the collected group delivered a roundelay of critiques, pointing out lapses in logic, deficits of humor, and underdeveloped characters. "Josh pushed back a little," a source says. "People would be like, 'This doesn't make sense.' And Josh would try to explain it. Enthusiasm is not an explanation." (A rep for Frank declined to make him available for this article.)
Principal photography finally took place around Boston between July and September 2017, featuring a fresh-faced ensemble cast that includes Maisie Williams (Game of Thrones), Anya Taylor-Joy (Emma.), Blu Hunt (the CW's The Originals), and Henry Zaga (13 Reasons Why) as adolescent asylum shut-ins bonding over mutual alienation and incredible powers. Although Kinberg had shepherded New Mutants through several development rough patches, by the time the movie arrived in postproduction, he had become consumed with work on his own ill-fated directorial debut: Dark Phoenix.
Reshoots — or, at a bare minimum, "pickups" or "additional photography," as the industry jargon goes — are common for movies with high-stakes IP, but according to studio sources and Boone himself, no additional New Mutants scenes were shot despite rampant rumors to the contrary. At issue: Over the span of Disney's nearly two-year acquisition of 21st Century Fox, which was ostensibly responsible for several of the film's release delays, Mutants cast members had aged to a point that made shooting continuity impossible. "I'll tell you this: If there hadn't been a merger, I'm sure we would've done reshoots the same way every movie does pickups," Boone told EW.com. "We didn't even do that, because by the time the merger was done and everything was settled, everybody's older."
At this point, according to three sources with knowledge of the project, Fox was hardly sanguine about New Mutants' commerciality. Even with the world-beating success of the 2017 Stephen King horror adaptation It — which took in $700.4 million worldwide against a $35 million production budget — held up as a comparable work, significant doubt lingered about whether Mutants' scary-meets-super tone would find an audience. In postproduction, a studio executive noted that a total do-over would not necessarily be a financial wipeout given the film's relatively bargain budget. "You could throw the movie out, start over, and it would still be the least expensive X-Men movie so far," the sources recall a high-ranking Fox executive claiming.
Yet New Mutants went ahead as is. Once Disney inherited the project in earnest last year, marketers puzzled over where such a dark-fantasy film featuring depictions of madness and a Native American massacre would fit into the Mouse House's family-friendly corporate ethos. A release scheme on either Hulu or Disney+ was seriously discussed, while Mutants' third theatrical delay pushed the movie to an April 3, 2020, rollout, which was, of course, famously trash-heaped by the onset of COVID-19. But in May, Disney signaled its current intent to release the film theatrically on August 28 — a status quo commitment made all the more surprising given that the studio had dumped its $125 million version of Artemis Fowl to Disney+ in June and will debut its $200 million live-action adaptation of Mulan on its OTT platform (for a supplementary $29.99 rental) next month.
So can New Mutants' final theatrical landfall be interpreted as a rare glimmer of studio confidence in the X-Men franchise's most woebegone entry? Or is Disney selecting the title as a canary to send down the coronavirus theatrical coal mine at a moment when audiences may in all likelihood still be reluctant to breathe communal air? With Boone offhandedly mentioning to Collider last month that "you sign contracts that guarantee a theatrical release," a third reading of the situation may simply be that Disney is bound to an iron-clad legal agreement obligating it to put Mutants out in multiplexes before VOD.
While no one expects the film to do Avengers: Infinity War opening-weekend numbers at a time when theaters are operating at a maximum of 50 percent capacity, The New Mutants could arrive in release virtually unchallenged (within its genre) to become a qualified box-office success like last week's Russell Crowe road-rage thriller Unhinged, which took in $4 million domestically. Even if the spinoff's backstory turns out to be more interesting than what appears onscreen, it's fair to say Mutants' myriad delays and enduring mystique have captured public conversation far beyond most reasonable expectations. "People have talked about this being a 'cursed' film because it's taking forever," New Mutants comic-book artist Sienkiewicz said at the Comic-Con@Home panel last month. "But I think in some respects, the lockdown has actually just amped up the level of interest. People are really rabid for this."