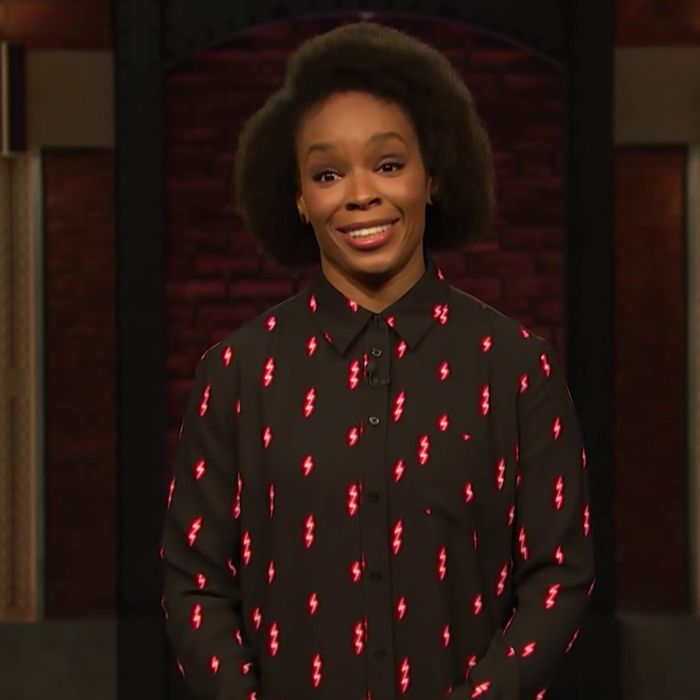 We love Amber.
Photo: Late Night with Seth Meyers/YouTube
Just as Taylor Swift predicted, August has sipped away like a bottle of wine, and September is here. As we transition out of what scientists are calling the saddest summer humans have ever experienced into sweater weather territory, our late-night hosts have transitioned as well. They've all left their homes and returned to their studios in some capacity. One brave foolhardy host has even begun interviewing guests in studio again. It's a slight return to normalcy in an incredibly, alarmingly, almost sadistically strange time. As we say sayonara to the artist formerly known as "summer" and hello to autumn, let's count down the top moments in late night this week.
5. Usher and Reggie Watts Vocalize Together on The Late Late Show
Yes, as previously mentioned, James Corden was the first late-night host to have an in-person guest since the beginning of the pandemic. The guest was none other than new father and new Vegas residency artist, Usher. There was an elaborate set-up that involved Corden and Usher beginning the interview virtually, running into technical difficulties, and then launching into a parody of Usher's classic duet "My Boo" lyrically changed to "On Zoom" [sigh], but the climax of Usher walking out from backstage and being in the same room as James Corden, albeit six feet away, did shock me. My mind raced with questions: When were they last tested? Why aren't they wearing masks? Is this a good idea? Despite my questions, the segment went on and served as a reminder that in-studio interviews are more compelling than virtual ones. At one point Usher and Reggie Watts had a sing-off, each trying to out falsetto the other (Usher won, of course). For better or worse, it's hard to get that type of spontaneity on a Zoom call.
4. John Cleese Holds a Teddy Bear on Late Night With Seth Meyers
Just because in-studio interviews have a certain je n'ais c'est quoi doesn't mean that virtual interviews can't be delightful and entertaining as well. Comedian and actor John Cleese proved that when he appeared on Late Night With Seth Meyers and chose to hold a teddy bear throughout his entire interview. "This is my little friend, Seth, and he wanted to meet you," said Cleese while holding an adorable little bear. It's unclear whether the bear's name is Seth or whether he was addressing Meyers (a salient lesson in ambiguous modifiers!), and Cleese didn't reference the bear again in the interview. He just clutched it, in frame, like an emotional support dog throughout the entire interview. It's bizarre and adorable and incredibly cute. Normalize celebrated comedic actors holding teddy bears during late-night television interviews.
3. Miley Cyrus's Chair on The Tonight Show
On Thursday, September 10, Miley Cyrus performed on The Tonight Show Starring Jimmy Fallon, and it was all well and good, but what really stole the show was her gorgeous chair. In short, Cyrus owns the coolest chair I have ever seen. A geometric, neon-colored piece of perfect pop art, the chair was immediately iconic. I've never seen anything like it, and now I must have it. I honestly had a lot of trouble focusing on Miley's stories about her aunt Dolly Parton and Stevie Nicks because the chair was that cool. I think it helped that Miley and the chair were enveloped in a seemingly cavernous black cave, allowing the beauty of the chair to really pop against the nothingness, but in any case, the chair really is a work of art. "This is my throne," Cyrus said at the beginning of the interview. "So this is a Peter Shire chair. She's even got a name. She's a living, breathing thing." While we never learn the name, we do learn that the chair is two years old "and very mature for her age," which scans. A round of applause for Peter Shire and his magnificent handiwork.
2. The Daily Show Interviews the Woman Who Started Gender-Reveal Parties
I think we can all agree that gender-reveal parties have gone too far. What started out as the cutting of a cake has turned into a pyrotechnic display of heteronormativity that is literally threatening to burn down all of California. They must be stopped. Jenna Karvunidis, the blogger who allegedly threw the first gender-reveal party in 2008, agrees with this notion, and sat down with Daily Show correspondent Desi Lydic to discuss why. In Karvunidis's defense, she revealed her unborn child's gender with a cake, a very simple cake at that, which would absolutely get torn to shreds by Paul Hollywood on The Great British Baking Show (the icing job was subpar). "Oh I've publicly disavowed gender-reveal parties for quite some time now. For about a year, I've been campaigning against them," Karvunidis told Lydic. She also revealed that her daughter, whom she threw the gender-reveal party for, likes to wear a tuxedo and isn't particularly eager to be defined by gender, which is very cool. Later on in the interview, Lydic, always a delight on the show, had me laughing out loud as she tried to convince Karvunidis that her son likes the color pink and playing dress-up so as not to seem stiff in comparison to the cool and open-minded Karvunidis, who fully gets how her innocent "peep show" has turned into a massively dangerous (and not to mention totally lame) trend that is legitimately causing harm to our nation. Hopefully people stop throwing gender-reveal parties, and Wolf Blitzer unblocks Lydic on Instagram.
1. Amber Ruffin Shares All the Things Trump Has Done for the Military
Would you look at that! Mere days after being interviewed by Taylor Garron for New York Magazine and ahead of the launch of her own late-night program, Amber Ruffin has landed at the top spot of the "This Week in Late Night" for pointing out everything Trump has done for the military. The segment, which aired Thursday, September 10 on Late Night With Seth Meyers ,started off strangely and, in true Ruffin fashion, took many unexpected turns. The segment began with Ruffin, the daughter of two veterans, telling Seth that she thinks Trump is correct when he says that he has done "more for the military than almost anyone else." She followed it up by moving and grooving to a bossanova track as quotes of every terrible and despicable thing Trump has ever said and done to the military appeared onscreen. Halfway through she clarified: Yes, Trump has done more for the military than anyone else to make their lives worse. It's all in the details, people. At one point, Ruffin lay on the ground, fully disassociating, eating a piece of chocolate cake, as text scrolled over her body. The sheer amount of material Late Night compiled for this sketch, plus Ruffin's delivery, makes it deeply shocking, absurdly hilarious, and evidently clear that Trump has no respect for the military. Looking forward to more bossanova infused political humor on The Amber Ruffin Show.