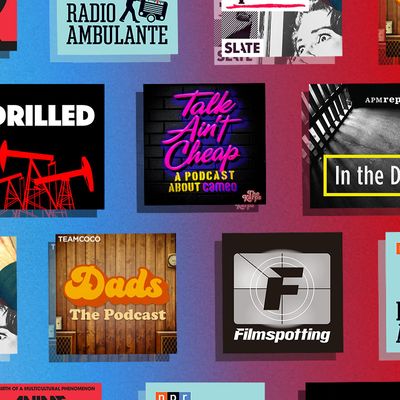 Photo-Illustration: Vulture and Studios
Sometimes people ask me how I find the time to listen to all those podcasts — there are so many, they can't keep up — which is really their way of telling me that they can't find the time to listen to podcasts. Maybe their lives are really busy, but more often, it's simply that podcasts aren't prioritized in their own personal Maslow's hierarchy of media needs over books or records or television shows or opera or whatever they're into.
In any case, the question often catches me off guard. It's technically my job, I tell them, so all those moments in your day where you're talking to clients or treating patients or sitting in Zoom meetings are moments in my day where I'm listening to someone interviewing some celebrity or droning on about some murder. The physical context might change here or there: I may be seated diligently at my desk taking notes, I may be on a run or a long walk or lying on the sofa, but I'm listening either way. So that's how I find the time.
Sometimes they respond by saying, "Oh, that must be nice." And usually I reply by saying it's nice sometimes. But only sometimes.
Tell me about the podcasts that make you feel nice sometimes. Bonus points, I swear to God, if it's not your own. Find me on Twitter or hit me over email: nicholas.quah@vulture.com.
Anime in America
The extent to which Americans consume anime is a surprisingly hard data point to pin down with much certainty. Hard enough, it turns out, that cursory Google searches don't yield a reliable range of answers, so we're left with the impression that it's somewhere between a growing subculture and what politicos like to call a "silent majority." Nevertheless, we can discern a rough sense of its surging fandom based on a number of secondary signals: the ongoing growth of the American anime convention business (now on hold due to the pandemic, obviously), the success of niche video-streaming services like Crunchyroll, the ubiquity of anime imagery among the memes that are the lifeblood of the internet, and so on.
So anime is a pretty big deal in the United States, big enough to be a genuine sociological curiosity: How did Japanese animation, idiosyncratic and distinct in so many ways, find significant purchase among American media consumers?
If you're looking for an answer to that question, you'd be well served by starting with Anime in America, a seven-part podcast series commissioned by the aforementioned Crunchyroll. Yes, it's a piece of #BrandedContent, and yes, that sometimes comes through in a way that feels disruptive, but on the whole, the project works well enough.
Hosted by comedian Yedoye Travis (whom you will also find on the podcast Dark Tank), Anime in America is a patchwork but succinct look at how anime found its way to American shores, developed its early communities, and eventually settled into the culture. The story of anime crossing over to the United States is a story of fits, starts, and making good with what you've got. It is also an often surprising story of incomplete globalization and grassroots localization — how half-hearted corporate exploits get patched up by genuine passion and interest by an underserved community.
Travis is an excellent host, particularly because it seems like he's been empowered to go almost wherever he wants. This results in some hilarious writing ("If you don't know what that is, you're not stupid, you're just American, and that makes you stupid") and a genuine sense of love for the subject matter. His narration is dense with references, which is great if you get them and possibly alluring if you don't.
Keep in mind, though, that density might be a drawback for some, and it's a natural side effect of trying to distill an entire subculture worth of history and nuance into a few episodes. On top of that, I imagine that there are some characterizations in this show that could rub die-hard anime fans the wrong way; as a casual consumer, I can't really speak to the full extent of its veracity. Nevertheless, it's a great primer, albeit one bankrolled by a corporate interest, but that's probably nothing your late-capitalism brains can't handle.
In the Dark: Season 2
Last Friday, some 15 months after the U.S. Supreme Court reversed the original conviction, the Mississippi attorney general announced that the state was dropping charges against Curtis Flowers, a Black man who had been tried six times — by the same district attorney, a white man named Doug Evans — for the 1996 killing of four people. The case against Flowers had always been tenuous at best, and all six trials were plagued by questionable conduct from the prosecution. And now Flowers gets to walk the earth as a free man, 24 years after he was locked away in prison for a crime he almost certainly did not commit.
With this development, In the Dark's second season gets its resolution. The critically acclaimed APM Reports investigative podcast led by Madeleine Baran is credited for drawing widespread attention to the case and unearthing new information that struck at the case against Flowers, and now it can be marked as one of the rare journalistic podcasts that actually resulted in change.
Over the weekend, the podcast published a special episode about the dropped charges, titled "Freedom." Flowers isn't speaking to reporters just yet, so he doesn't make an appearance, but the team speaks to a group of defense attorneys who have worked on Flowers's case over the years, and the conversation breathes context into many of the story's last narrative threads. Among them, the sheer rarity of this reversal, and how so many other cases like it almost certainly won't end this way. "So many things had to flip positively for this outcome to occur," one of the lawyers said. "To me, that alone says everything you need to say about all of the other cases."
For those who have been following the season since it debuted in April 2018, the episode makes for a remarkable conclusion to a heartbreaking story. And for everyone encountering the case for the first time, this is a good time to jump in.
Meanwhile…
• Team Coco, Conan O'Brien's media company, has a new audio show out with the writer-comedian Rory Scovel called Dads: The Podcast that's all about parenthood. Or fatherhood more specifically, I suppose. Coincidentally, the show launched around the same time O'Brien popped up on Michelle Obama's podcast, where they talked about marriage. Very domestic, that Conan O'Brien.
• Radio Ambulante, the long-running Spanish-language narrative podcast series, returns for its tenth season next Tuesday.
• In my weekly podcast column Hot Pod, I wrote about Critical Frequency, an independent network that specializes in publishing journalistic shows focused on beats that are typically underemphasized in mainstream organizations. Quick plug for Drilled, the network's flagship podcast of sorts, which attempts to apply a true-crime aesthetic to climate reporting.
• If you caught Charlie Kaufman's customarily perplexing I'm Thinking of Ending Things over the weekend, you're probably in need of some processing. Two go-tos: Slate's Spoiler Specials and Filmspotting (around the one-hour mark).
• Just so you know: 99% Invisible turned ten years old last week. Congrats!
Reader Pick: Talk Ain't Cheap
A podcast that "dissects the Cameo website, one celebrity at a time." From Jensen Karp and Danielle Fishel Karp.
"I really like Talk Ain't Cheap because there is, strangely, so much to explore regarding Cameo. They dissect the reviews, the quality and content of the messages, and if they are accurately priced, a steal, or simply not worth it. At the end of the podcast Jensen provides three names to Danielle and has her guess the price of that person's Cameo. The one with the biggest discrepancy between her guess and the actual price is featured (among others) on the next episode.
There are also some behind-the-scenes discussions about the persistent methods Cameo uses to try and recruit new people. Both Jensen and Danielle — who played Topanga in Boy Meets World — are consistently contacted by Cameo representatives to join, but have declined, along with some of their podcast guests. It's a fascinating peek behind the curtain of how they seem to operate." —Alison Thomas, Ottawa, Canada
And that's a wrap for 1.5x Speed! Hope you enjoyed it. We're back next week, but in the meantime: Send podcast recommendations, feedback, or just say hello at nicholas.quah@vulture.com.