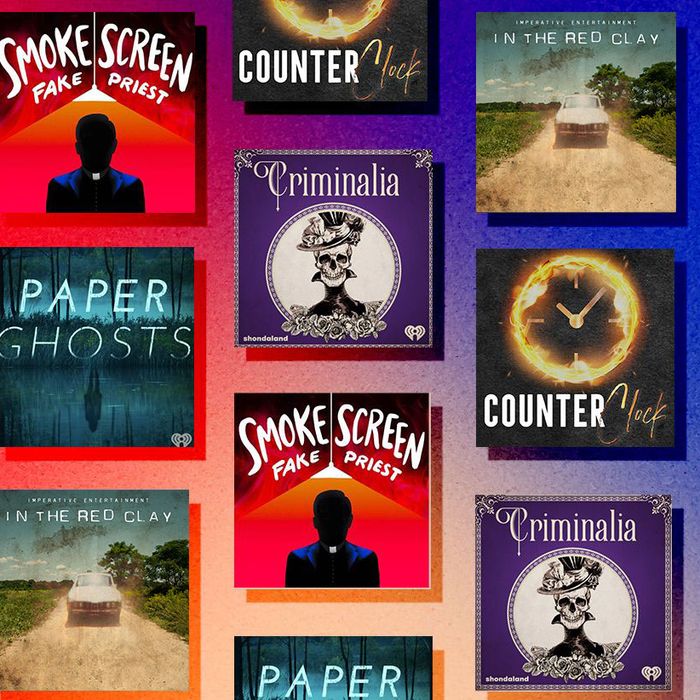 The true-crime podcast universe is ever expanding. We're here to make it a bit smaller and a bit more manageable. There are a lot of great shows, and each has a lot of great episodes, so we want to highlight the noteworthy and the exceptional. Each week, our crack team of podcast enthusiasts and specialists will pick their favorites.
Unfinished — Short Creek, "Keep Sweet, No Matter What"
Short Creek, a town straddling the borders of Utah and Arizona, was settled by Mormon fundamentalists in the 1930s. Before the arrival of Warren Jeffs, the president of the Fundamentalist Church of Jesus Christ of Latter Day Saints (FLDS), Short Creek might have been considered idyllic by many who lived there, but when Jeffs came in to replace his father as "the prophet," he brought tyranny with him, instituting a series of edicts that cut the residents of Short Creek off from the world and transformed the community into a cult. Jeffs was convicted of child sexual assault in 2011.
Unfinished — Short Creek, hosted by Ash Sanders and Sarah Ventre, examines the existing divide between the town's remaining fundamentalists and former believers in the wake of the chaos wrought by Jeffs. In this second episode, you'll hear about the changes Warren Jeffs made, like ordering parents pull their children out of school in order to avoid contact with "apostates," that pushed some members of the community to believe that their lives were in danger and took it upon themselves to leave, although it would likely mean they never saw their families again. Unfinished is smoothly rendered and wildly absorbing, and you'll be eager for the next dispatch. —Chanel Dubfosky
You're Wrong About, "Killer Clowns"
Anniversaries are typically commemorated with tokens of paper, wood, and steel. But for their 100th episode, hosts Sarah Marshall and Michael Hobbes present a very different sort of gift — killer clowns. (Just what I've always wanted!?) The two welcome Chelsey Weber-Smith, the host of the American Hysteria podcast, as their special guest to examine various waves of supposed bloodthirsty bozos, including the bizarre clown sightings of 2016. Of course, if you've listened to You're Wrong About even once, you can probably guess that the rumors of killer clowns have been greatly exaggerated (save for John Wayne Gacy). The episode takes plenty of tangents to explain the historical roots of our unsettling feelings toward these performers — including court jesters, Stephen King's It, and the concept of the uncanny valley — and the results are a real delight. See, clowns can be fun! —Amy Wilkinson
Medical Murders, "H.H. Holmes: The Torture Doctor"
Medical stuff isn't usually my bag, but I gave this a whirl since H. H. Holmes is such a larger-than-life baddie. I've never read Devil in the White City, and most of my knowledge about him comes from other podcasts or, uh, American Horror Story, so I was expecting an Olde Timey yarn about gruesome high jinks and wildly creative hotel horrors. Instead, the two episodes of Medical Murders devoted to him focus a great deal on his life and his extensive scams, as well as the nine murders he committed that were actually confirmed. While it's obvious Holmes was sociopathic scum, it seems a lot less likely that he was responsible for the 200 victims he claimed or the "Murder Castle" described in salacious detail by the press at the time. Medical Murders also supplements its stories with insight from internist Dr. David Kipper about everything from dissecting corpses in med school to the baseless "gold cure" for alcoholism popularized by the Keeley Institute in the 19th century and beyond. —Jenni Miller
Unjust and Unsolved, "Rosa Jimenez"
Rosa Jimenez is serving a 99-year sentence for the 2005 murder of 21-month-old Brian Gutierrez, whom she was babysitting at the time. While many in the legal community, including five Texas judges and the Innocence Project (currently working on her release), agree that Gutierrez's death was an accident, she remains in prison while suffering from stage-four kidney disease. In the latest episode of Unjust and Unsolved, a podcast examining the cases of innocent people serving time for crimes that have yet to be solved, journalist Maggie Freleng dives into the nooks and crannies of Jimenez's case via interviews with her lawyer and Jimenez herself. There are a stack of blatant errors in this case, including the fact that the forensics "proving" her guilt actually don't play out in favor of the prosecution, and when Jimenez, who was undocumented and not an English speaker, was interviewed, she had not been read her Miranda rights and didn't know she could ask for a lawyer. Tune in for Jimenez's story, and pay careful attention to the issues of ethnicity, class, and xenophobia keeping her in prison. —Chanel Dubfosky
Friday, September 11
CounterClock, "Prime Suspect"
In the second season of CounterClock, host Delia D'Ambra investigates another small-town North Carolina murder, this one in her hometown of Manteo. In February 1990, 28-year-old Stacey Stanton was found dead in her apartment by her co-worker. Clifton Spencer, a Manteo local who visited the same bar as Stacey the night before, was arrested and convicted for her murder. Episode two follows D'Ambra as she tracks Stacey's movements the night before she died, as well as the folks she was with, including Spencer, and Stacey's ex-boyfriend Norman "Mike" Brandon. The hasty investigation and conviction of Spencer, a Black man, by the same law-enforcement officials we met in season one (which covered the unsolved murder of Denise Johnson), force questions of accountability. We're just at the beginning of D'Ambra's search for answers, so make sure you get in on this one ASAP. —Chanel Dubofsky
In the Red Clay, "All That Glitters: Chapter 5"
I don't know about most true-crime aficionados, but I didn't know anything about the Dixie Mafia or the notorious Billy Sunday Birt until tuning into this podcast. It's a wild tale of moonshine, murder, and mayhem, not to mention trunk-loads of black beauties smuggled in from Mexico, and possibly … hidden traysure? To be honest, I wasn't sold on In the Red Clay until this particular episode, mostly because it relies heavily on stories from Birt's son Stoney. Host Sean Kipe uses first-person interviews and supplemental media to balance it out, including a gruesome and heart-wrenching description of a hit on Georgia DA Floyd Hoard narrated by his now-adult son G. Richard Hoard. I can understand worshipping your father, especially when he's a larger-than-life character like Billy Sunday Birt, and when it's the environment you grew up in, but it's kind of wild to hear someone say, "He was a good husband except for the adultery … He treated my mama like a baby" in all seriousness. We also get to the wildest part of the story, a letter and a map found hidden in a family curio — apparently, Billy Sunday Birt was also a fan of arts-and-crafts — that could lead to one last big haul. Hopefully, future episodes will show Stoney continuing to reckon with the crimes of his father, instead of as a family man with a strict sense of familial honor and loyalty and a source of wild tales about teenage arson and souped-up cars. —Jenni Miller
Paper Ghosts, "The Dead Butterfly," "'I Wish It Was You That Was Dead,'" and "A Hell House"
Over the course of eight years spanning the late '60s and early '70s, four girls — Debra Spickler, Janice Pockett, Lisa Joy White, and Susan LaRosa — vanished from the same rural pocket of New England, leaving their family members and friends desperate for answers. Fifty years on, those answers remain elusive. Paper Ghosts, which debuted its first three episodes this week, follows investigative journalist and true-crime writer M. William Phelps on his 12-year quest to solve these crimes. Police don't believe the disappearances are the work of a serial killer, but Phelps seems to believe differently, citing his many interviews with multiple murderers who are emphatic that "coincidences" like the ones linking these cases don't just happen. Phelps has a personal interest in at least one of these crimes — he's friends with the girl's sister — and he's made inroads with many of the victims' family members, allowing him to paint vivid portraits of each missing girl. And despite the time that has lapsed since their disappearances, Phelps touts new evidence and new leads that could heat up these very cold cases. For the sake of those still grieving five decades later, I hope he's right. —Amy Wilkinson
Criminalia, "Giulia Tofana: World's Most Dangerous Apothecary"
Criminalia is a new podcast from Shondaland Audio about people who commit murder using various types of poison. Admittedly, it's weird to describe homicidal poisoning as a frothy distraction, but in these times I'll take what I can get. Hosts Maria Trimarchi and Holly Frey are charming, and their friendship lends a certain warmth and humor to what could be a grim undertaking, although Criminalia is definitely not a true crime comedy podcast; so far the episodes have each clocked in at around 30 minutes, with lots of historical detail. In this case, that means they go beyond the life and death of Giulia Tofana, who invented the undetectable poison known as Aqua Tofana, and delve into the history of apothecaries and why or how a woman in Italy and thereabouts in the early 17th century might want to make use of poison to off a husband. It's easy to fall into the trap of cheering on female killers in some twisted sense of equality, but Criminalia eschews that "you-go-girl!" vibe while acknowledging that, yeah, sometimes a little tipple of arsenic be an appealing solution for a trapped woman. —Jenni Miller
Smoke Screen: Fake Priest, "Meet the Browns"
Investigative reporter Alex Schuman's task is a disquieting one: he's tracing the footsteps of Ryan Scott, also known as "Father Ryan," who spent his 30 year career as a con-man (and possible murderer) pretending to be a priest, tricking people out of money, plus committing misconduct while serving in public office. Episode 5 follows Ryan as he continues to wiggle his way out of things like jail time, legal fees, and any other kind of accountability. Why did one elderly woman, who gave Ryan literally all her money, then decide to renege on the charges she brought against him? Why do people keep stepping in to give him a hand? As you enter this impossibly twisted world, remember that nothing is what it seems. Just when you think it can't get more unbelievable, it does. This story is about so much more than its WTF premise; it's not just weird, but hypnotic, and you'll be hooked from the very beginning. —Chanel Dubofsky
September 3, 2020
Fraudsters, "The Psychic Readers Network Part 1 — CLEO 2020"
If you're of a certain age, the name "Miss Cleo" probably brings to mind a simpler time — running home after school to see which spot "…Baby One More Time" earned on TRL; logging onto AIM to chat with your crush. But if that entire sentence reads like gibberish to you, let me quickly explain: Miss Cleo was a Jamaican–accented "psychic," who promised to advise you in matters of money and the heart if you only dialed up the Psychic Readers Network (and forked over a lot of cash). Her commercials were ubiquitous throughout the late '90s and early 2000s, but it was all, of course, a scam — and a billion-dollar one at that.
Hosts Seena Ghaznavi and Justin Williams dive into this grift in the pilot of their new podcast Fraudsters (produced by the Last Podcast Network). The first installment of the Psychic Readers Network series examines both the life of Youree Dell Harris (the future Miss Cleo, who was not Jamaican), as well as the nefarious business practices that helped the network swindle all those dollars (they orchestrated a bait-and-switch with a 900 number and sent collection notices to customers who'd already had their fees waived by their telephone providers). While the episode itself feels a little overlong given the amount of material covered, Ghaznavi and Williams are amiable hosts. I'm curious to see how the podcast develops over the coming months. If only there were someone I could call to find out now … —Amy Wilkinson
The Piketon Massacre, "The Investigation"
The residents of Piketon, Ohio, were shocked by the 2016 murders of eight members of the Rhoden family. Things like that just didn't happen in the small town — until they did. At first, investigators thought the murders were related to the Rhoden family's marijuana-growing operation, but they soon zeroed in on another local family, the Wagners, with whom the Rhodens had a complicated relationship. The sixth episode explores whether or not the murders had to do with the relationship between Jack Wagner and his ex-girlfriend, Hanna May Rhoden; the former couple had a 2-year-old daughter together. (Hanna May Rhoden also had a 5-day-old baby when she was killed; thankfully, all of the children were spared.) Were the murders a result of a custody battle gone horribly awry? Or were the crimes part of a bigger picture in Piketon? This is the sixth episode of the series, so you'll need to catch up on the previous episodes to understand the ins and outs of this complicated crime, its investigation, and the bigger picture of life in Piketon itself. —Jenni Miller
Relative Unknown, "Rolling Over" 
If you're into organized crime, Hells Angels, 1970s Cleveland, the Witness Protection Program, and/or outrageous family secrets, Relative Unknown (created by C13 Originals, the folks who brought you Root of Evil) is a podcast with everything you want. After a fire and a murder, the pieces of Jackee Taylor's off-kilter childhood began to come together when a trunk is bequeathed to her and she learns about her father's involvement with the the Hells Angels — and the group's ongoing impact on her family. In episode five, we get a closer look at Butch Crouch's decision to lead the Bureau of Alcohol, Tobacco, Firearms and Explosives (ATF) to a storage locker containing weapons belonging to the Hells Angels, which were suspected to have been involved in the unsolved 1975 murder of a 21-year-old mother, Maryanne Sigley, and her 2-year-old son, Michael, in Cleveland. Crouch told the police about several murders they already knew about, but also revealed information about several they didn't know about — one of which Crouch himself had committed just three months after Jackee was born. The police were deeply skeptical of Crouch's motivation for informing, given the nature of the crimes and how he and his family stood to be impacted. This episode marks the halfway point in the series. Butch's confession and negotiations with the police and FBI result in his entrance into the Witness Protection Program, which changes Jackee's entire life. Listen now for all the stirring and vital details. —Chanel Dubofsky
Racket: Inside the Gold Club, "Sex and Champagne"
I may not be able to sum up this new podcast better than journalist Amanda Mull, whose favorable tweet sent me searching for it in the first place: "If you like Hustlers," she writes, "you should give [Racket] a shot, because the story of the Gold Club is even wilder." Two episodes in, I can confirm: She is not wrong. Before becoming the subject of an FBI raid, the Gold Club was one of Atlanta's hottest (and highest-grossing) strip clubs, welcoming the likes of Dennis Rodman, Michael Jordan, and the King of Sweden. (Donald Trump allegedly set foot inside this gold-plated palace as well, but his reps deny it.) Last week's episode examined how Atlanta's strip joints and the city's cash-cow convention industry became inextricably and salaciously linked. This week, host Christina Lee takes us deep into the inner workings of the club through interviews with its hostesses, dancers, and lawyer. What emerges is a glittery, booze-soaked facade hiding plenty of rot at its core. Just how rotten, we'll have to wait for future episodes to find out, but Lee does allude to "the Big O." Yep, that's right — organized crime. On that account, the Gold Club and Scores may have even more in common than just gyrating hustlers. —Amy Wilkinson
Scam Goddess, "Dr. Dupe with Joel Kim Booster"
Scam Goddess creator and host Laci Mosley says near the beginning of this episode that her podcast isn't true crime, and I'm not here to argue! But I'm happy to sneak this into our true-crime roundup because it's hilarious and a great palate cleanser from, well, everything. The story is about an extremely fancy surgeon who supposedly helped innovate — wait for it — TRACHEA TRANSPLANTS but also scammed an NBC news producer assigned to profile him, convincing her that they'd have a lavish wedding officiated by the Pope. He was technically charged with "forging documents and abuse of office" in Italy and sentenced to 16 months in prison. So it counts as true crime as far as I'm concerned. Not to mention, the people who died after his surgeries! Come for the scamming, stay for the banter between Mosley and this week's guest, writer and comedian Joel Kim Booster. —Jenni Miller
The Fall Line, "Identity After Death with Forensic Anthropologist Dr. Amy Michael, Part 2" 
Season ten of The Fall Line looks at the unsolved murders of trans women Florida. This episode gets into the cases that have most impacted forensic anthropologist Dr. Amy Michaels, including that of Joseph Henry Loveless, the accused murderer whose body was discovered in 1979 and remained unidentified until 2020. The event prompted Michaels's own reckoning: Do we only seek to solve the homicide cases of "good" people? Michaels was also part of the team that exhumed the body of Shannon Siders in order to confirm evidence and cause of death when police reopened her case. It's a fascinating interview and a dream for the true-crime obsessed who crave insider information that takes into consideration the big (and definitely ugly) picture. —Chanel Dubofsky