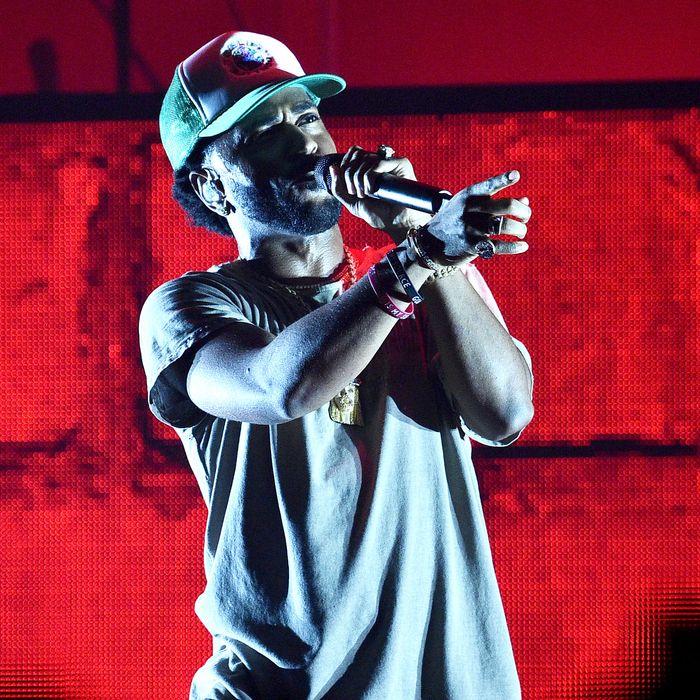 D2
is a sort of state of the union for Big Sean as he juggles being a public figure with his quest for personal peace. The worst seems to be behind him, but he's not above a venting session.
Photo: Theo Wargo/Getty Images for iHeartRadio
Big Sean raps like someone racing against time to deliver an important message, syllables rushing out, nipping at each other's heels like playful dogs prone to taking off across a room without fair warning. You can hear him in action on "Lucky Me," an early highlight from Detroit 2, the Michigan rapper's fifth studio album and a sequel to his fan-favorite 2012 mixtape Detroit. "Lucky Me" starts off like a confessional or an exchange from a therapy session, with Sean venting about personal and professional ups and downs like extravagant expenditures and breakups over production from Cali beatmakers Hit-Boy and DJ Dahi that evokes the soul and kung fu movie chops of old Wu-Tang classics. Halfway through the song, the beat changes into an ominous, stuttering trap jam, and Sean takes off: "My soul is on solace, surrounded by angels and soldiers on soldiers / World turned me cold, game turned me colder / Sitting courtside looking like I'm finna be the fucking future owner." Something's different this time, though. He's nailed the timing. The words don't trip each other up. The lines are more purposeful. The outlook is smarter, wiser.
Detroit 2 is Big Sean's finest work because it's confident and consistent, the product of years of trying out flows and bouncing verses and ideas off veterans, as well as quality of life improvements the rapper pursued in the three years since his last outing, 2017's Double or Nothing. On record, Sean used to be a jokester with an unexpected serious side, good for motivational anthems and elaborate sexual puns, an obvious ward of his G.O.O.D. Music label boss Kanye West, patron saint of the disorienting mix of high and low brow themes in rap music. On the early mixtape highlight "Supa Dupa," Sean landed on — some say invented — a punchline flow with a pregnant pause that was run into the ground by popular rappers like Drake in the 2010s. Sean's puns were highlighted on social media in the half-bemused, half-withering hashtag "#BigSeanSaid," which collected gems like the "MILF" couplet: "I'm even cheating on my Benz — I got a side whip" or the moment in his guest spot on Logic's "Alright" where he says, "She doing tricks with her pussy — I guess she's a vagician." These were offset by moments on every album where Sean's sincerity shone brightly, like the rousing "Bigger Than Me" from 2017's I Decided or "One Man Can Change the World" from 2015's Dark Sky Paradise. The volley could make the early albums feel uneven.
On Detroit 2, Sean has figured out how to be emotionally candid and lighthearted at the same time. D2's "ZTFO" is a clever balancing act, at once in search of a cure for stress and smirkingly sarcastic about the solution, with a hook that rolls off the tongue: "Signal going in and out / Swimming at the house / Live with no doubts / I'm zen the fuck out." The sweetly wistful mid-album gem "Everything That's Missing" comes in hot: "I'm 'bout to delete my Twitter and follow my intuition / Been in and out the mud, but somе how I'm in mint condition." On "Guard Your Heart," Sean explains why balance is important in his field, where it's hard to know where you stand for very long because tastes and allegiances are constantly on the move: "Conflictеd in this free-based world of give and take / 'Cause I always rather give than to be the one saying thanks / Conflicted like being signed to Ye and managed by Jay / Conflicted like being cool with Pusha and Drake." D2 is a sort of state of the union for Big Sean as he juggles being a public figure with his quest for personal peace. The worst seems to be behind him, but he's not above a venting session.
At 21 tracks spanning over 70 minutes, D2 breaks the rules for long rap albums in this era, which tend to serve more than a little bit of filler. There's only a few songs that feel inessential, like the late album jams "Time In" and "The Baddest," which coast on intriguing production and styles Sean has executed better elsewhere. Otherwise, Big Sean stands strongly on his own, sharing personal revelations over lush beats from frequent collaborators Hit-Boy and Key Wane, and he plays well with guests like Lil Wayne, who joins him on the lightning fast "Don Life," and the intergenerational summit of Detroit rap figures that trade bars on "Friday Night Cypher." D2 takes after the original mixtape in the care that goes into spotlighting talent from the city it takes its name from. "Everything That's Missing" features vocals from the venerable singer-songwriter Dwele, and "Body Language" with Jhené Aiko and Ty Dolla $ign employs a sample of the Detroit R&B classic "Soulful Moaning." It is the rare rap event album that feels both wise to current events in rap and culture and also tethered, at least conceptually and spiritually, to a specific location. Rarer still is the hip-hop sequel that bests the original property. Detroit 2 meets the task.