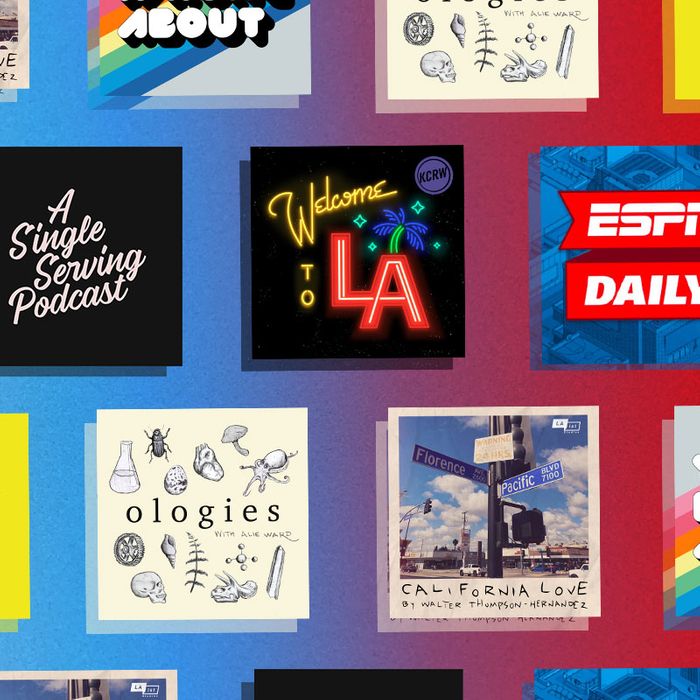 Photo-Illustration: Vulture
These days, I live in a fairly small but rapidly growing city in the Mountain West. It sprawls and spreads but isn't yet dense, and there's one prominent topic of conversation that's routinely pops up: the considerable anxiety over the influx of Californians moving in and, you know, possibly "changing things around here." There's quite a bit baked into that sentiment, and there's quite a bit more to the reality of what's happening — Californians are moving here in droves, but they tend to be older, richer, more conservative — but in any case, it speaks both to the idea of how a place thinks of itself and the idea of how others think of the Golden State.
People think a lot of things when they conjure up the idea of California, and more often than not, they seem to be mostly thinking about Los Angeles. (Consolation shout-out to the Bay Area.) Which, I suppose, makes sense given the city's reputation as the purveyor of images, dreams, extreme wealth. On that note, then, this week we have two big picks about Los Angeles, those imaginations, and the worlds underneath them.
California Love
Nonfiction anthology series. Recently wrapped up its first season with eight episodes. From LAist Studios.
Apple Podcasts | Spotify | Stitcher
Welcome to LA
Nonfiction anthology series. Recently wrapped up its second season. Fifteen episodes total. From KCRW.
Apple Podcasts | Spotify | Stitcher
Most every place lives two kinds of lives: the one lived by ordinary people on the day to day, and the one that exists in a collective imagination. These two things diverge acutely most of the time, and that split tends to be where things get interesting.
Los Angeles, of course, is the perennial city of stories and dreams, and so it is perhaps uniquely fascinating to witness that tension between reality and fiction. That's what makes California Love and Welcome to LA, two gloriously realized podcasts from the city's two competing major public radio stations, particularly interesting to process in tandem. United in their love for the place, the two productions offer listeners access to very different conceptions of Los Angeles, its lived experiences, and what it means in the broader American story.
Let's start with California Love. Chiefly the work of Walter Thompson-Hernández — an author, former New York Times journalist, and native Angeleno — the podcast is half-memoir, half-documentary, and entirely a love letter to his home as he's always known it. The episodes stay close to people born into the city but, for myriad reasons, have been consistently pushed to the margins, whether it's a graffiti artist or a group of Black men who ride horseback for protection and solace. Thompson-Hernández's stories are testaments to the city's diversity and demographic fluidity across its complicated history; they collectively portray the feel of a city in constant motion and change, even if some things stay the same.
(Quick disclaimer: I make a podcast in partnership with LAist Studios on the side and naturally that would disincline me from writing about its shows for fear of seeming biased, but I'd like to make an exception for this podcast, which I feel strongly about.)
Where California Love is a project of roots, Welcome to LA is a project of found homes. Created by David Weinberg, Welcome to LA is steeped in an outsider's perspective that is somewhat classic to Los Angeles narratives, finding kinship with the misfits and wayward souls that were drawn to the City of Angels by the promise of riches or simply the opportunity to start over.  Weinberg's interests seem to settle on people who do find appeal in the idealized image of Los Angeles but have fallen short of it one way or the other. Sometimes they leave, sometimes they stay forever. This is most acutely captured in the episode "Friday Night: The Kingdom of Time," which stitches together snapshots of different lives playing out in the crevices of this sprawling desert city.
When taken as a pair, the two podcasts interact with each other in really arresting ways. There may be some temptation to assess them as being in opposition — and it's easy to do this along racial lines, as Welcome to LA's distinctly whiter sensibility can rub up against California Love's demographically diverse grounding — as if it's a competition around which of the two represents a more "authentic" window into the city. But it's important to resist that temptation, as the more interesting reading is to see them as consciously grappling with the same specter: the Los Angeles of glitz and glamor, of wealthy comforts and green smoothies, an easy factory of dreams. Indeed, I see them as quite aligned against the power elite of the city, the harm of gentrification, and the grounding down of people who cannot afford to live in a city they love.
Meanwhile …
• The brief strike by the NBA last week was historic on a bunch of different levels. Though play has resumed — and the question of what comes next continues to linger — the strike itself was the kind of event that demands further thought, examination, and meditation. Two episodes on the matter are hooked into my brain: ESPN Daily's ticktock of the day itself ("How the Bucks' Boycott Sparked a Wave of Sports Postponements") and this recent episode of It's Been a Minute With Sam Sanders ("Protests, Yesterday and Today.")
• I've been married for a while now, but I've been slowly working my way through the archives of Shani Silver's A Single Serving Podcast, which is part of her broader project of trying to expand, complicate, and deepen the discourse around the state of being single for women. It's really well done.
• Quick shoutout to the consistently excellent You're Wrong About…, which dropped its fourth episode of an ongoing deep-dive series on the tele-extrajudicial phenomenon known as Nancy Grace.
• Looking forward to sweater weather? I wrote about some podcasts worth keeping an eye on for Vulture's fall podcast preview.
Reader Pick: Ologies With Alie Ward
Apple Podcasts / Spotify / Stitcher
The enthusiasm that experts have for their field of study is infectious and inspires me to examine the world around me more closely. They also make me interested in topics I never thought deeply about. For example, from the "Diabetology" episode I learned that insulin acts like a 'key' to let glucose into your adipose tissue and skeletal muscles, and that your pancreas is what regulates insulin in your bloodstream. It's an unselfconscious dose of wonder and curiosity in my otherwise desk-job-during-quarantine life.
A lot of science podcasts might have these same effects, but what I specifically like about Ologies is that it's irreverent, and its host Alie Ward is silly and great at interviewing. She spotlights the experts, not herself or her own brand or voice. I also think the rotating cast of experts and range of topics keeps it interesting, in a way that other science podcasts tend to focus more narrowly or have the same hosts for each episode. —Lucy Wyman, Portland, Oregon
And that's a wrap for 1.5x Speed! Hope you enjoyed it. We're back next week, but in the meantime: Send podcast recommendations, feedback, or just say hello at nicholas.quah@vulture.com.