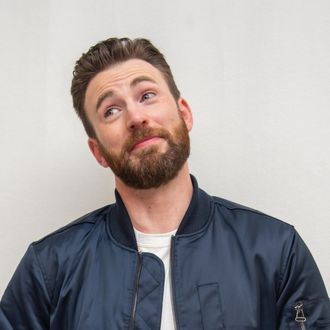 Photo: Vera Anderson/WireImage
Over the weekend, Chris Evans lived every Instagram user's worst nightmare, by accidentally sharing a glimpse of his camera roll to his followers, revealing, among other images, a photo of a penis. His Avengers: Endgame co-star Mark Ruffalo subsequently attempted to reassure him on Twitter that it wasn't so bad, pointing out that nothing could be more embarrassing than the Trump presidency, which, okay, sure, but the internet is billions of people. It wasn't until Monday evening that Evans himself acknowledged the pic, or the mini-social media meltdown it caused.
If he has to acknowledge it at all, the Knives Out actor clearly reasoned, might as well use the NSFW image to draw attention to a much more pressing issue. "Now the I have your attention … Vote Nov 3rd!!!", Evans tweeted. You heard the man! Go check right now to make sure you're registered to vote. Do it for Chris Evans, and the last 48 harrowing hours of his life.
Update, Tuesday, September 15, at 2 p.m.: Trying his best to address the situation without addressing the situation, Chris Evans went on Tamron Hall and smiled his way out of her line of questioning. In a short clip from his interview, Evans shrugs off the mistake. "Something happen this weekend?" He used charm. It was supereffective. "That's called turning a frown upside down, Tamron," he adds, superpowered charisma radiating through the Zoom call. But Tamron presses a little more, even shutting down Evans's business partner, Mark Kassen, when he tries to deflect. They're actually here to talk about their new platform, a Starting Point, which connects elected officials to their constituents, but first … "Look, it was a very interesting weekend full of lessons learned, a lot of teachable moments," he offered. "Things happen, it's embarrassing, you've got to roll with the punches."